Filtered By: News
News
FOR TUITION, HOSPITAL BILLS, ETC.
Duterte tells soldiers they can run to him for money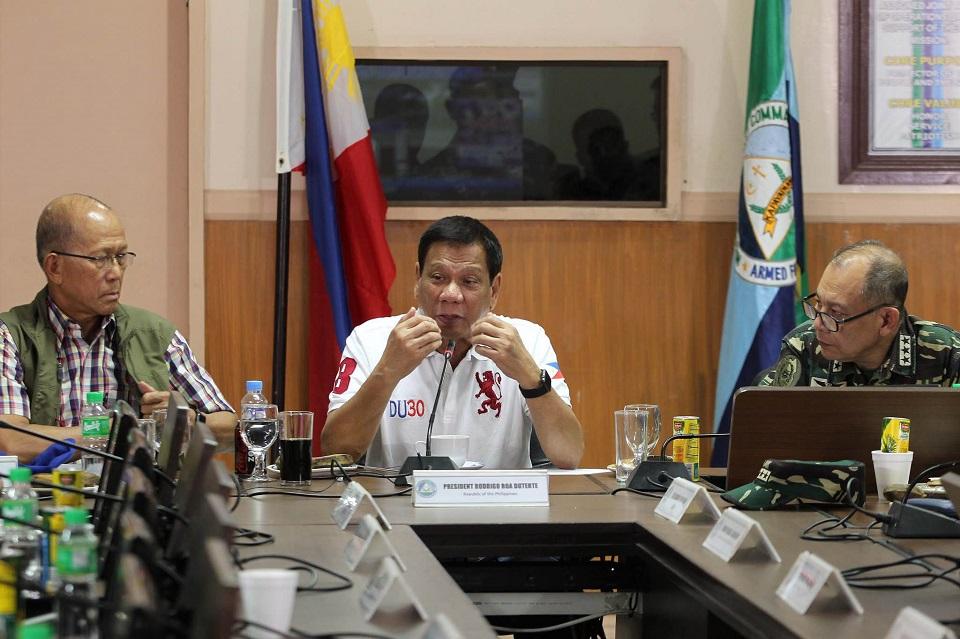 President Rodrigo Duterte leads a command conference at the Western Mindanao Command headquarters in Zamboanga City on July 21 with Defense Secretary Delfin Lorenzana (L) and WesMinCom chief Lt. Gen. Mayoralgo dela Cruz. Photo: Presidential Photographers Division.
Just hours after telling soldiers that he had their backs if they faced criminal cases in the performance of their duties, President Rodrigo Duterte on Thursday night told the troops that they could run to him for financial help.
Speaking before the members of the Western Mindanao Command in Zamboanga City, Duterte said that he would do his best to extend help soldiers saddled with financial problems.
"I will look for money. At kayo, pagka nagka-problema, alam mo na iyong the imponderables of life iyong hindi ko nakita—asawa, kapatid may cancer—huwag na kayong pumunta ng malayo," Duterte said.
"Just go to your commanding officer and he will call me. And I will look for ways to help you. Huwag na kayong pumasok diyan sa kung ano-ano pa. Kapag medyo mabigat—alam mo marami iyan ah—patay, tuition, or whatever, cancer. Paalaminin mo lang ako," he added.
Earlier in Basilan, Duterte told the military assigned in the area that he was ready to take up the cudgels for soldiers if they faced cases in the course of performing their duties.
"The President urged them to 'just do your job' and promised that 'if you will fall into trouble, or face cases due to such lawful performance of your duties, I will take the cudgels for you'," Armed Forces of the Philippines (AFP) spokesman Brigadier General Restituto Padilla quoted Duterte as saying.
"I am with you in the punitive and law enforcement action against the terrorist Abu Sayyaf Group," he recalled the president as saying.
BRP Pag-asa
Duterte in Zamboanga City also reiterated his plans to provide better medical facilities for the soldiers and their families by selling presidential yacht BRP Ang Pangulo, which he referred as Pag-asa.
The presidential yacht was named BRP Pag-asa in 2009 during the time of former President Gloria Macapagal-Arroyo.
"Kaya nga sana nga noon, ipagbili ko iyong Pag-asa to rebuild iyong V. Luna [General Hospital]. Pero sabi nila, no takers kasi luma na, mahina. I will either convert it into a hospital," Duterte said.
"Tignan ko lang how much I will spend. Gagawin ko iyang hospital tapos ilagay ko siya, well, wherever the fighting is... Lagyan ko ng mga operating rooms," he added.
"Walang silbi ang barko na iyan eh. So, pakinabangan na lang natin. If somebody is willing to sell it, ang kita niyan, maaasahan ninyo diretso, I will rebuild the V. Luna," Duterte said.
"I will add a new building, a new one. And you have a comparative best treatment. It will have everything—CT scan, ano iyong mga imaging. I will spend money. And I will improve the hospitals kung ano ang mga immediate at urgent needs to be there," he added.
'You will have my protection'
The President apparently made the remarks to discourage soldiers from engaging in corruption especially after the military had also been ordered to participate in anti-drug operations.
"Huwag kayong maano, for example, to do a civilian mandate for example drugs, go ahead. Hindi na ako magtanong kung paano mo ginawa basta kapag nagkasabit kayo sa trabaho mandated by law, batas, you will have my protection," he assured them.
Duterte previously asked the Armed Forces of the Philippines (AFP) against his fight versus of illegal drug trade.
Duterte in his speech in Zamboanga City also reminded the soldiers that the fight against drugs and terrorism in Mindanao entails a lot of sacrifices.
"Maybe I take pride in winning the presidency, but I'm fighting a war here. Drugs doon sa Maynila and other places. Dito sa Mindanao, it's terrorism. It will need your sacrifice and mine, too. Alam n'yo you'll have to come in very fast. We are stretched thin, wala akong pulis ilatag ko diyan in every nook and corner. Tapos ang shabu, it's rampaging. I said it's beyond our reach iyang problema diyan eh," he said.
Duterte during the campaign promised to bring peace and order all over the country in three to six months. — NB/BM, GMA News