Filtered By: News
News
'Lei' speaks out: Blunders in PNA articles happened during transition to new website
A person claiming to be the infamous "Lei" in the series of article blunders of state-run Philippine News Agency has broken her silence.
In a Facebook post on Saturday, Leilani Samonte Junio said she was the one being instructed by her editors — in what seemed like inadvertently published articles with editor's notes — to reangle and rewrite several PNA stories.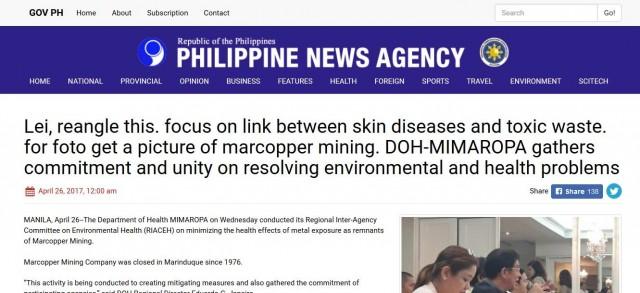 "Sad to say, ako po yung isang 'Lei' dun na minention," Junio wrote, stressing that the fact that her story and and those of her colleagues stories contained editor's notes meant these had been "rejected."
"If a story was rejected it should not had [sic] been posted at all," she added, saying she remained clueless how those articles got published online in the first place.
Junio suspected that the "upgrade" of the PNA's website had something to do with the controversial gaffes. She said the supposed gaffe last April happened during the website's "transition" period.
"This incident happened [sic] in April when the old PNA website was under the upgrading period in preparation to transition to the new PNA website," she said.
The articles containing editor's notes were published between January and April.
Junio clarified that her Facebook post "does not reflect the over-all view of the entire PNA family."
'Bear with us'
An official of the Presidential Task Force on Media Security had assured the public that negligence and incompetence in the PNA "will be dealt with accordingly."
Undersecretary Joel Sy Egco issued the statement after screencaps of old PNA articles with editor's notes in the titles circulated on the internet.
"Rest assured that while we expect to experience 'birth pains' as we transform from the old to the new, the flaws in the system are effectively being addressed, both in terms of manpower and technology," he said.
"Likewise, incidents of negligence, incompetence or even sabotage, if proven, will be dealt with accordingly... Please bear with us," he added. — MDM, GMA News