Filtered By: News
News
Gordon questions Sanofi Pasteur record worldwide
Senator Richard Gordon on Monday grilled officials of Sanofi Pasteur, the pharmaceutical company behind the Dengvaxia vaccine, over its record of paying fines all over the world due to its supposed kickback to doctors who utilize its products.
"That's why I'm a little bit hot under the collar. The record of Sanofi around the world is not sterling," he said during a Senate hearing.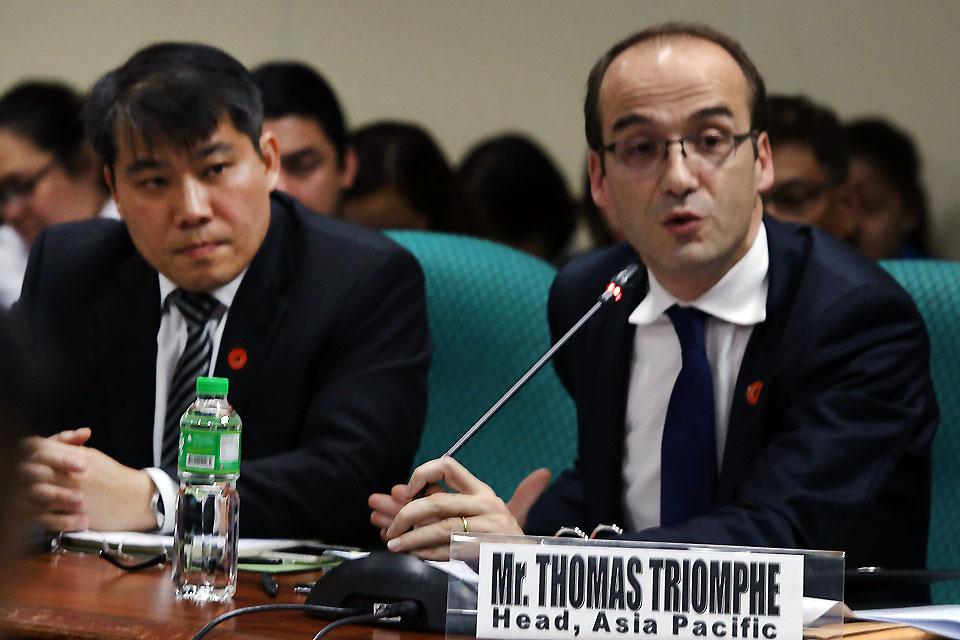 Thomas Triomphe (right), head of Sanofi Pasteur-Asia Pacific, and Ta Wen Yu of Dengvaxia, testify at the Senate blue ribbon committee's hearing on the P3.5 billion Dengvaxia deal mess on Monday, December 11, 2017. Benjie Castro
According to Gordon, the Food and Drug Administration (FDA) in October already penalized Sanofi and local pharmacy Watsons for illegally promoting and advertising Dengvaxia, effectively violating the Food and Drug Act of 2009.
Gordon also cited other sanctions against Sanofi around the world in countries such as China, Germany, Kenya, and the United States.
In the hearing, Gordon said Sanofi was fined $30 million due to kickbacks to promote the company's diabetes drugs in the United States. It also agreed to pay more than $100 million to the Federal Government to settle alleged kickbacks to doctors.
Aside from this, Gordon said Sanofi also paid a $40-million fine in Germany as its employees were found to have bribed doctors to boost drug sales.
For its part, Sanofi said it has not been negligent regarding its products, noting that employees found to have been guilty of bribery were immediately sacked.
"We have not seen any default or any negligence on the part of the company but of course we keep monitoring our products, each time we see an adverse event we communicate," Triomphe said.
"We'll keep working for any such thing as adverse events," he added. —KG/ALG, GMA News