Filtered By: News
News
Sereno ends indefinite leave
Chief Justice Maria Lourdes Sereno has ended her indefinite leave of absence from the Supreme Court (SC) a few days before her peers are believed to decide on the petition seeking the invalidation of her appointment to the top judge post.
Two of Sereno's spokespersons confirmed she reported for work back at the high tribunal on Wednesday.
Chief Justice Maria Lourdes Sereno reports for work at the Supreme Court little over two months after taking an indefinite leave of absence. Photo from CJ staff @gmanews pic.twitter.com/ebRdxdoFdE

— Nicole-Anne Lagrimas (@nclagrimas) May 9, 2018
Before noon on Wednesday, Sereno appeared at the steps of the SC building and waved to supporters.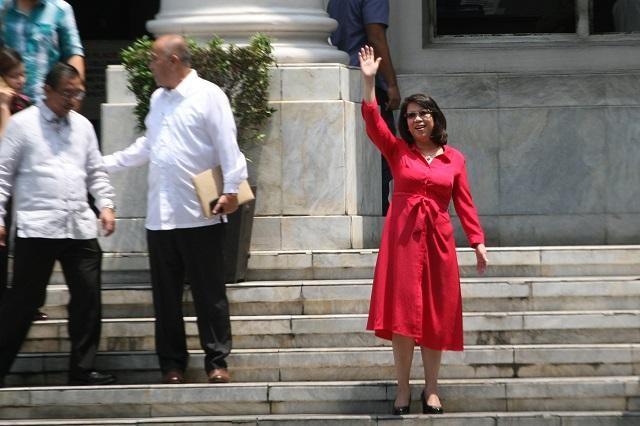 Chief Justice Maria Lourdes Sereno emerges from the Supreme Court building with her counsels and waves to supporters on Wednesday, May 9, 2018. Danny Pata
This ends an indefinite leave of absence that took effect on March 1, which Sereno and her fellow justices said was reached in "consensus."
Sereno claimed she took the leave to prepare for a possible Senate impeachment trial.
Lawyer Carlo Cruz, one of her spokespersons, said Sereno decided to end her indefinite leave because she is already "fully prepared" for the expected impeachment trial at the Senate.
"Tapos na ang kanyang preparation para sa Senado. If and when ma-file, she's fully prepared already," Cruz said.
Shortly after her leave started, Solicitor General Jose Calida turned to the SC to try to remove Sereno from office through another means: a petition for quo warranto, which critics say is an unconstitutional way to oust an impeachable officer.
Acting Chief Justice Antonio Carpio said the petition may be decided this month. News reports have claimed May 11 was the day the Court will reach a decision.
Meanwhile, SC Public Information Office chief Theodore Te confirmed in a Wednesday media advisory that as per Carpio, the tribunal will hold a special en banc session on May 11, Friday, at 10 a.m.
The reason for the en banc session was left undisclosed.
Cruz said Sereno will preside over the special session on Friday, but "will recuse or inhibit herself when the quo warranto is tackled."
He said Sereno informed Carpio before she reported for work on Wednesday.
"Justice Carpio is knowledgeable of this return of her... Nagtawagan lang sila," he said. —KG/ALG, GMA News