Filtered By: News
News
Galvez admits 'shortcomings' in COVID-19 response, cites behavior, influx of OFWs as 'challenges'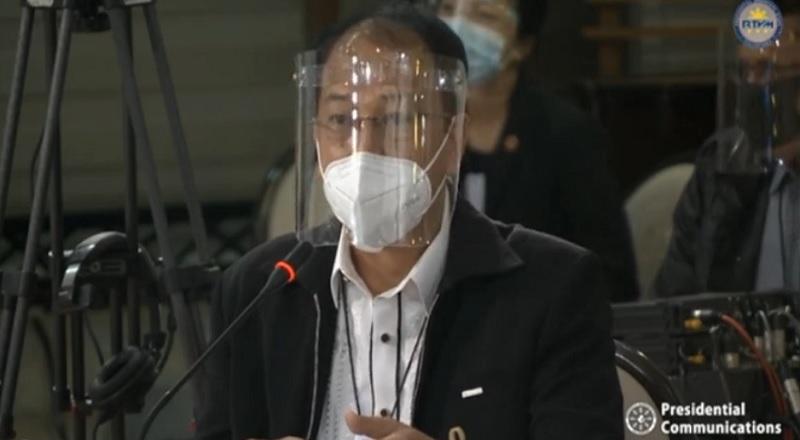 Filipinos' behavior and the influx of returning overseas workers are among the factors behind the Philippines' COVID-19 situation, Secretary Carlito Galvez said Thursday, even as he admitted "shortcomings" in the government response.
"Ang medyo mahirap na nakita natin dito is that 'yung behavioral culture ng mga tao natin, nakita natin ang daming mga violations," Galvez, chief implementer of the national policy against COVID-19, said at a press conference in Quezon City.
He made the remark a few weeks after a London-based group found that 91% of Filipinos wear masks when they go out, making the Philippines second only to Singapore in terms of the use of masks outdoors.
Asked about this finding, Galvez said the level of observance of health standards is higher in Metro Manila than in the provinces, where he said he has seen that people do not observe social distancing and also hold "buffets" and "celebrations."
He added that the government aims to educate informal settlers, whom he said are "vulnerable" due to their living conditions, on minimum health standards.
"Hanggang walang self-awareness ang tao natin, tataas nang tataas ang kaso po natin," he said.
Apart from behavior, Galvez cited the surge of returning Filipino migrant workers and of people wishing to leave the cities for the provinces amid the pandemic, as "collateral challenges" the government has had to face.
He also said health facilities are unprepared.
"As a nation, we were not able to prepare 'yung ating mga health facilities," he said. The country's healthcare capacity was supposed to have taken up "three to four administrations" to build up, he said.
As hospitals report full bed capacity for COVID-19 patients, Galvez said both private and public hospitals will expand their wards to accommodate more patients.
He said the increase in the number of COVID-19 cases is a consequence of opening the economy and loosening restrictions.
"Sa ating bagong national action plan phase 2, inaayos po namin 'yung mga challenges saka 'yung mga naging shortcomings natin. Inaamin na mayroong mga shortcomings, 'yun ang mga challenges na inaayos po namin ngayon," he said.
Galvez said the Philippines should not be compared with other countries, which he said have different political situations and cultures, among other variables.
In April, he said the government's preparation was "very good" ("napakaganda") compared to that of other countries.
'Reduce death to the minimum'
On Thursday, Galvez said the "ultimate objective" is to "reduce death to the minimum."
Of the more than 56,000 active COVID-19 cases in the country, 90% are mild, 9% are asymptomatic, 0.5% are severe, and 0.4% are critical, according to the Department of Health.
As of Wednesday afternoon, the national case total is 85,486, with nearly 27,000 recoveries and more than 1,900 deaths. — RSJ, GMA News