Filtered By: News
News
Some hospitals have insiders facilitate PhilHealth payments, says PHAP exec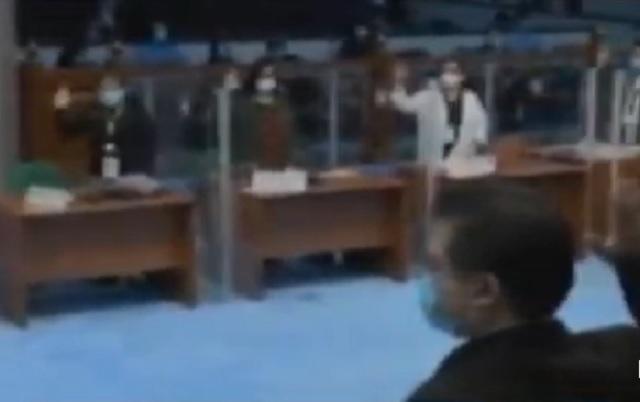 Some hospitals engaged employees of the Philippine Health Insurance Corp. (PhilHealth) to fast-track their respective reimbursement claims, Private Hospitals Association of the Philippines (PHAP) president Rustico Jimenez said Tuesday.
Jimenez, however, said he was not aware if there was money involved in such practice.
At a Senate hearing, Jimenez said he has received reports from hospitals that they coordinated with PhilHealth representatives to jump the line in reimbursement claims.
"Basta ang sinasabi po nila, meron silang kakilala na nag-facilitate, pero hindi nila sinasabi na nagbayad sila," Jimenez told senators.
"Sinasabi lang po na bayadan sila kaagad because may kakilala sila sa loob," he added.
He was responding to a query by Senator Juan Edgardo "Sonny" Angara if he heard of hospitals paying out PhilHealth representatives to receive their reimbursement claims earlier.
PhilHealth is under congressional scrutiny after three of its officials resigned just last month over alleged corrupt practices in the agency.
https://www.gmanetwork.com/news/news/nation/748272/3-philhealth-officials-resign-over-alleged-widespread-corruption-in-agency/story/
One of them, former anti-fraud legal officer Thorrsson Montes Keith said during the hearing that a "mafia" within the corporation has pocketed some P15 billion from fraud.
https://www.gmanetwork.com/news/news/nation/749781/philhealth-mafia-stole-p15b-says-resigned-anti-fraud-officer/story/
Presidential Spokesperson Harry Roque, Jr. said PhilHealth officials are under investigation over the agency's alleged overpriced purchase of an information technology system worth over P2 billion.
https://www.gmanetwork.com/news/news/nation/748279/roque-says-philhealth-under-probe-over-overpriced-it-purchase-urges-resigned-officer-to-tell-all/story/
Roque said the investigation will be headed by Undersecretary Jesus Melchor Quitain of the Office of the Special Assistant to the President.