Filtered By: News
News
UP experts urge month-long ECQ in Metro Manila to slow COVID-19 transmission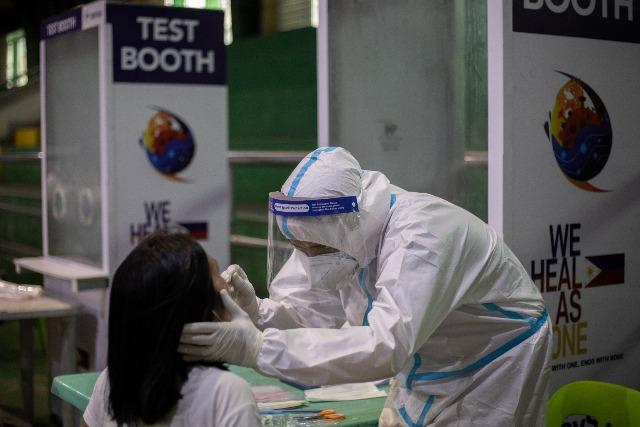 Experts from the University of the Philippines (UP) on Monday recommended a month-long enhanced community quarantine (ECQ) for Metro Manila to further slow the spread of the coronavirus disease 2019 (COVID-19).
Professor Ranjit Rye of the UP-OCTA Research team made the recommendation in light of the high positivity and critical care utilization rates in the capital region despite a slight lag in community transmission.
"The template that we can follow is Cebu. In Cebu, after one and a half months of very strict quarantines, they were able to hammer down the rate of transmission," he said in a "24 Oras" report by Joseph Morong.
In a report to President Rodrigo Duterte, the UP experts noted that the "surge in Cebu has been reversed" with only 92 new cases reported daily from the previous 176, a reproduction number of 0.54, and a positivity rate of 7%.
The reproduction number, which should be lower than 1, refers to the average number of people that one COVID-19 patient can infect, while the positivity rate should be equal to or lower than 5%, according to the World Health Organization.
"These are very positive things and if they can continue that and sustain that, we will see that Cebu will open up, its economy will open up, and it's going to look forward to a brighter Christmas," Rye said.
Presidential spokesman Harry Roque earlier said that extending the modified ECQ over Metro Manila and neighboring areas would be a "delicate balancing act."
Findings
In their report, the UP experts said that the number of new cases reported daily nationwide fell to 3,194 between August 3 and 9 from 3,698 between July 25 and August 2.
The National Capital Region and some nearby provinces were shifted from a general community quarantine (GCQ) to a stricter modified enhanced community quarantine (MECQ) from August 4 to 18 after exhausted medical workers pleaded for a two-week "time out" to allow them time to regroup.
The country's reproduction number has also decreased to 1.12 from 1.32 but is still above 1.
Meanwhile, the experts flagged the COVID-19 situation in Metro Manila as a "serious cause for concern" due to the "very high" positivity rate of 17% and over 70% occupancy of COVID-19 beds and intensive care units (ICU).
The reproduction number in the region decreased to 1.18 from 1.39 but remained above 1.
"The virus is still spreading in the NCR but it has slowed down," Rye said. "Hospital capacity is still at critical levels and support for our health care workers in the NCR is urgently needed."
"We all need to work together to reverse the surge in the NCR in the coming weeks. The government at this point cannot overestimate its achievements and underestimate the virus as the trends can easily be reversed," he added.
Recommendations
The report noted that the MECQ "is working but its implementation must be made more effective" by ensuring that health protocols are strictly observed.
The experts also urged the government to scale up isolation and quarantine facilities.
They also urged authorities to ramp up ICU and bed capacity for COVID-19 cases as well as augment the health workforce to "support for our already burdened health care workers."
"Providing support for our health workers, in terms of equipment and additional manpower in the NCR is a critical need at the moment," Rye said.
The Philippines has logged over 129,000 COVID-19 cases as of Sunday afternoon. — BM/KG, GMA News