Filtered By: News
News
ABS-CBN News' YouTube channels down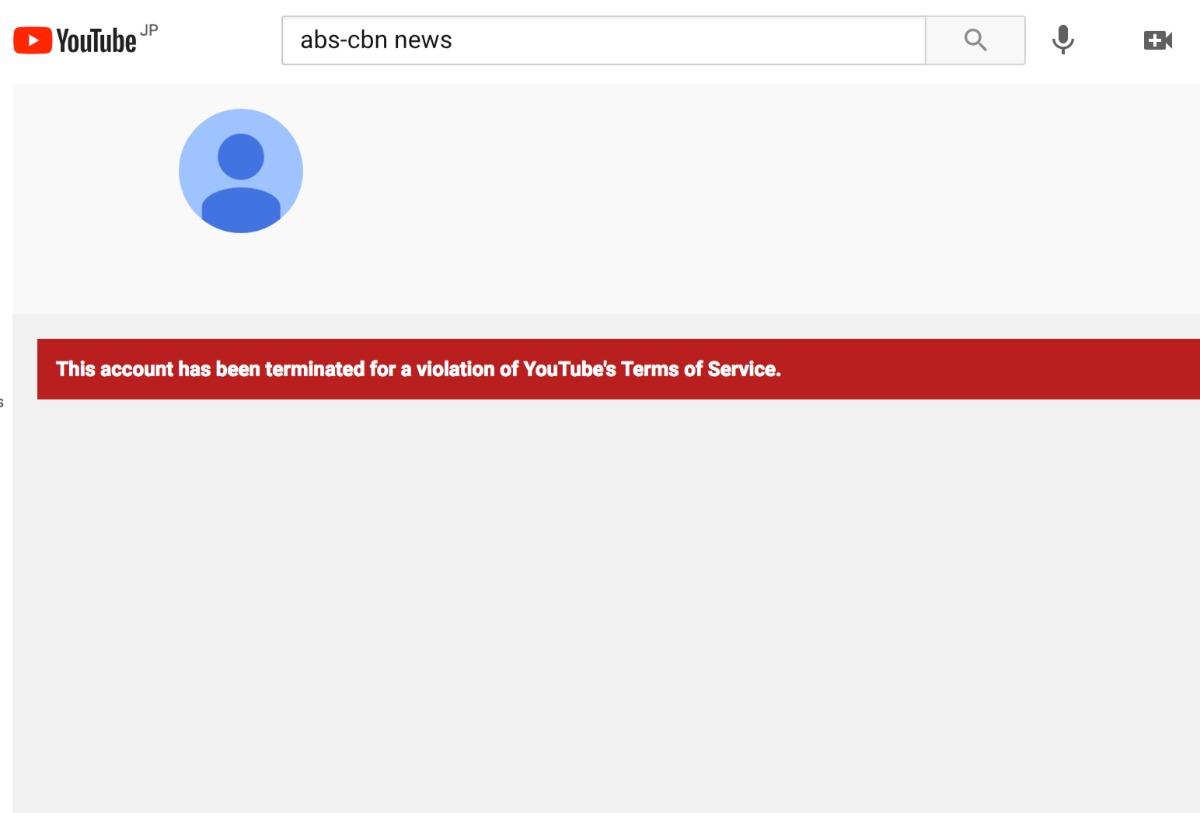 ABS-CBN News' YouTube channels have been inaccessible since Tuesday morning and appear to have been terminated.
In a statement, ABS-CBN Corporation said it had been working to retrieve its news channels on YouTube as uploads were inaccessible to the public.
The broadcaster said it is now on top of the matter, and is in coordination with the video platform to resolve the issue and regain control of the channels moving forward.
"We are aware of the problem of accessing ABS-CBN News channels on YouTube. We are currently investigating this and working closely with YouTube to resolve the problem," the statement read.
As of 11:31 a.m. on Tuesday, the accounts of ABS-CBN News remain inaccessible. A quick search on YouTube would indicate that videos are "no longer available because the YouTube account associated with this video has been terminated."
In an update, the broadcaster said its YouTube accounts -- ABS-CBN News and ANC 24/7 -- were hacked starting 6:30 a.m., but were restored at 3:58 p.m. on Tuesday.
"The investigation on the incident continues as we also implement measures to prevent this from happening again," it said.
"ABS-CBN remains committed to provide news and information to our countrymen, particularly over these trying times as we recover from the efforts of Super Typhoon Rolly and prepare for another incoming weather disturbance," it added.
According to the YouTube Help Center, a terminated channel or account may not be able to use, own, or create new channels or accounts. Owners get an email explaining the reason for termination.
Among the possible reasons for terminations are the following:

• Repeated violations of the Community Guidelines or Terms of Service across any form of content (like repeatedly posting abusive, hateful, and/or harassing videos or comments)
• A single case of severe abuse (such as predatory behavior, spam, or pornography)
• Channels or accounts dedicated to a policy violation (like hate speech, harassment, or impersonation)

Aside from such reasons, YouTube said accounts can also be terminated due to copyright infringement claims.
Owners of the account can submit an appeal request for community guideline concerns, or file a counter-notification for copyright issues.
"We take account security very seriously and notify account owners when we detect suspicious activity. If an owner has reason to believe their account was compromised, they can notify our team to secure the account and regain control," YouTube said in a statement sent via email in response to a request for comment.
ABS-CBN has continued to stream its news and entertainment shows online throughout the COVID-19 pandemic, while several shows are also available on free TV through a partnership deal with Zoe TV under the rebranded A2Z Channel.
In May, the National Telecommunications Commission (NTC) ordered the shutdown of the company sans a congressional franchise, despite the agency saying it will issue a provisional authority.
On July 10, House Committee on Legislative Franchise voted to deny ABS-CBN's franchise application, adopting a committee resolution recommending the denial of the network's franchise application through 70 yes votes, 11 no votes, and three who did not participate.
The bills seeking franchise renewal for ABS-CBN have been pending since 2014 but the House only decided to start its deliberations on these proposals on March 10 this year.
In September the National Telecommunications Commission (NTC) recalled all frequencies and channels assigned to ABS-CBN Corp.
To recall, the NTC on May 5 issued an order for the company to cease and desist from operating its radio and television stations and explain in writing why the frequencies assigned to it should not be recalled for lack of franchise. —KG/BM, GMA News