Filtered By: News
News
No fair trial for 'threatened, surveilled' Tiamzons — lawyer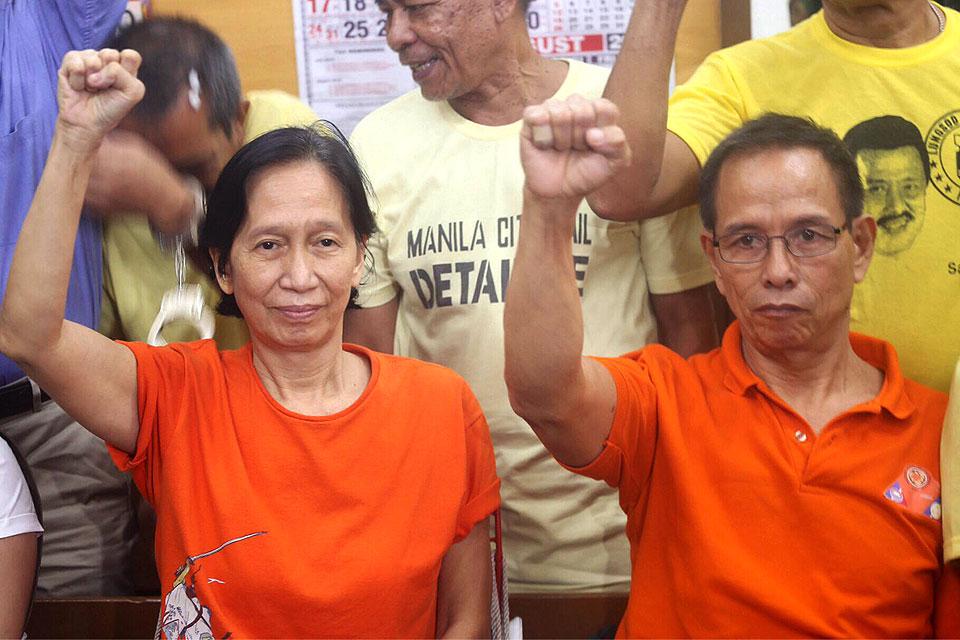 Benito and Wilma Tiamzon, peace consultants and alleged leaders of the Communist Party of the Philippines, were unable to defend themselves in court because of threats to their lives, their lawyer said Friday.
The Tiamzons were convicted of kidnapping and serious illegal detention for the abduction of four soldiers by the New People's Army in 1988. They did not present evidence in their defense during trial and have not appeared in court since 2018, according to the judge who sentenced them.
Their lawyer, Rachel Pastores of the Public Interest Law Center, said they "could not effectively defend themselves in court because they and their witnesses are constantly subjected to threats to their lives, harassment, and surveillance."
"They could have easily presented evidence in their defense and dispute the clear lies of the lone prosecution witness, a high ranking member of the military," Pastores said, referring to Abraham Claro Casis, the complainant.
Casis testified that he saw the Tiamzons in the detention center where he and his fellow soldiers were held. A lieutenant at the time, Casis would become a general and served as the commander of the Joint Task Force - National Capital Region before his retirement last year.
Pastores said the kidnapping case against the Tiamzons survived, despite the dismissal of charges against several people, because of the "self-serving and biased statements" of Casis.
The lawyer said the Tiamzons had filed a manifestation in court before the verdict was handed down enumerating "serious threats" to their lives, which she said was illustrated in the murders of peace consultants Randall Echanis and Randy Malayao.
"The vilification of the Tiamzons, led by the President himself, has constricted their space for remedy or relief at this time," she said.
"Given the present factual milieu, the Tiamzons, along with other peace consultants facing false charges in court, cannot avail of fair trial," Pastores added.
The Tiamzons were arrested in 2014, over two decades since the kidnapping case was originally filed. They were released on bail in 2016 so they could join peace talks with the Duterte administration. When the negotiations collapsed, their bail was canceled and they were ordered re-arrested in 2018.
They have not been taken into custody since.
The Palace has said that the "conviction was a victory for justice."
Presidential spokesperson Harry Roque said the decision showed the "long arm of the law has finally caught up with the Tiamzon couple."
"We therefore consider this latest court decision as a triumph of the justice system. It clearly shows that the wheels of justice continue to grind," he said.
The military spokesman, Major General Edgard Arevalo, on the other hand, said the Tiamzons' conviction "is a victory for the many victims of atrocities of the NPA particularly orders to conduct murder, arson, extortion, ambushes, bombing and the like that they orchestrated." — RSJ, GMA News