Filtered By: News
News
'BLOODY SUNDAY'
Groups condemn killings of activists in CALABARZON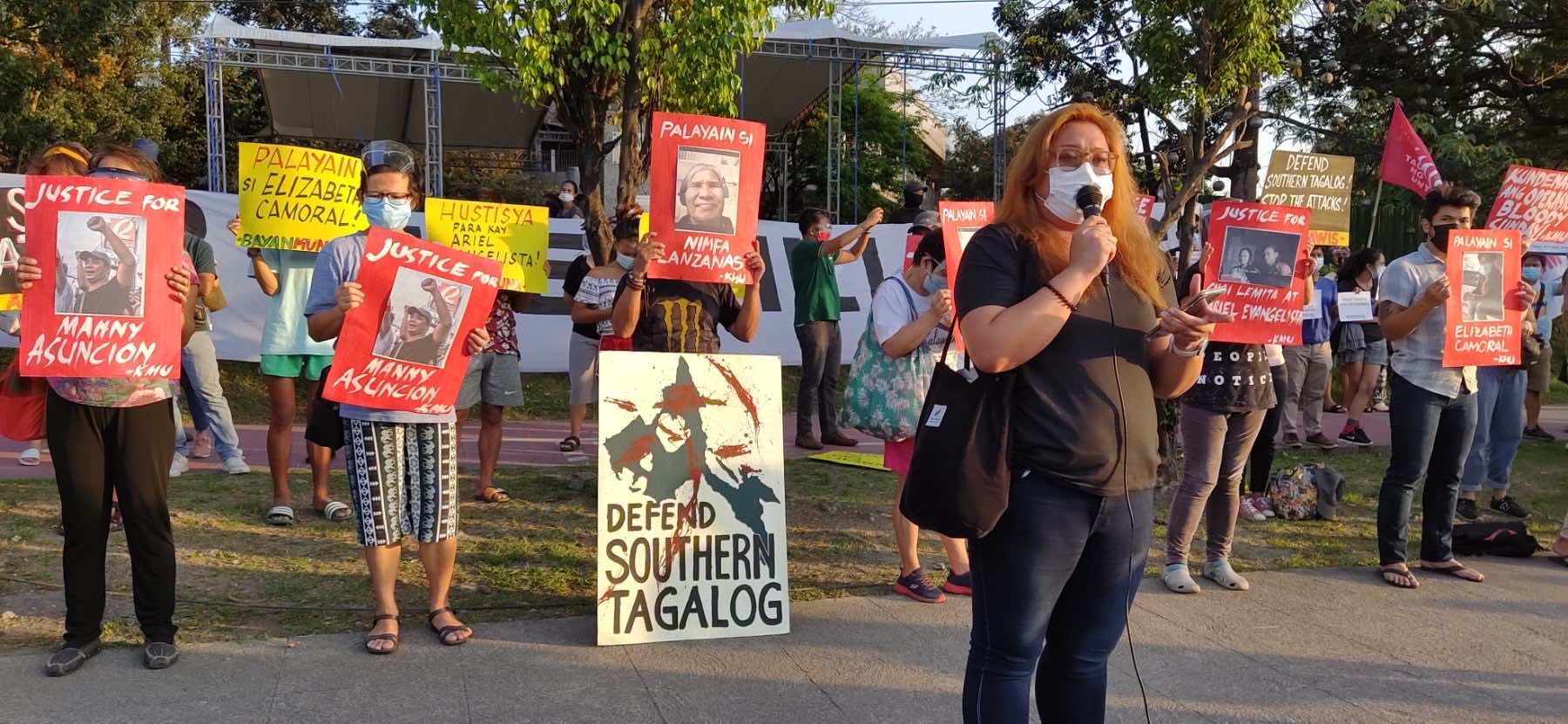 Rights groups and activists on Sunday denounced the killing of at least nine activists and arrest of six others in simultaneous police operations in Calabarzon on Sunday.
In a statement, Karapatan Secretary General Cristina Palabay said this is not the first time that operations against activists happened.
"[L]ike the Gestapo-esque police raids in Negros which led to the mass arrests of activists and progressive leaders through search warrants manufactured from the government's factory of lies, the Duterte regime is now unleashing the unbridled horrors of fascism and the crackdown on dissent upon the Southern Tagalog region using the same dirty tactics," she said.
"Nothing could be more apt than calling this day a 'Bloody Sunday.' The fascist Duterte regime spares no day in its murderous campaign of State terror with the arrests and killings of labor leaders, organizers, activists, and human rights workers in tokhang- style raids Southern Tagalog today along with peddling the same lies and dirty tactics, from the bogus search warrants, the 'nanlaban' narrative to the tanim-ebidensiya scheme to justify these arrests and killings," she added.
Progressive groups have pointed out that the deadly crackdown comes on the heels of President Rodrigo Duterte's speech on Friday at the joint meeting of the National Task Force - Regional Task Force to End Local Communist Armed Conflict in Northern Mindanao (NTF-RTF-ELCAC X) in Cagayan de Oro City, at which he told government forces to kill suspected rebels, without regard for human rights.
"We hold President Duterte and General [NTF-ELCAC spokesperson General Antonio] Parlade directly accountable for the killing and illegal arrest of these unarmed activists, as well as the brazen weaponization of search warrants and planting of evidence that were done to justify such actions. This adds to the long long list of atrocities committed by Duterte and his tyrannical, fascist regime," said Bagong Alyansang Makaban (Bayan), who said that among the fatalities was Bayan Cavite coordinator Manny Asuncion, who was shot dead in a raid at the Workers Assistance Center in Dasmariñas City.
Palabay said calls for justice "ring louder more than ever" as they demanded the release of all those arrested in Southern Tagalog and all political prisoners.
"The Commission on Human Rights must investigate these raids and ensure that justice and accountability is served for the victims of State terror and fascism. We will not be silenced, and we call on all Filipinos to condemn these raids and to stand with us in the struggle for justice and in defending people's rights," she added.
'Pure terrorism'
According to PRO4A public information office chief Police Lieutenant Colonel Chitadel Gaoiran, six of the fatalities were reported in Rizal, two in Batangas, and 1 in Cavite.
Also, six people were arrested including three in Laguna and another three in Rizal.
At least nine people are still at large including one in Batangas and six in Rizal, Gaoiran added.
PRO4A said authorities have recovered explosives and several firearms allegedly from target personalities.
Bayan Muna party-list Representatives Carlos Zarate, Eufemia Cullamat and Ferdinand Gaite joined a rally at the Commission on Human Rights compound in Quezon City to protest the killings.
Zarate called the crackdown a "bloodbath."
"This is pure terrorism to brutally silence dissent," he wrote on Twitter. "Pure terrorism to stop making government accountable." — Ma. Angelica Garcia/BM, GMA News