Filtered By: News
News
Duterte: Bong Go wants to be president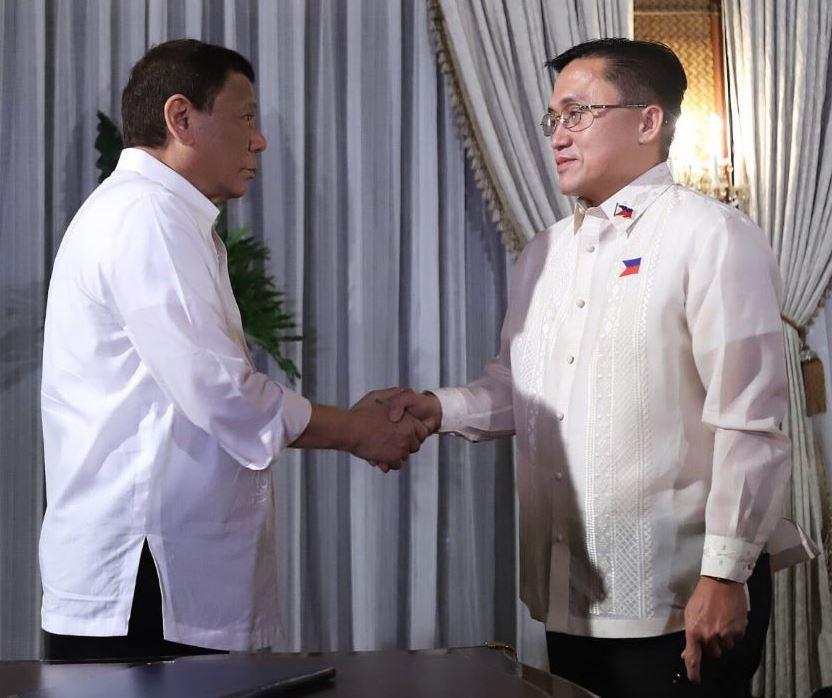 Senator Bong Go wants to be his successor, President Rodrigo Duterte said.
Duterte made the announcement in the presence of Go when he delivered a speech at the inauguration of the Port Operations Building, Port of Dumaguete in Dumaguete City, Negros Oriental.
Go was Duterte's most trusted aide, having been with him for over 20 years since he was Davao City mayor. In the 2019 elections, he campaigned for Go, who won a Senate seat.
"Ito ba si Senator Bong Go, pababa kami sa eroplano, sabi niya, 'Sir, may hingin sana ako sa iyo na pabor.' Sabi niya medyo it leaves a bad taste in the mouth pero ikaw na lang ang magsabi sa kanila. Sabihin ko, ang totoo, isang bagay lang: sabihin raw sa inyo, gusto niya maging Presidente (When we were disembarking from the plane, Senator Go asked me for a favor. It leaves a bad taste in the mouth because it is still a long way to go…he told me, I should be the one to tell you, he wants to be President)," Duterte said.
Go smiled but gestured with his hand appearing to contest what the President said. Duterte then proceeded with his speech on another topic.
Duterte made the revelation on the same day that Deputy Speaker Eric Martinez of the ruling party PDP-Laban confirmed that members of the party are calling on President Rodrigo Duterte to run for vice president in the 2022 elections.
Martinez told GMA News Online that a resolution is going around party members asking the President to seek the vice presidency in next year's elections.
Duterte's six-year term will end on June 2022. The 1987 Constitution allows only a single six-year term to serving presidents, but do not bar them from running for lower office.
Duterte already called Go "president" in an event in Cagayan de Oro last March 5.
"Presidente, will you again stand up?" Duterte had said, addressing the former special assistant to the President who had been with him since he was mayor of Davao City.
"Let's see if it fits you. Stand up again. Stand up. And then do this," Duterte had said, waving his hand. "He was with me for 21 years."
Presidential spokesperson Harry Roque said on Thursday that he was unaware of the initiative of the lawmakers
"I have no information on that," Roque said.
"I will consult the President on this. There was an instance when he mentioned that why would he run for Vice President when he already became President, but I don't know if there has been any change," Roque added.—LDF, GMA News