Filtered By: News
News
Carpio-led 1Sambayan to field unified opposition slate in 2022 elections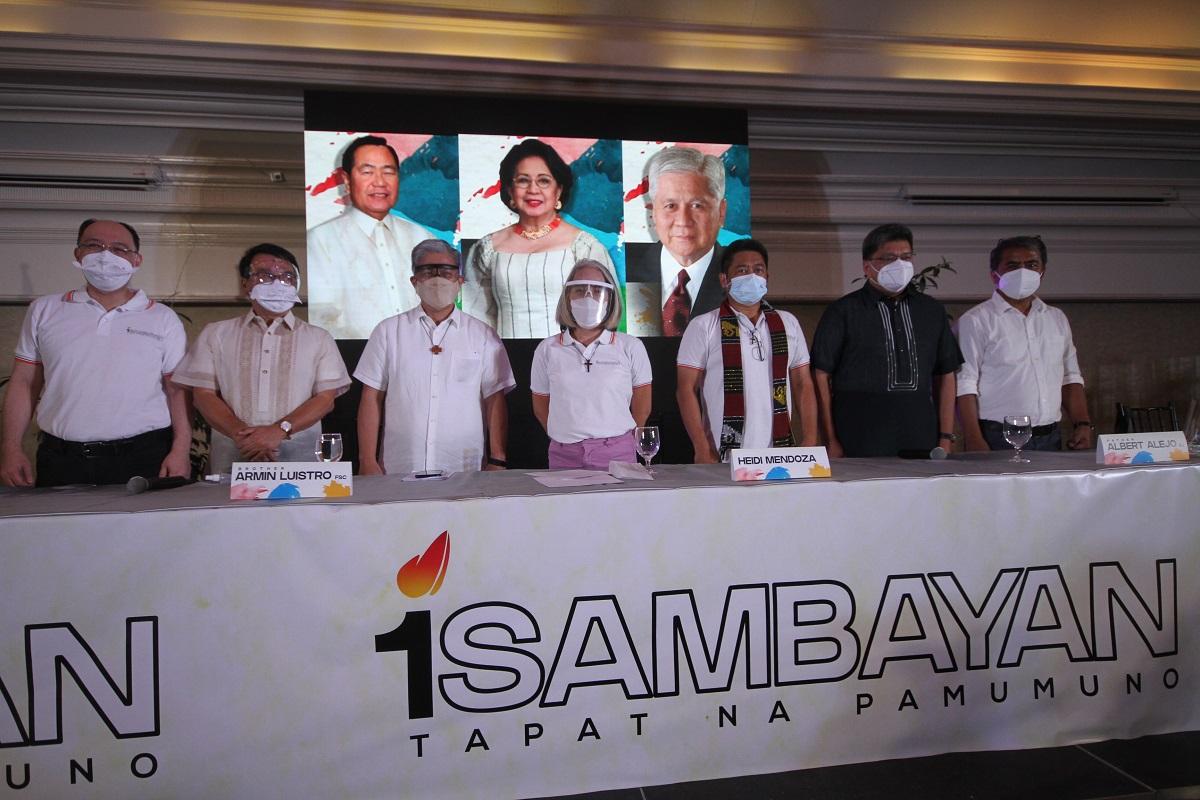 Several anti-administration forces on Thursday vowed to field a unified opposition ticket in the May 2022 national elections.
Led by retired Supreme Court justice Antonio Carpio, the newly formed coalition "1Sambayan" aims to come up with a single slate of national candidates — president, vice president, 12 senators — who will run against President Rodrigo Duterte's preferred successor and his other bets.
At a news conference following the launch, Carpio said they already had initial discussions with possible candidates for president or vice president: Manila Mayor Isko Moreno, Senators Nancy Binay and Grace Poe, Vice President Leni Robredo, and former Senator Antonio Trillanes IV.
"We are prepared to accept suggestions and nominations from everyone. So we are not foreclosing the candidates that we will consider and we will go through the process," he said.
Davao City Mayor Sara Duterte and Senator Manny Pacquiao, however, will not be endorsed by the coalition due to their affiliation with the current regime.
Duterte is the daughter of the President while Pacquiao supported the war on drugs and the proposed revival of death penalty.
"We do not think that the daughter of the President will qualify under our coalition," Carpio said.
"It will be difficult for us to consider [Pacquiao] considering his affiliation with President Duterte," he added.
The coalition's vetting process includes surveys and interviews of potential candidates. These individuals will be screened based on their track record, stand on important issues, policy platform, and competence.
Convenors
1Sambayan's convenors and supporters include Carpio, former Ombudsman Conchita Carpio Morales, former Education secretary Armin Luistro, former Foreign Affairs secretary Albert del Rosario, former Commission on Audit commissioner Heidi Mendoza, National Union of Peoples' Lawyers chairman Neri Colmenares, Magdalo party-list, and some labor groups.
Carpio indicated that the coalition's diversity will not prevent it from achieving its objective.
"All those who have joined the coalition have agreed to respect the decision of the convenors on who will be the candidates of the democratic forces," he said.
"This is the understanding of everybody that unless we are united we cannot win in 2022."
On the issue of funding for a national campaign, Carpio said, "We all know that if the candidate is viable, a lot of people will help."
"It's important to have a very viable candidate. It's important to remain united. Once the contributors see this, they will be there to support," he said.
Colmenares added: "Many of us are here today precisely because we are unified that the issue of 2022 elections, when another Duterte comes into power, will be substantially affecting our survival as a nation."
In a video message, Carpio slammed the Duterte administration's "mishandling" of the COVID-19 pandemic, South China Sea policy, moves to amend the 1987 Constitution, and alleged threats against businesses, media entities and critics.
The government also faced allegations of abuse in its war on drugs.
"The Filipino people deserve a better government," Carpio said.
"There are Filipino leaders who can do a much better job of running the government, reviving the economy, creating jobs for our people, and defending our territory and sovereign rights in the West Philippine Sea."
Duterte remains popular despite criticisms of his policies and statements. He has yet to anoint a potential successor although he recently said that his former longtime aide and confidante, Senator Christopher "Bong" Go, wants the top job.
Go said he was not eyeing the presidency, adding he might only change his mind if Duterte will run as vice president.
Some of Duterte's colleagues in the ruling PDP-Laban party have already urged him to run for vice president, but the party's acting national president and Senator Manny Pacquiao said the move did not have the party's blessing. — RSJ/BM, GMA News