Filtered By: News
News
LIST
28 NCR hospitals reach full capacity of COVID-19 ICU beds —DOH data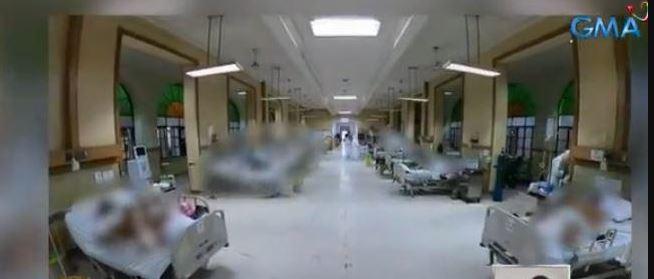 Twenty-eight hospitals across Metro Manila no longer have available intensive care unit (ICU) beds for COVID-19 patients as of March 21, Department of Health (DOH) data showed.
According to DOH data analyzed by the GMA News Research team, 73.86% of ICU beds in the capital region have already been occupied.
All ICU beds in Malabon and San Juan have been utilized while 100% of isolation beds in Pateros, ward beds in Makati, and mechanical ventilators in Malabon are in use.
The following hospitals have reached full capacity of COVID-19 ICU beds:
Allied Care Experts Medical Center-Valenzuela, Inc.
Allied Care Experts Medical Center-Quezon City, Inc.
Asian Hospital Inc.
Capitol Medical Center, Inc.
Cardinal Santos Medical Center
Chinese General Hospital & Medical Center
Commonwealth Hospital And Medical Center
F.Y. Manalo Medical Foundation, Inc.
Las Piñas City Medical Center, Inc.
Las Piñas Doctors Hospital, Inc.
Las Piñas General Hospital & Satellite Trauma Center
Makati Medical Center
MCU-FDT Medical Foundation Hospital
Medical Center Manila, Inc.
Medical Center Muntinlupa, Inc.
Metro North Medical Center And Hospital, Inc.
Metropolitan Medical Center
National Kidney And Transplant Institute
Ospital ng Makati
Pasig City General Hospital
Providence Hospital, Inc.
Research Institute For Tropical Medicine
San Lazaro Hospital
San Lorenzo Ruiz Women's Hospital
St. Luke's Medical Center
Sta. Ana Hospital
Unihealth Parañaque Hospital And Medical Center, Inc.
Valenzuela Medical Center
Data from just one day ago, March 20, showed that 24 hospitals no longer have unoccupied ICU beds.
The following Metro Manila hospitals have also breached 85% occupancy of COVID-19 ICU beds, putting them in the "critical" risk classification as of March 21:
East Avenue Medical Center
Lung Center of the Philippines
National Children's Hospital
University of Perpetual Help Dalta Medical Center, Inc.
Veterans Memorial Medical Center
The Medical City
Quirino Memorial Medical Center
Philippine General Hospital
The DOH said treatment czar Health Undersecretary Leopoldo Vega "is continuously conducting hospital visits to check on the statuses of different hospitals in NCR and ensure that they do not get overwhelmed."
Health Secretary Francisco Duque III has also instructed the DOH to assist hospitals in expanding their COVID-19 bed allocation to 30% for private hospitals and 50% for public hospitals.
"The DOH continues to urge all individuals experiencing mild symptoms to go to dedicated isolation facilities instead of hospitals to help free up space in hospitals for those who most need it," it said.
51% of record 8,019 new cases from NCR
Meanwhile, 51.2% or 4,103 of the record-high 8,019 new COVID-19 cases reported on Monday hailed from Metro Manila.
Quezon City logged 956 new cases while Manila recorded 587 new infections on March 22.
Also among the top areas with the highest number of new cases on Monday were Taguig with 375 new infections, Makati with 341, Caloocan with 264, Parañaque with 209, and Mandaluyong and Pasay with 208 each.
Calabarzon had the second biggest slice in the new cases reported on Monday with 1,327 new infections.
The areas that registered the highest number of new cases in the region were Cavite with 499, Rizal with 423, and Laguna with 205.
The Philippines has 677,653 infections with 578,461 recoveries and 12,992 deaths as of Tuesday afternoon.
The government tightened restrictions over Metro Manila, Cavite, Rizal, Bulacan, and Laguna in a bid to arrest the surge, which health authorities have attributed to the new coronavirus variants, increased mobility, and relaxed adherence to health protocols.—AOL, GMA News