Filtered By: News
News
Cash distribution to ECQ-weary families in NCR Plus starts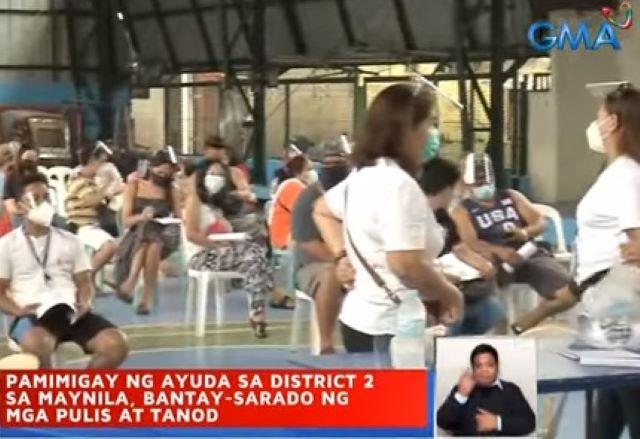 The cash payout to residents affected by the enhanced community quarantine in the National Capital Region, Bulacan, Cavite, Laguna, and Rizal or NCR Plus has already started.
According to a report of Mai Bermudez on GMA News' "Unang Balita" on Wednesday, the Manila local government unit started the distribution of cash assistance on Tuesday night.
However, due to the failure of some beneficiaries to observe social distancing, the distribution was temporarily halted.
Beneficiaries from seven barangays have received cash aid of P1,000 for each individual, and a maximum of P4,000 for every family.
On Wednesday, the distribution process continued in more barangays, according to a report of Jonathan Andal.
In one instance, a resident came over to claim the cash aid for live-in partner who is in the province, but failed to present an authorization letter.
Barangay officials instead asked the proxy-claimant to make a video call with the beneficiary for the cash aid's release.
In Parañaque City, the distribution process started at about 9 a.m. on Wednesday.
In a Facebook post, Parañaque City Public Information Office said at least 1,801 residents are scheduled to receive the cash assistance based on a partial list.
In Caloocan City, at least 368,925 beneficiaries were listed for the cash assistance from the national government funds, according to a report of Darlene Cay.
Caloocan City said there are six venues for the payout process, and only 1,500 beneficiaries are scheduled to claim their cash for each day in every venue.
Beneficiaries have to wait for a text message from the local government for their respective reference number, venue, and schedule.
In Quezon City, the line of beneficiaries began to grow long on Wednesday morning.
At least 40 barangays will be covered by distribution activities in 30 venues, the city government said in a Facebook post.
Earlier, Mayor Lino Cayetano said Taguig City will start its distribution process also on Wednesday.
He directed the processing of the list of beneficiaries who will receive cash in the latest social amelioration program of Taguig City.
Reports indicated that the government has allocated P22.9 billion for the assistance program of those affected by the reimplementation of ECQ in the NCR Plus bubble. —LBG, GMA News