Filtered By: News
News
Duterte vows continued win-win relations with China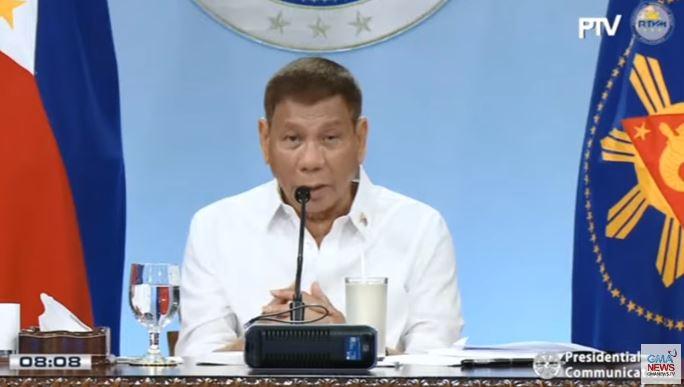 The Philippines will continue to pursue a mutually beneficial bilateral relations with China, President Rodrigo Duterte said before the Federation of Filipino-Chinese Chambers of Commerce and Industry, Incorporated Wednesday.
"Thank you to the Federation for being a partner in promoting economic, cultural and people-to-people exchanges between the Philippines and China. As we approach the 50th Anniversary of Philippines-China ties, [our] win-win cooperation will ensure that our relations remain a partnership for greater peace, progress and prosperity," the President said in a video message for the 46th anniversary of the Philippine-China Relations and the 20th anniversary of the Filipino-Chinese Friendship Day.
"Today's celebration reminds us of the deep and abiding friendship between the Filipino-Chinese peoples. It is a bond that predates by centuries, the formal establishment of diplomatic relations 46 years ago," he added.
Duterte also cited that the ties between the two nations are a "dynamic force" that continues to move the bilateral relations forward.
"I am confident that my Administration's Build Build Build program, together with the Belt and Road Initiative, will reap long-term benefits for our peoples," Duterte added.
Former President Gloria Macapagal-Arroyo pointed out that China as one of the biggest economies in the world, is a major investor in the Philippines' infrastructure projects and partner to the vibrant Filipino-Chinese community.
"Philippines-China relations are important. The continuing friendship between our two peoples enhances the mutually beneficial relations between our two countries and contributes to the peace and harmony in the Asia-Pacific region," she said.
"That is the significance of my presidential proclamation declaring June 9 of every year as Filipino-Chinese Friendship Day," Arroyo added.
The former leader expressed optimism the federation "will continue to be the moving force on the private sector side not only to boost cooperation in trade, tourism and investments with China, but more importantly to spread friendship, understanding and the goal of mutual economic progress that have bound our two peoples together."

Duterte also acknowledged "China's timely acts of solidarity and assistance and helped the Philippines take crucial steps towards healing and economic recovery."
Duterte has consistently called China a dependable friend especially amid the COVID-19 pandemic. To date, majority of the country's COVID-19 vaccine supply were either donated by China or procured from Chinese company Sinovac.
Likewise, the President has said that he will only send gray ships to the West Philippine Sea once China drills oil within the Philippines' exclusive economic zone.
Philippine patrols have been reporting presence of Chinese vessels within the country's exclusive economic zone in West Philippine Sea but presidential spokesperson Harry Roque has maintained that the Chinese will eventually leave.—LDF, GMA News