Filtered By: News
News
WHO: Philippine COVID-19 vaccination program 'remarkable' despite supply shortage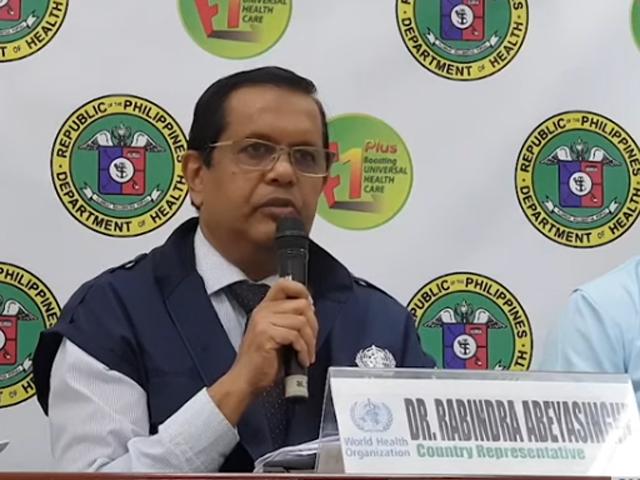 A World Health Organization representative on Tuesday said the Philippines' vaccination program has been "remarkable" as the country administered 12 million doses in four months time amid global supply shortage.
"It [the vaccination program] has been remarkable and we are now, I think, at almost 12 million people vaccinated and the vaccination program that just began in March. Just months… and that also with limited access to vaccine," WHO Representative to the Philippines Dr. Rabindra Abeyasinghe said in an ANC interview.
Abeyasinghe made this statement as he explained that the WHO has set a threshold to all countries in terms of COVID-19 vaccination.
The group eyes the vaccination of 10% of the population of all countries by September, 40% by the end of 2021, and 70% by June 2022, Abeyasinghe said, adding this threshold is set to all countries, regardless its economic status.
"We believe that if we can achieve that globally, that could help to end the acute phase of this pandemic," he said.
The WHO representative said he believes that the Philippine government can exceed the threshold as it follows an "ambitious" vaccination plan.
"For the Philippines, you have more ambitious goals. I think you now are at more than 10 percent of your population already vaccinated with first dose, four to five percent already fully vaccinated and we are looking at significantly large quantities of vaccines arriving over the next few weeks and months," he said.
"So we believe that you will exceed the 10% before September and certainly you may exceed the 40% threshold by the end of the year because we said originally that COVAX itself will provide vaccines to protect 20 percent of your population," he added.
Abeyasinghe then commended the government, the private sector, and all the industries that helped in securing COVID-19 vaccine supplies for the country.
Moreover, Abeyasinghe explained that WHO is now eyeing the inoculation of as many individuals as possible as it raised the ratio that should be vaccinated to at least 85% of the population, considering the emergence of more transmissible coronavirus variants.
"With the emergence of the more transmissible Alpha and Beta variants, the proportion that needs to be vaccinated has been estimated to be significantly higher. We are now looking at 85 percent and beyond and now we advocate not to talk about the [herd] immunity, but how many people we can protect," he said.
On Tuesday morning, Secretary Vince Dizon, deputy chief implementer of the government's pandemic response, said the Philippines has so far administered 12 million doses of COVId-19 vaccines since March.
The vaccine brands that are currently part of the Philippines' portfolio are Sinovac, AstraZeneca, Pfizer, Sputnik V, and Moderna.
The country has tallied over 1.4 million COVID-19 cases with more than 1.3 million recoveries and 25,192 deaths as of Monday afternoon. —KBK, GMA News