Filtered By: News
News
Pinoy dad, daughter fly commercial planes together
Captain Antonio Halagueña always wished one of his four children would follow in his footsteps and become a pilot. His two sons seemed to be the obvious choices. Halagueña, however, gave up the idea because one of his sons complained: "You were always out… You never saw me learning to ride a bike." One day youngest daughter Andrea or Iya suddenly said she wanted to fly planes like her father and maternal grandfather, a pilot during the Second World War. Today, the father-and-daughter tandem flies planes together as captain and first officer for the airline company ZestAir. Halagueña's time onboard is almost up because he is retiring soon. Father and daughter are scheduled to fly together for the last time on February 17, two days before the captain's 65th birthday.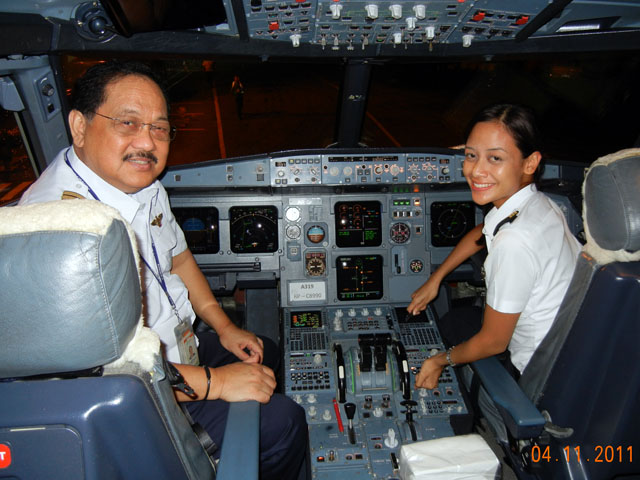 Father-daughter tandem on air. Captain Antonio Halagueña (left) and his daughter, Andrea or Iya, have been flying commercial planes together since the latter decided to change career paths and become a pilot like her father. Photo by Dir. Art Alejandrino, courtesy of Risa Halagueña
Surprised by decision
Halagueña— who has been in the airline industry for nearly four decades— said Iya's decision caught him by surprise. "When she said she wanted to become a pilot, I said, 'What? Are you sure?' And her answer was, 'It's in my blood: you and my lolo.' When I heard that, I had to agree, but I wanted to be sure," he told GMA News Online. Iya, at the time, just graduated from the Ateneo de Manila University, where she majored in Development Studies. She initially wanted to work for environmental organizations but figured she just didn't fit the mold of an office-bound worker. "Because of my mom (a flight purser) and dad—we're in the industry—I was somehow led into it.
Wala namang
pressure from [my parents]; I really wanted to become a pilot," she said. As he was already an instructor for younger pilots at the time, Halagueña said he told Iya to "remove all your gimmicks!" and study hard because the profession's first requirement is discipline. His daughter did not disappoint, he said. "She was studying up to 3:00 a.m. I saw that and thought, 'Ah, she will make it.' She really studied well. And all of the pilots that flew with her [told me], 'She did it all on her own,'" he said.
Bonding up in the air
Aside from fulfilling her father's dream, Iya's decision led to a different bond between them, making up for the times when the captain was barely home as she was growing up. "How did I cope then? Through YM (Yahoo! Messenger),
nagcha-chat kami! Pero super hirap [kasi]
I had a long-distance relationship with him," she said. For his part, Halagueña admitted that even though he was not like other overseas Filipino workers (OFWs) who had to be away from home for years, his absence still affected his children, particularly the two boys. "Well, we had flights to Europe, so I would be away for 21 days and then be back for just two days, so it was really not good for a family man. From there, I tried hard to attend father-and-son sharing for eight years to be able to bond with my two sons," he said. But the sacrifice had to be made to pay for the family's expenses, the captain added, and the work provided for a good life for the family. "I came from a poor family, so when I was able to build a nice house for them, I took a chair to the lawn, opened a beer, and gave a toast to myself and said 'I made it,'" he told GMA News Online. "I have four children who were able to finish school. I can remember Andrea telling me, 'It is your duty to send me to a good school.' All of them finished their degrees. That's already an achievement for me. When I retire, my wife and I can just travel and we are sure that our children will be able to support themselves financially," he added.
Proud father
Halagueña said he felt very proud to be flying with his daughter, especially on their first flight out to Puerto Princesa, Palawan. "I listened to the cabin crew announcement. I felt really good when the crew mentioned, 'Flying this aircraft is Captain Halagueña, assisted by First Officer Andrea Halagueña.' I was like, 'Wow!' That was really something," he told GMA News Online. For Iya, it was "really just like any other flight, except that I was calling my captain 'Papa'." "I was telling her, 'Hey, you're supposed to call me sir!" the captain teased. "I had no inkling that I would be a pilot; I was a flight steward before in Philippine Airlines, where one of the captains told me to train," Halagueña shared. "At the very least, you have to really enjoy flying. Flying to me is like a sport, it's not a job. I earn more, but then I enjoy my work. Same with my daughter here—the only problem is waking up in the morning!" For Iya, flying planes fulfills her thirst for adventure, though it can get "really stressful" and a bit "repetitive." "There's pressure, pero sa lahat naman meron. Mas enjoy ako. Hindi ko masyadong nafi-feel 'yung pressure because I enjoy it," she told GMA News Online. The captain said he could see that his daughter would do well in the industry because she already knows what she wants. "You know, when she was just starting out, she was already asking me, 'When will I become captain?' That was nice! When I was co-pilot and reached [the requirement], I already applied for captain. That was my aim. So when she said that, I was so happy!" he said. As he nears his retirement—and his chance to take the sidelines as instructor—Captain Halagueña advised his daughter: "Don't relax." "You know being a pilot is a continuous study, you don't let your guard down because you're not flying alone—you're flying with other lives in your hands," he said. Even with the challenge, Iya is not paying attention to the pressures that lie ahead. Instead, she said she is grateful for the opportunity to work alongside her father. "Of course I'm proud of him. Super proud!" she told GMA News Online.
"Tuwing kailan ba nabibigyan ng chance na lumipad
with your dad or a family member? I'm really happy. I feel blessed that I get to fly with my dad."
- VVP/HS, GMA News