Filtered By: News
News
Have a question about US visas? Tweet the Consul General
This story, about the US Embassy's VISA HOUR, is the first in a series of stories that GMA News Online will publish over the next few days about US visas, based on an exclusive interview with US Consul General Michael Schimmel in Manila.
Often, what stands between a Pinoy and his dream to go to the United States, either for work or travel, is a visa. US Consul General to the Philippines Michael Schimmel said many Filipinos seem to find it intimidating to obtain a US visa. In an interview with GMA News Online on Thursday, Schimmel said, "There is a certain mystery to the US visa process that we hope can be dissolved." To "demystify" the process, the US Embassy in Manila decided to have an online project — the
"Visa Hour: Tweet with the US Consul General"
— where anyone can ask Schimmel any question via Twitter. Once a month, Schimmel answers live on the embassy's
Facebook page
selected questions sent to them via
Twitter
using the hashtag #TheVisaHour. The project premiered on January 20 this year. (Click here to view the latest
Visa Hour episode
on February 24.) "We're looking for ways to get the message to people out there who are interested to travel to the States that they really need nothing more than the information we provide on our website and we'll be happy to stand in front of any audience or any camera to discuss it further," Schimmel said.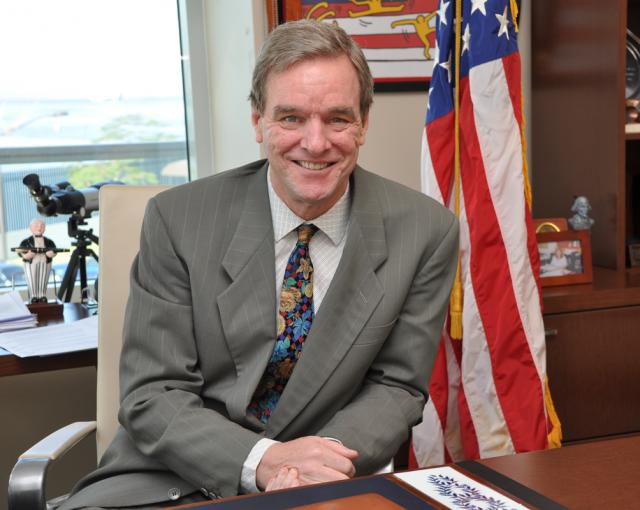 US Consul General Michael Schimmel says the US embassy wants the US visa process "to be demystified." Photo by Riz Pulumbarit
He said the typical visa applicant goes to the US Embassy "a little intimidated, daunted by the whole idea, perhaps he's received some misinformation." He warned against corrupt people, especially those lurking near the embassy, who want to take advantage of people by charging them for "information" or "assistance" in processing their US visas. "If you walk along Roxas Boulevard near here, you'll be approached by people who want to help you understand the process. We don't want you depending on those people, they don't work for us," Schimmel stressed. "Some of them may be perfectly legitimate but many of them may give you information that's not gonna be helpful or may be counterproductive, and may even exploit you because they'll charge you for information, sell you documents and they'll compromise your eligibility," he added. To provide accurate information to the public, the embassy thought of having the Visa Hour, especially because the "tweet opportunity exists," Schimmel said.
75% of US visa applicants get approved
Schimmel said the most common question the embassy receives via Twitter is: "What do I need to qualify for the US visa?" "But other times, people would say 'I was denied, what was wrong, why couldn't I qualify, what the rules are,'" he said. Schimmel said 75 percent of the US visa applicants in the Philippines are approved. "People think that visas are so hard to get, but I would point to that statistic as a reflection of a different reality — three applicants out of four will get approved," he said. Why do the other 25 percent get denied? Schimmel said the main reason is that they cannot prove that they only want to visit the US and intend to come back to the Philippines. "The US law reads that we have to presume — and this is going to sound very anti-democratic — we have to presume that when you come to the United States, your real agenda is not just to visit the States, it's to go there and remain there indefinitely," he said. "That may sound very presumptuous on our part but that's how the US Congress wrote the law because they wanted very much to inhibit illegal immigration," he explained. He said the visa applicant must "demonstrate that that isn't true." "So how does the applicant demonstrate that? Well, he has to show that he has a good job here, he has strong family ties here, he has reason to return in timely fashion, he has no reason to remain indefinitely in the United States. Once he shows those things -- and we look over his resources to see whether he can afford the trip -- then he should qualify for travel," Schimmel said.
- with Rose-An Jessica Dioquino/YA, GMA News