Filtered By: News
News
Pinoy finds 'Purpose' by designing cover of best-selling US book
A 25-year-old Filipino graphic designer in Davao City — Brian Montes — bagged the top prize of a design contest for the cover of the re-issued best-selling book "The Purpose Driven Life" by Christian pastor Rick Warren. The contest, conducted by talent outsourcing site
99designs
, aimed to give the best seller a well-deserved revamp. Montes received the $3500 (PHP 148,160) cash award for his design, which will be used as the cover of Warren's book. In an email to GMA News Online, Garrett Sussman, marketing coordinator of 99designs based in San Francisco in the United States, said: "'The Purpose Driven Life' has sold more than 32 million copies around the world."
The book was named as part of the top 100 Christian books that changed the 20th century.
"...For its 10th anniversary in the fall, Warren decided to hold a cover redesign contest on 99designs," he explained.
One of the leading sites of its kind, 99designs is an online marketplace for graphic design work and currently has around 160,000 members.
Montes joined 99designs under the screen name
ianskey
in 2010 where he focuses in book cover, magazine cover and logo design work with the aim of honing his designing skills.
"The prize amount, of course, got my attention! But I also felt a special connection to the contest. I'm a Christian, and my church held a series of "40 days of purpose" sermons using 'The Purpose Driven Life' as a guide," he said.
"The book inspired me to strengthen my principles in life, so designing a cover for the new edition was personally a very meaningful opportunity for me," he added.
He also humbly admitted that this was his largest earnings so far.
"It's the most I've ever received for a project, and I plan to use it to help start my own design business and help my church," he said.
"It's exciting to think my cover design may be seen in bookstores worldwide and could help Rick Warren's messages touch more lives. And, of course, I hope it indeed proves eye-catching to a new generation of readers!" he said.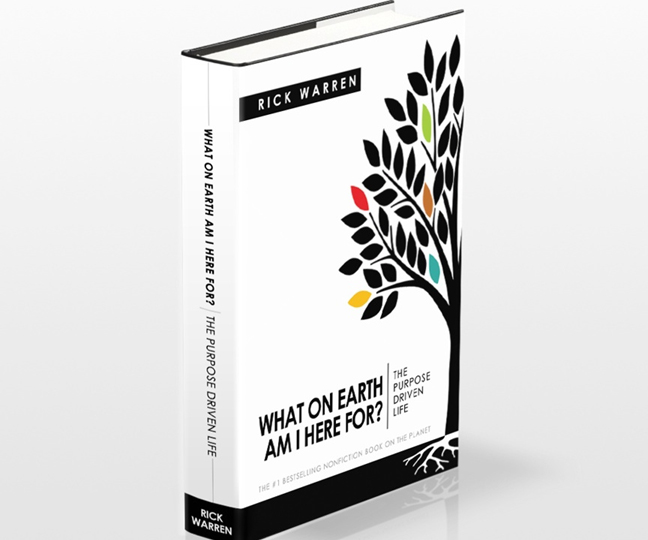 The book cover of Rick Warren's "Purpose Driven Life" was designed by Filipino graphic designer Brian Montes. Garrett Sussman
Not just a new cover
The release date of its updated edition "What on Earth Am I Here For? The Purpose Driven Life" is yet to be announced but is expected this year.
It will include four additional chapters written by Warren.
Aside from a new cover, the bestseller also had its title rearranged to "What on Earth Am I Here For? The Purpose Driven Life" to attract new readers, Zondervan Publishing said. In an article on the news site
Christian Post
, Zondervan marketing executive Rich Tatum said, "Some of the titles that appealed to us most were the ones where the title and the subtitle seemed to kind of be a dialogue, a question and answer."
The Christian Post said Montes' success wasn't just due to his talent, citing that two of the final five entries were submitted by the Filipino designer. Tatum described Montes as amazing for "his persistence in coming up with different concepts."
Tatum also noted how Montes "felt that God had given him the inspiration for the final cover that was picked." Montes' design features a tree with 40 leaves.
Tatum found the 40 leaves a "nice touch" because the book had exactly 40 chapters.
However, Montes said he was not even aware that the leaves he drew came up to exactly 40. - VVP, GMA News