Filtered By: News
News
Hacktivists deface PHL Embassy website in Bahrain over OFW death
Hacktivists on Saturday defaced the website of the Philippine Embassy in Bahrain, following the death of an overseas Filipino worker there. As of 5 a.m. Saturday, visitors to the site of the Philippine embassy in Bahrain were greeted with a popup box with the message "Justice for Kathleen Ann Ilagan!"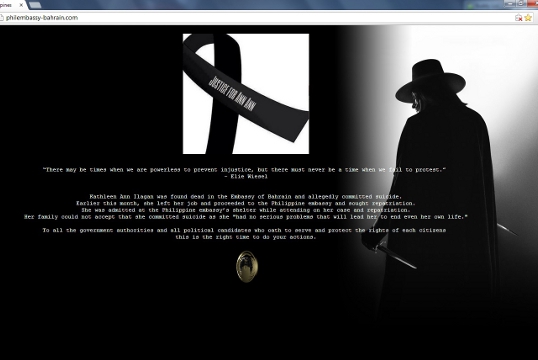 A screenshot of the defaced website of the PHL Embassy in Bahrain as of 4 a.m. Saturday. Those behind the defacing called for justice for an OFW who was found dead inside the embassy shelter for abused Pinoy workers. GMA News
The defacement was still live as of 12:50 p.m. Saturday. Clicking on "Ok" will take the visitor to a page with a black background and a black ribbon calling for "
Justice for Ann Ann.
" The message in the defaced site said Ilagan was found dead in the Bahrain Embassy, in an alleged suicide. "Earlier this month, she left her job and proceeded to the Philippine embassy and sought repatriation. She was admitted at the Philippine embassy's shelter while attending on her case and repatriation," it said. It said her family could not accept the allegation that she committed suicide as she "had no serious problems that will lead her to end even her own life." The hacktivists, who also included an image of a person wearing a Guy Fawkes mask, challenged Philippine authorities and even political candidates running in the May 13 polls to act. "To all the government authorities and all political candidates who oath to serve and protect the rights of each citizens... this is the right time to do your actions," they said. A report on Bahrain's Gulf Daily News dated April 10 cited sources who said Ilagan, 32, was found hanging in a bathroom at the Philippine embassy's shelter for abused domestic workers. It said another resident in the shelter found her, but embassy officials were unavailable for comment. Her body was transferred to the Salmaniya Medical Complex morgue,
it added
.
— LBG, GMA News