Filtered By: News
News
OFWs in Taiwan can't enter markets as they bear brunt of public outrage
(Updated 12:58 p.m.) -- As the Taiwanese government turned up the pressure on the Philippines over the death of a Taiwanese fisherman in disputed waters, OFWs are receiving the brunt of the outrage of the Taiwanese public.
Some market vendors are reportedly refusing to sell to them. The NGO Migrante reports the burning of the Philippine flag and effigies of President Aquino.
The outrage in Taiwan towards Filipinos is reminiscent of the public anger in Hong Kong in 2010 after eight hostaged Hong Kong nationals were killed in a botched rescue attempt by the Manila police.
"Cristina," a Filipina working as a caregiver for seven years in Taiwan, said it has been difficult for some Filipinos to go outside their homes after the fisherman's death on May 9. In an interview on "Kape at Balita" Thursday morning, Cristina claimed that Filipinos are not able to shop at some public markets, as stalls put up posters three days ago saying Filipinos are not allowed to buy from them.
"Okay lang po, pero mahirap lumabas," Cristina said, adding that "sa palengke nila, hindi ka pwede mamili." There are currently 87,000 Philippine workers in Taiwan and labor authorities said nearly 2,000 new applications are submitted monthly.
"We don't sell to dogs"
A Chinese-Filipino graduate student in Taiwan also cited instances of alleged discrimination against Filipinos.
In an interview with GMA News Online, the student, who refused to be identified for safety reasons, said there are even "news articles and videos of the signs" that say Filipinos are now allowed in that particular establishment.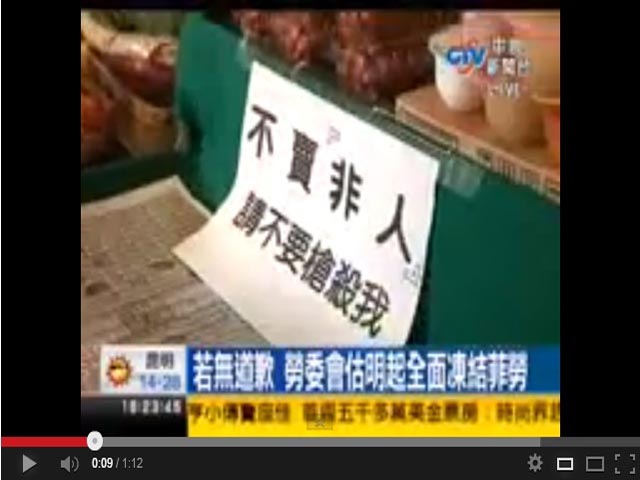 In some stores in Taiwan, signs have cropped up in Chinese announcing that Filipinos will not be entertained there.
"Sa article it says na two Pinoys were supposed to buy food, like a value meal, then tinanong where they're from. They said they came from the Philippines. Then ayaw sila bentahan cause the owner said he doesn't sell to dogs daw. Then sabi nung Pinoys, they're not dogs, please respect them naman din. Then sabi ng owner, 'respect na 'yung dog lang tawag ko sa inyo,'" she said, adding that the store owner threw the food the Pinoys ordered to the floor. According to her, the news article was written by a Taiwanese man with a Filipino wife who sympathized with the plight of the Filipinos in Taiwan. "The one who wrote the article, may asawa kasi siyang Pinoy so he bought the food and he looked for the Pinoys and gave them the food," she said. In a market in Changhua in northern Taiwan, signs have cropped up in Chinese that say, "We don't sell to Filipinos, please don't shoot me down," in reference to the Taiwanese fisherman's death. Another sign says "This stall's fish isn't for sale to Filipinos."
Getting violent
Meanwhile, Migrante International chairman Garry Martinez in a radio interview described the anger of Taiwanese at OFWs, including a rock-throwing incident.
"May isang dorm ng Pilipino sa Taiwan, nagra-rally ang Taiwanese national at may Pilipino doon pinagbabato kahapon. Medyo nakakatakot na," Martinez said over radio dzBB.
Taiwanese rallyists have also burned the Philippine flag and effigies of President Benigno Aquino III, Martinez noted.
He also said that some Taiwanese employers are fearing for the safety of their Filipino workers and are discouraging them from going out. The outrage in Taiwan towards Filipinos is reminiscent of the public anger in Hong Kong in 2010 after eight hostaged Hong Kong nationals were killed in a botched rescue attempt by the Manila police.
"Deny being a Filipino"
Cristina, the caregiver, said a Taiwanese told her to deny being a Filipino if someone asks about her nationality.
"Hindi ka ba nahiya na isa kang Pilipina? Dapat deny mo na Pilipina ka. Dapat sabihin mo Indonesian ka," she recalled being told by a Taiwanese.
Asked if she was scared of being harassed if she admits that she is a Filipino, Cristina said: "Bakit? Pare-pareho ba ang Pilipino? Yung mga Pilipino kagaya rin ninyo [mga Taiwanese], mayroong mabait, mayroong masama."
"Bakit ko sasabihin na Indonesian ako? Talaga namang Pilipina ako," she said.
Tensions rising
According to Cristina, some Filipinos in Taiwan already want to return to the Philippines due to the escalating tension there.
She added that she expects the situation to worsen in the following days as tensions between the Philippines and Taiwan continue to rise.
She mentioned how a Filipino was recently run over by a car.
"Pag alam nilang Pilipino, sarado na isip nila na. Para bang nilalahat na nila na kaming mga Pilipino dito, kriminal na din," she said.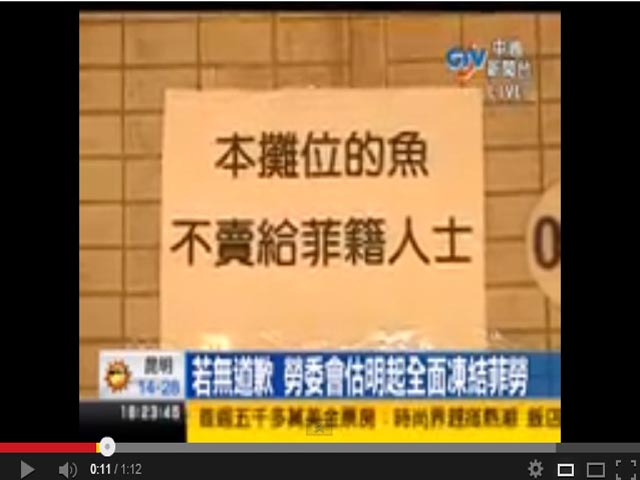 The emergence of anti-Filipino signboards in several establishments in Taiwan is even reported by the local media there.
Paranoia
Meanwhile, the Filipino-Chinese student who was interviewed byd GMA News Online said she was afraid to go outside even though she is mistaken to be a full-blooded Chinese because of her facial features. The Filipino-Chinese, who also happens to speak fluent Chinese, said, "Ok pa naman ako, thankfully pero natatakot din ako lumabas to be honest. Paranoia lang." "Pero super kawawa na kasi ng mga Pinoy dito, especially the workers, like di sila binebentahan ng food sa market or other goods, tapos meron kinulong sa CR o binugbog, mga ganun," she added. She also related how some Filipinos receive "evil stares" when they are riding the train. Some are even told to get off buses. "I'm alive pa naman so far. I should probably bring a weapon with me para pag inaway nila ako, awayin ko sila back!" she said. She also wondered why some Taiwanese are "taking it out on the innocent Pinoys."
Freeze hiring
Taiwanese fisherman Hung Shih-cheng was killed by Philippine law enforcers in disputed waters on May 9.
The Taiwanese government on Wednesday issued an order freezing the hiring of new Filipino workers after saying that the initial apology of the Philippines through Basilio was insincere.
Taiwan demanded for an apology from the Philippine government, compensation for the family of the slain fisherman, impartial investigation on the incident and bilateral talks between the Philippines and Taiwan to avoid similar incidents.
However, Taiwan rejected Aquino's apology as "insufficient in sincerity" and slapped additional sanctions including
a red travel alert urging Taiwanese not to visit the Philippines and the suspension of exchanges between high-level officials, as well as a halt to exchanges on trade and academic affairs.
Taiwan also recalled its envoy to Manila in protest of the killing. – VVP/HS/KBK, GMA News