Filtered By: News
News
Pinay named NYC's first-ever chief technology officer
Mayor Bill de Blasio has tapped a Filipino-American financial technology veteran to make New York City "the number one center for technology and innovation" across America.
De Blasio named Philippine-born Minerva L. Tantoco the city's first chief technology officer (CTO) during last week's 10th anniversary meeting of the New York Tech Meet-Up at New York University.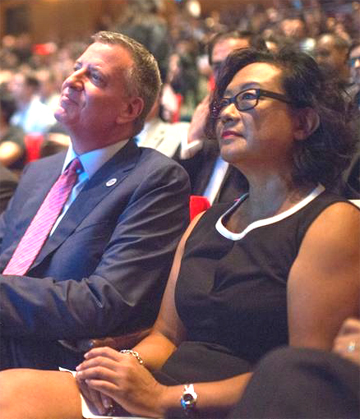 New York Mayor Bill de Blasio with Minerva L. Tantoco at a recent event. Filipino Reporter photo
tasked to develop a coordinated strategy for technology and innovation as it affects the city as a whole and the role of technology in all aspects of civic life from the economy and schools to civic participation, leading to a "redemocratization of society."
He called Tantoco, a mother and resident of Greenwich Village, the perfect fit for the position as somebody who is "great with technology, has a lot of experience, ability and energy to create from scratch and is a true New Yorker."
Tantoco, who is related to the famous Tantoco clan of the Rustan's luxe department store in Manila, was most recently UBS'S CTO for client-facing technology in the Asia-Pacific based in Hong Kong.
Prior to that, she worked as a director of investment banking technology at Merrill Lynch. She also holds four patents in artificial intelligence and workflow systems.
She was still in Vassar College when she moved to Silicon Valley and co-founded a technology startup called Manageware, Inc., which was successfully sold five years later.
"As a girl from (Flushing) Queens and the Bronx High School of Science, it is truly an honor to be the first ever CTO of New York City," Tantoco told the crowd.
"Thinking back to what drew me to technology, it was its ability to transform and empower and ultimately drive change in all aspects of life. It's a great field for optimistic creative people who like to solve problems," she said.
"Our goal is to make New York City the most tech and innovation-friendly city in the world," said Tantoco.
As a start, Tantoco said the city would be gathering feedback from the public on Twitter using the hashtag #ForwardNYC.
Under the Bloomberg administration, Rahul Merchant was the city's first information technology czar in addition to being the seventh commissioner of the Department of Information Technology and Telecommunications, while Rachel Haot held the title of chief digital officer, the position she now has working for Gov. Andrew Cuomo.
De Blasio's aides said the CTO job is a broader position focused on using tech to improve the delivery of government services, from trash pickup to schools, and making partnerships with the tech sector.
The new administration has its own digital director, Jessica Singleton, who is concentrating on improving the city's website.
De Blasio stressed his goal is to increase STEM education so that a majority of tech jobs can be filled by native New Yorkers and expand broadband Internet access.
"We must have full universal access to high-speed, low-cost Internet citywide, period, every borough, every neighborhood," he said. —
Filipino Reporter