Filtered By: News
News
2 Pinoy chefs win highest gold in HK culinary tilt
Two Filipino chefs took home the gold in a recent competition in Hong Kong after besting 23 other pairs in the Live High Tea Set category.
Joan Leslie Dela Cruz and Michael Madrid served items such as Black Pumpkin Pate a Choux (choux paste with bamboo charcoal) and Tinapa Tuile (spring roll wrapper with tinapa flakes) in the five-item menu that won over judges during the three-day Hong Kong International Culinary Classic Competition during HOFEX 2015 held last May.
"We went there as prepared as we can be with the hope that we can win," said Dela Cruz. "But being competitors was reward enough, especially after hearing the judges' positive comments. Winning highest gold was a wonderful unexpected bonus."
The pair executed the menu under 90 minutes using 132 kilos worth of kitchen equipment brought from the Philippines.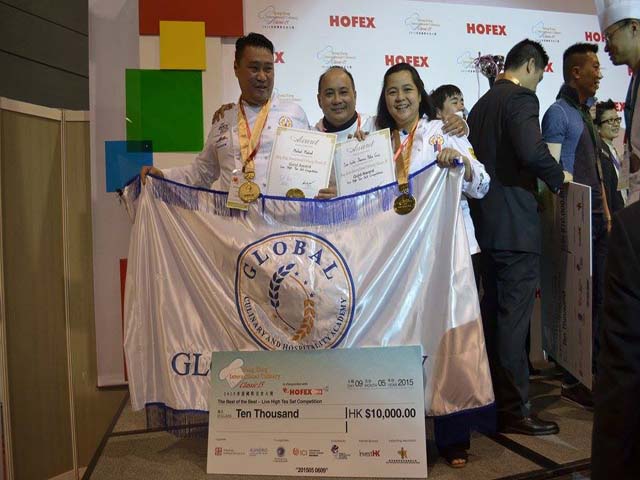 "We didn't have the luxury of space to do our mise en place, we didn't know where to hunt for ingredients, and we had limited people to assist us," Dela Cruz said.
While two other teams also won gold in the category, the awarding ceremony revealed that the Filipino pair scored the most points in the competition.
Dela Cruz and Madrid also placed first in the Live High Tea category of the Philippine Culinary Cup in 2014.
Chef Rob Pengson, co-owner of Global Culinary and Hospitality Academy where the two graduated, said the pair's victory demonstrated their grit and ability to overcome obstacles.
"Their victory is an inspiration for our students to aim high, and for us to continue providing world-class training that place the Philippines on the culinary world map," Pengson said.
Dela Cruz is currently an instructor for Baking and Pastry Arts with the culinary school, while Madrid is fresh graduate with a Grand Diploma in Professional Cooking and Baking and Pastry Arts.
—Rie Takumi/KBK, GMA News