Filtered By: News
News
Pinoy artist holds inaugural solo show in Singapore
Art lovers in Singapore were treated to a show by Filipino artist Jayson Cortez at One East Asia's new ARTSpace.
The exhibit dubbed "Portal" was opened last June 9 and will run until June 23, the Philippine Embassy in Singapore said Monday. The exhibit is located at 15 Scotts Road, #09-03, Thong Teck Building in Singapore.
During the opening of the exhibit last June 9, Philippine embassy officials headed by Ambassador Antonio Morales and other guests got a walk-through from Cortez on his art works.
The embassy said Cortez is a recipient of several awards, including the 2014 Jurors choice, Luzon Art Award (Philip Morris Philippines Art Award).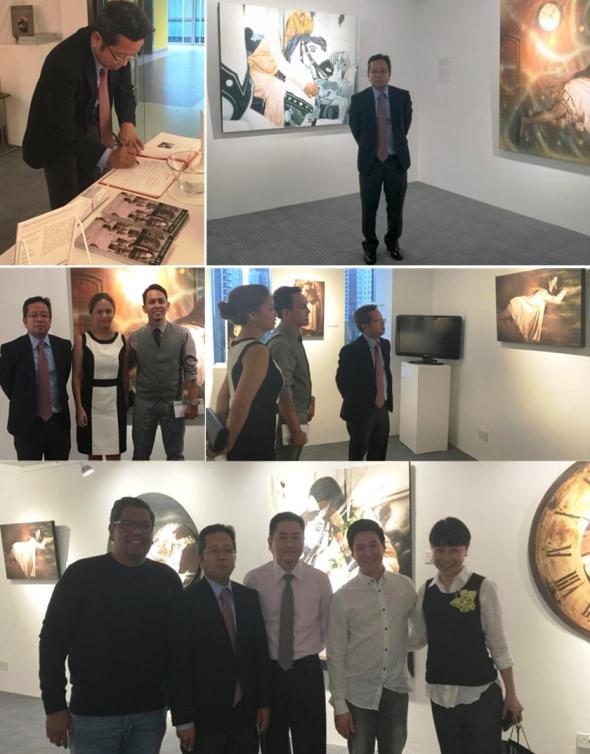 One East Asia, a Singapore-based art management organization founded in April 2010, said Cortez presented nine new art works in his exhibition.
"This world is an ecosystem where their wildest dreams are reali(z)ed, home to every playmate they ever met, host to all their fondest places, and painted in their favourite (colors). Their imagination holds endless possibilities, supplemented by a never-ending stream of questions. Their skulls and hearts may be as fragile as eggshells, but the lights in their minds do not go out. So when it feels like the world is caving in and you start to count each breath you take to survive, think of your childhood, and keep in mind that your portal is waiting for you," it said in describing Cortez's show.
It noted Cortez, before his present show, held solo shows including "Conspiracy of Beauty" at Ayala Museum, Makati City (2014); "Subject Matter" at SM Megamall, Mandaluyong City (2012); and "In My Anonymous World" at Art Center, SM Megamall, Mandaluyong City (2011).
One East Asia
seeks to enrich the appreciation of Southeast Asian Art globally through exhibitions in Singapore and London, international art fairs and not-for-profit education events.
—Joel Locsin/KBK, GMA News
Photo from Philippine Embassy in Singapore