Filtered By: News
News
Living on mountain top, Dumagats finally connected to world of letters
The way was treacherous on a rainy day, the road splattered with thick and slippery mud. But the same road leads you through steep hills to a breathtaking view of mountain sides wrapped in morning fog. The rivers remained calm as the rain dropped slowly, posing no threat of swelling water. And in that part where the water was deep, the hanging bridge, though old and worn, still proved friendly. It was a long four-hour walk before reaching Sitio Pagtilao, on the peak of a mountain known to be the farthest point in the village of Calawis in Antipolo City. But this is far removed from the world of a "city." Here dwell some forty Dumagat families.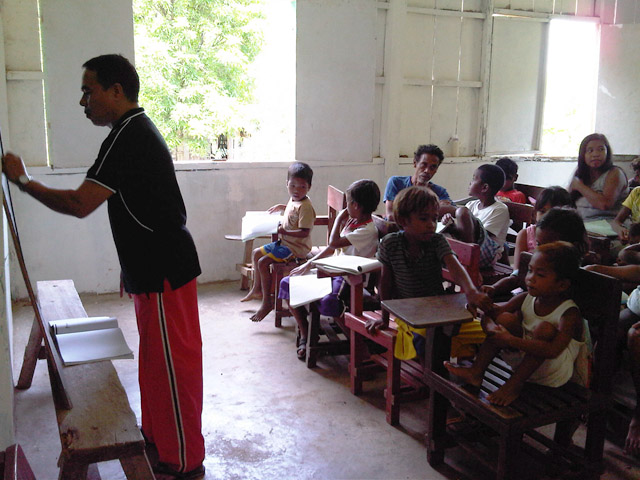 Young and old Dumagats attend class together. Photos by Claire Delfin
Dumagats said their tribe's name was derived from the word "dagat" or sea. Their ancestors used to live along the coastal stretches of neighboring Quezon province. But when Filipino homesteaders arrived in their area, they were pushed farther and farther into the mountains, and eventually dispersed in small groups. The Dumagats generally possess the physical traits of the Negrito race, with dark brown to black complxions and curly hair. But the residents in Sitio Pagtilao may have been the result of mixing with lowlanders as many of them have straight hair and light complexions. Pushed into isolation, the Dumagats were eventually followed by government services. These include education. Far from the mainstream, they had been deprived of their right to education, leaving them illiterate. The absence of education has not only kept them in poverty but has also made them objects of ridicule and discrimination by people in the lowlands. One of their elders, Domingo Cruz, who doesn't even know how old he is, said there is hardly an instance when he has not experienced being laughed at each time he goes to town. "It's hard. We only have this forest to roam around. We cannot mingle with other people in the town. They look down on us like we are of no value because we know nothing," said Cruz in Filipino. So the day when they met the people known as mobile teachers was for them a ray of sunshine after a long darkness. Mobile teachers have endured long walks, forest living, and shortened time with families in order to make education accessible to the Dumagats. In a small hall in their community, the Dumagats – old and young – study together. They are provided with instructional materials produced by the Department of Education (DepEd) to help them with reading, writing and counting.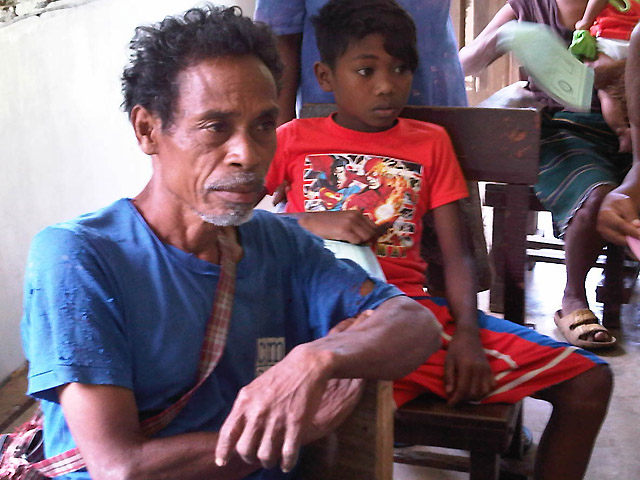 Dumagat elder Domingo Cruz attends class with young children.
And when the mobile teachers arrived, Yolanda Cruz, a mother, didn't waste any time. She hurried to the hall with her five young children, including a three-month-old baby whom she held in her arms. She has long wished to receive an education. "I want to learn so that whenever my children get sick, I can go to the hospital in the town without getting lost along the way," she said, also in Filipino. She also dreams of an education for her children to free them from poverty.
IPs education
The DepEd is now determined to bring education not only to the Dumagats but to all the indigenous peoples (IPs) in the country, estimated to be around 14 million to 17 million spread across 110 ethno-linguistic groups. According to the United Nation Development Programme, the majority of these ethnic groups are concentrated in Mindanao at 61 percent. Some 30 percent of them are found in Luzon, while the rest are in Visayas. They continue to live as organized communities, holding on to their cultures and traditions. But their lack of access to basic social services and their limited livelihood opportunities make them the most vulnerable, impoverished and marginalized citizens. This is not to discount the environmental degradation from large-scale mining and industrial logging that have ruined their cultural sanctuary, shaped by their interaction with nature. Indigenous education in the Philippines, however, is actually just a recent phenomenon, according to Ricarte Abejuela III, who did a study on indigenous education in the Philippines at Bukidnon State College. "Though the Philippine republic has been in existence for more than 100 years, it was only since the late 1980s and the 1990s that the government sought to address the plight of indigenous peoples," Abejuela wrote in his research paper entitled, "Indigenous Education in the Philippines: A Case Study of the Sagu-Ilaw School of Indigenous Knowledge and Traditions." The present Constitution, which was written in 1987, in Article XIV Section 1 states: "The State shall protect and promote the right of all citizens to quality education at all levels, and shall take appropriate steps to make such education accessible to all."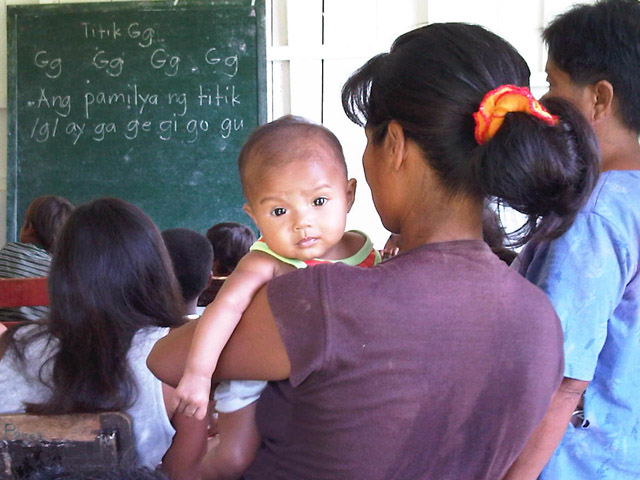 A Dumagat mother carries her baby while attending class and learning the alphabets.
Furthermore, Section 17 also reads: "The State shall recognize, respect, and protect the rights of indigenous cultural communities to preserve and develop their cultures, traditions, and institutions. It shall consider these rights in the formulation of national plans and policies." "These mandates were unfortunately not supported by specific legislation or policies," Abejuela further noted. It had to take a decade for Congress to pass a law that protects the rights of the indigenous peoples. In October 1997, then President Fidel V. Ramos signed into law Republic Act 8371 - the Indigenous Peoples' Rights Act. The law particularly seeks to address indigenous peoples' poverty by correcting the historical errors that funneled to their systematic deprivation and discrimination. It was not until 14 years after the law was passed and five years after the United Nations issued the Declaration on the Rights of Indigenous Peoples that the government formally institutionalized its effort to give indigenous people an education. In 2011, DepEd created the National Indigenous People Education Policy Framework to reaffirm the country's commitment to achieve Education For All by 2015 and the Millennium Development Goals. Under this policy framework, DepEd will provide adequate and culturally appropriate environment and learning resources to IPs learners. Textbooks and supplementary materials will be developed, along side the adoption of mother tongue-based multilingual education for IPs learners. Following this move, the education department early this year established the Indigenous Peoples Education Office (IPsEO) that will take the lead in planning, implementing, coordinating, and monitoring of activities related to IP education. It has proposed a budget of 100 million pesos for 2013 to enable the sub-agency to consolidate existing models and best practices on IP education, and to establish a systematic and coherent program. "Education empowers IPs. It is an essential means for them to claim their rights and exercise self-determination," said Rozanno Rufino, program coordinator of IPsEO. It is in the same spirit that Ranito Gallego, a mobile teacher, pursues his mission among the Dumagats. "This is where I pour my strength. It's a vocation, passion and mission, all at the same time." As early as now, Gallego's efforts are bearing fruit. "I want to be a teacher too someday," said Jenny Cruz, Gallego's 12-year-old Dumagat student, "so I can teach Dumagat children how to read."
— HS, GMA News
(The author is a senior correspondent of GMA Network and contributes features on women, children, education, health, and the environment to GMA News Online.)