Filtered By: News
News
Rising from the rubble, post-quake Bohol to offer 'geoscience tours'
TAGBILARAN CITY
- On a busy Tuesday morning, the streets are bustling with traffic and children going home for noon break, with hardly any sign of the destructive quake two months ago that killed more than 200 people in Bohol province.
Red and green Christmas lanterns greet travelers along the quiet rural roads of Panglao Island. Except for the crumbled facade of the Dauin church, there are barely any traces of the October 15 quake.
"It's now business as usual," said Bohol Gov. Edgar Chatto, who is temporarily holding office at the Governor's Mansion while the provincial capitol is being repaired.
Although there are some changes, visitor arrivals are starting to pick up for popular tours such as the Loboc River Cruise and the Tarsier Conservation Center in New Corella town as the peak tourist season rolls in.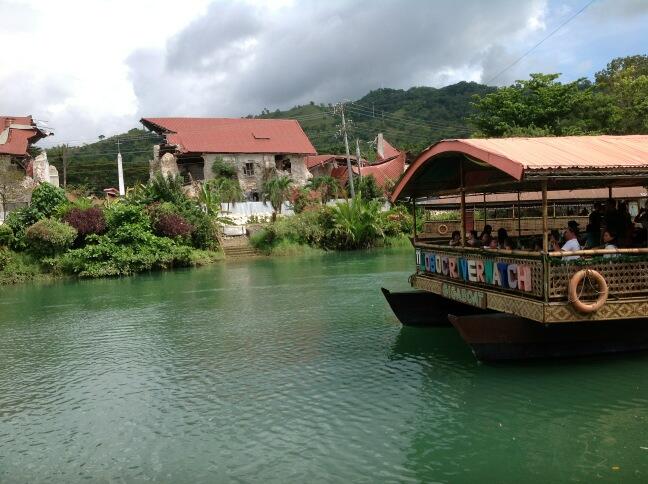 Near the ruins of Loboc church, riverboats have resumed their popular luncheon tours along the serene Loboc River. Yasmin Arquiza
At the Chocolate Hills, a new adventure center opened hastily after the tourism complex was destroyed, offering an alternative for tourists who want to get a
good view of the limestone mounds
.
Although some of the hills have sustained gashes as a result of landslides, there are still plenty of perfectly round hills to admire above the verdant ricefields of central Bohol.
"'Di ba 'pag pumasyal kayo, parang walang nangyari?" noted Lucas Nunag, president of the Bohol Tourism Council.
"Mabilis ang rebound," he added. "There's not much misery or scenes of destruction sa countryside scenery tour, except that you'll see some ruined churches."
Instead of getting disheartened, Nunag and other industry players are looking at the natural disaster as an opportunity for the "total rebranding of Bohol" that will highlight local culture and introduce new tourism products.
The latter includes an earthquake tour of church ruins, in tandem with some heritage groups as well as the National Commission on Culture and the Arts.
A "geoscience tour" is also planned for travelers who want to see the changes in the landscape, such as Maribojoc's Punta Cruz where hectares of dry land rose from the shoreline, and what's been dubbed the "Great Wall of Bohol" in the northern town of Inabanga, where
a reverse fault rose from the earth
after the quake.
The tour also includes some of the hills in Sagbayan that were split open or suffered serious landslides during the quake.
"A lot of people have been asking us, what's inside the Chocolate Hills? So that's now an attraction—limestone na parang nag-melt na white chocolate," Chatto said.
Not a disaster area
Although the magnitude 7.2 earthquake caused substantial damage in some towns, it was the subsequent super typhoon in November that nearly brought tourism in Bohol to its knees.
"Nung nagka-Yolanda wala masyadong tama sa Bohol, pero ang impact sa electricity, kasi ang power namin galing sa Leyte. Blackout nang 20 days. Wala rin tubig dahil walang power," said Nunag, adding that generators became the most coveted item among businesses.
"Even the malls were really about to close," Gov. Chatto noted, "so we devised shortcuts and repaired the damage from Bohol to Leyte. We were the first island to be re-energized after Yolanda."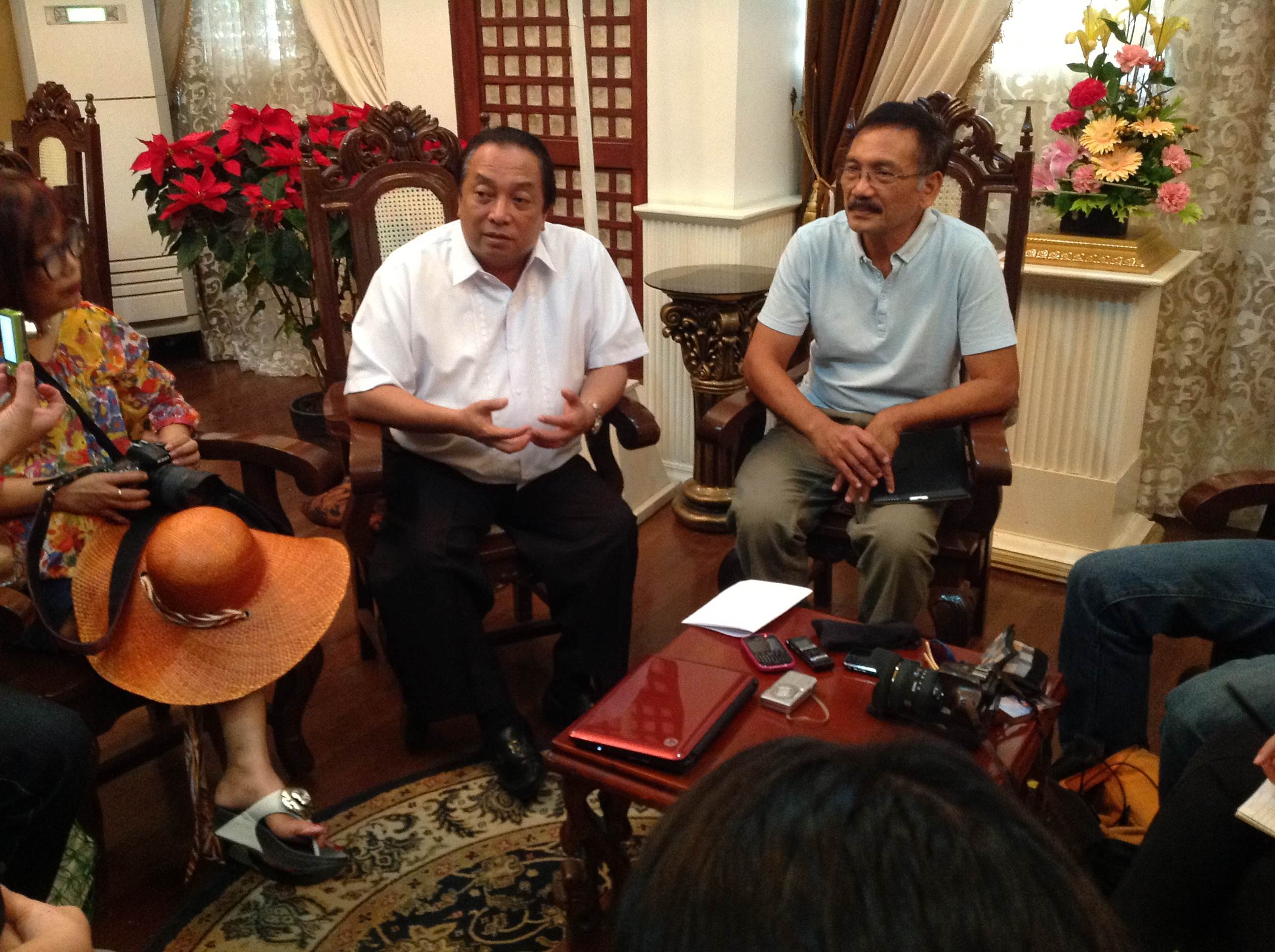 "Business as usual," Bohol Gov. Edgar Chatto (in white shirt) said of his province's tourism sector, other industries, and government operations two months after the October 15 earthquake. Yasmin Arquiza
The fallout from the devastation in eastern Visayas was felt in Bohol's tourism sector though, with many potential guests staying away because they thought relief operations are still ongoing and they may be taking away resources from quake and typhoon victims.
"We need to correct these impressions," said Nunag. "We're not a disaster area, hindi kagaya ng Tacloban."
Nunag, who owns a beach resort in Panglao, said the earthquake did not affect them significantly, but many resorts that had no generator power had to close down for a month after Yolanda struck.
"November was our worst month ever, with a 50 percent drop," he recounted. Internet and mobile facilities were also spotty after the quake but quickly normalized, and were not greatly affected by Yolanda.
Power has since been restored though. "All-out na ngayon," Nunag said.
Alternate tours
Three days after the earthquake, Loboc River tour operators wanted to reopen immediately despite massive damage to half of the docking area. They finally managed to do so after 15 days and the popular lunch tours on the serene waterway have resumed with hardly a hitch.
Bohol's private sector and the USAID-funded Compete project invited a group of media from Manila, including GMA News Online, to check out the province's most famous attractions Wednesday to see first-hand the recovery efforts.
Instead of the government's tourism complex, which collapsed after the quake, the privately-owned Chocolate Hills Adventure Park now serves visitors just a few hundred meters away.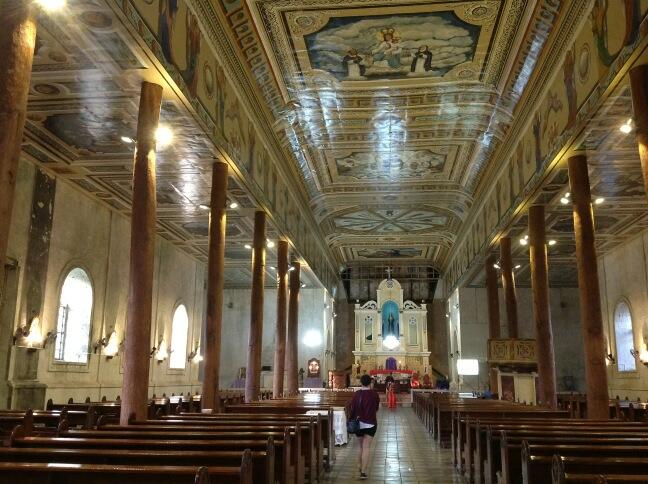 Restored paintings adorn the ceilings of Bohol's Albur church. Yasmin Arquiza
As an alternative to Baclayon church, which is still not fully open to tourists, there's Albur Church which was recently renovated and boasts of some of the most well-preserved painted ceilings in Bohol.
"Hindi pa normal 'yung flow ng guests so it's easier to get tourism players together," noted Nunag.
"We have to be consistent with our heritage architecture. For new schools, municipal buildings, we might as well come up with a theme that's uniquely Filipino and environment-friendly," he added.
"Habang low trend, this is the best time to prepare," Chatto agreed. "We will be more motivated to have a big rebound later." — ELR/KG, GMA News