Filtered By: News
News
Army, suspected Reds clash in Negros Occidental
As peace talks between the Philippine government and the Communist Party of the Philippines-New People's Army (CPP-NPA) were reportedly set to resume, the Philippine Army's 79th Infantry Battalion (IB) and alleged members of the CPP-NPA clashed in Barangay Guadalupe, San Carlos City, Negros Occidental on Monday morning.
The firefight, which lasted for 20 minutes, occurred at around 8 a.m. Monday when around 30 to 40 armed men opened fire at the 79th IB's Spearhead Division while the latter was on security patrol, the military said in a statement.
Soon after the encounter, the alleged NPA members immediately fled, leaving their camp behind.
Upon scouring the said camp, the military recovered a solar panel, "subversive documents," and some personal belongings.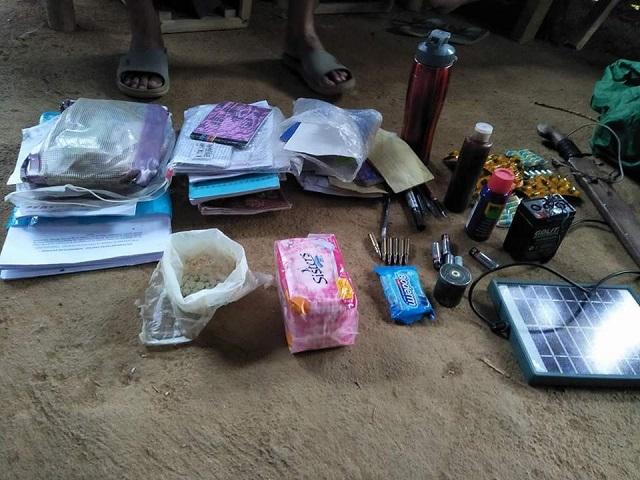 Some of the items recovered from the alleged NPA campsite: a solar panel, "subversive documents," and personal belongings. Photo courtesy of 79th IB
The camp could accommodate up to 40 persons, had two kitchens, and held an ample supply of water, Brigadier General Eliezer Losañes, commanding officer of the 303rd Infantry Brigade assigned in Negros Island, told GMA News Online in a phone interview.
Mobile reception was also reportedly good at the camp site.
No casualties from the military's side were reported, while troops were still verifying reports of deaths from the side of the suspected rebels, said Captain Rowell Dairocas, the 79th IB's acting civil military operations officer.
As of posting time, troops were still conducting both clearing operations within the encounter site and pursuit operations of the fleeing alleged Reds.
The encounter stemmed from a security patrol the military was conducting in the area, in response to reports from locals that members of the NPA allegedly harassed and extorted from them.
"It is a clear indication that the community (there) doesn't want the armed NPA terrorists conducting extortion, harassment, and recruitment of minors as terrorists," said Lieutenant Colonel Emelito Thaddeus Logan, commanding officer of the 79th IB.
For his part, Dairocas said the military is still open to peace talks with the rebels, even after yesterday's firefight.
"Kami sa military, open kami. Gusto namin ng peace talks, pero depende rin 'yan sa kabilang panig. Kami, sumusunod kami sa mandato ng ating Presidente," he told GMA News Online.
In Negros Oriental, police provincial director Senior Superintendent Edwin Portento ordered police stations in areas near San Carlos City, such as Vallehermoso, Guihulngan City, and Canlaon City, to be on alert following the clash.
The encounter came over a month after military forces were allegedly involved in a firefight in Barangay Luyang in Mabinay, Negros Oriental.
Arrested after the said firefight was youth leader Myles Albasin, a fresh graduate of the University of the Philippines-Cebu, and five others, who were eventually called the "Mabinay 6" by local media. —KG, GMA News