Filtered By: News
News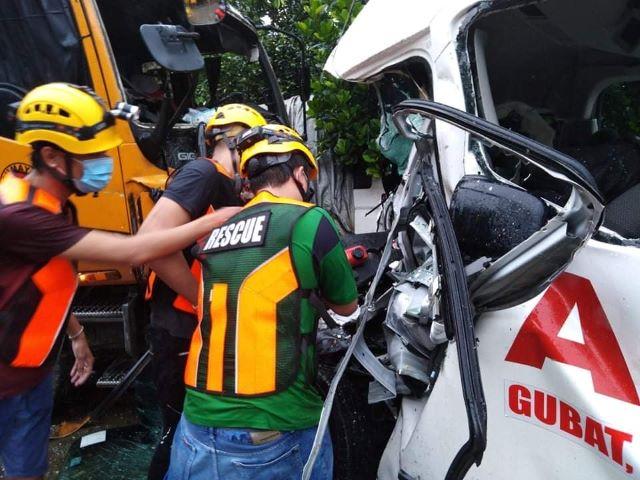 4 killed in Quezon truck-ambulance smashup —local authorities
Four of the seven people on an ambulance were killed in a head-on collision incident on Quirino Highway in Tagkawayan, Quezon on Wednesday morning.
An initial investigation by local authorities showed that the incident took place in Barangay San Vicente at about 9:30 a.m.
Authorities said the the ambulance was coming from Gubat, Sorsogon heading for Bulacan when a ten-wheeler delivery van from Manila going to Naga City swerved into the opposite lane.
Both of the vehicles' front parts were wrecked due to the impact of the collision.
Killed on the spot were the ambulance driver and another companion seated in front.
Personnel from the Tigkawaya Municipal Disaster Risk Reduction and Management Office (MDRRMO) and the Bureau of Fire Protection (BFP) said the rescue operation was difficult as the victims were pinned between the steel frames of the ambulance.
Among the four killed in the accident was a child, who died at the Maria L. Eleazar Memorial District Hospital, together with another passenger of the ambulance.
One woman from the ambulance is in critical condition, and the remaining two have wounds and are being treated in the hospital.
Tagkawayan Municipal Police Station officials said the delivery van was at fault as it strayed into the opposite lane, causing the collision.
But the truck driver insisted that the ambulance was the one that strayed into his lane.
The truck driver has apologized to the families of those who were killed.
Police investigation into the incident is ongoing. —LBG, GMA News