Filtered By: News
News
Witness claims slain Calbayog mayor's rival behind drug links allegations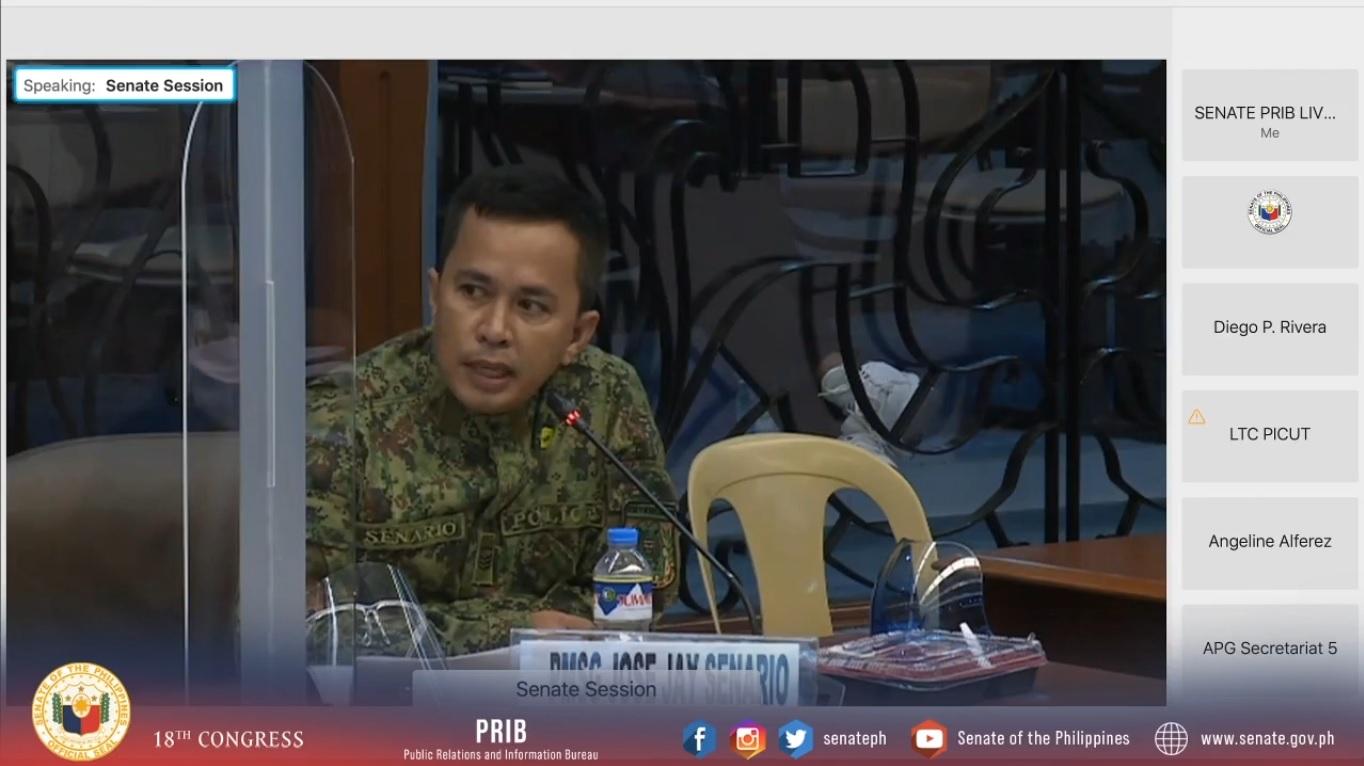 A witness claimed on Wednesday that slain Calbayog Mayor Ronaldo Aquino's political rival, Raymundo Uy, coordinated with policemen to pursue a search warrant against the mayor over his alleged involvement in illegal drugs.
In a Senate hearing, Police Master Sergeant Jose Jay Senario alleged that in 2018 a politician tasked him to issue an affidavit indicating that Aquino was protecting a police escort who was involved in illegal drugs.
"May instance doon na may isang politician na pinagawa ako ng isang affidavit. Pagawan mo ng isang affidavit, ilagay mo doon na si Mayor Aquino, mayroong isang police doon na naging escort na sinasabi nila na alleged na kasama, may involvement sa drugs," Senario said.
"Pinagawa ako ng isang affidavit implicating doon sa police na sinasabi doon na si Mayor Aquino is protector doon sa police na 'yon," he added.
Samar 1st District Representative Edgar Mary Sarmiento asked Senate Public Order and Dangerous Drugs chairman Senator Ronald Dela Rosa to allow Senario to divulge the name of the politician in his allegation.
Senario was hesitant at first, saying that the politician's identity was already included in the affidavit he submitted to the National Bureau of Investigation.
But eventually, Senario said it was Uy.
"'Yung mayor na 'yon kasi karibal ni Mayor Aquino. Si Munmun Uy, sir. Raymundo Uy," he said.
Sarmiento said Uy ran against him during the 2016 elections, and also lost to Aquino in the Calbayog mayoral race.
"Naging katapat din ni Mayor Ronald Aquino for the mayorship of Calbayog, natalo din po ito," the congressman added.
Senario went on with his testimony, saying that a picture of the affidavit he made was sent to Colonel Nicholas Torre III, who was then Samar Police provincial director.
"Pag-forward kay Sir Torre, doon ko narinig, sabi niya sa politiko na 'yon, 'wag na muna yan….Mayroon pa pong ibang plano. 'Yun, sir, 'di ko na alam 'yung sumunod na plano," Senario said.
'Search warrant or ambush'
Senario also claimed that the late Captain Joselito Tabada, the chief of the Samar PNP Drug Enforcement Unit who was also killed in the March shootout, asked him to get a search warrant for Aquino and conduct surveillance on the mayor's residence in 2018.
Months after, Senario claimed that he was pressed to gather documents for the application of search warrant against Aquino.
"That time, sir, two options ang binigay sa akin. It is either to apply a search warrant or i-ambush na lang si Mayor Aquino," he said.
Senario's testimony was also included in the NBI's report before the Senate panel.
NBI Eastern Visayas Regional Director Jerry Abiera said it was Senario who approached them.
"Senario came out and provided information so that the issue of the legitimacy of the purported police operation or intervention resulting to the death of Mayor Aquino by the police officers involved will be straighten up," the NBI presentation read.
"The fact, as he said, is that the ambush of Mayor Aquino had long been hatched by the police officers involved. Proof of that was the meeting which was called by PCPT Tabada two years ago in Camp CARA," it added.
The NBI also reported that they found two cellular phones at the crime scene which was examined by the Digital Forensic Laboratory (DFL).
"[T]here it was revealed that Mayor Aquino had been subjected to monitoring as early as October 2020. The vehicles he and his associates used were under the microscope of the assailants and showed the latter's determination and plan to eliminate Mayor Aquino. Text messages also disclosed that Mayor Aquino had been falsely implicated to illegal drug trade," the NBI presentation read.
Philippine Drug Enforcement Agency (PDEA) Region VIII Regional Director Gilbert Buenafe told the Senate hearing that Aquino is not in the government's narco-list.
Earlier, the PNP cleared the drug allegations against the Calbayog City mayor.
The NBI refused to disclose more information as they have yet to file formal charges before the court.
However, it reported that the NBI Samar District Office is ready to file multiple murder and frustrated murder charges as defined and penalized under Article 248 of the Revised Penal Code, as well as administrative cases against certain individuals involved.
The NBI recommended the following names for prosecution:
Police Lieutenant Colonel Harry Sucayre
Police Major Shyrille Co Tan
Police Captain Dino Laurente Goles
Police Lieutenant Julio Salcedo Armeza Jr.
Police Staff Sergeant Niel Matarum Cebu
Police Staff Sergeant Edsel Tan Omega
Niño Salem
Julius Garcia
Randy Merelos
Several John Does/Jane Does
The Philippine National Police, in the same hearing, said they have already filed several complaints against four policemen and Ronald Mark Aquino, son of the late Calbayog City mayor.
During the hearing, the younger Aquino claimed that the killing of his father was politically motivated, vouching for Senario's testimony.
"Naniniwala po ako na itong pangyayari sa tatay ko ay hindi ordinaryo kung hindi, mayroon pong taong nag-utos dito at malamang po ay konektado sa pulitika," the younger Aquino said.
He said he gathered documents from 2013 to 2018 which show that 141 supporters of his father were killed.
Ronald Mark Aquino also cried foul on being charged by the PNP.
The PNP has filed cases of homicide, three counts, and frustrated homicide last April 16, 2021 against Sucayre, Tan, and Armeza Jr. for the death of Mayor Aquino and his companions.
Meanwhile, two counts of murder, frustrated murder and attempted murder were filed by the PNP against the younger Aquino, Police Corporal Ramil Rosales, and several John Does for the death of Tabada and Police Staff Sergeant Romeo Laoyon.
Aquino, in the same hearing, denied that he was involved in the death of two police officers during the incident.
Earlier reports said Aquino and his companions were in a van when their vehicle was riddled with bullets on Laboyao Bridge in Barangay Lonoy.
Aquino's camp thought that they were being followed by another vehicle. They shot at the vehicle, whose passengers turned out to be policemen who retaliated. — BM, GMA News