Filtered By: News
News
UP law grads dominate list of CJ nominees
No small amount of hand-wringing occurred among UP law alumni when the most recent bar exam results showed not a single graduate of their alma mater made it to the top ten. The current, high-profile search for the next chief justice of the Supreme Court has restored some measure of pride to the nation's most prestigious law school. The majority of the nominees for chief justice are UP College of Law graduates, while archrival Ateneo Law School only has two in the running (Ateneo, however, garnered three of the top ten places in the most recent bar exams).
Thirteen of the 20
nominees
are graduates of UP Law: Antonio Tirol Carpio, Soledad Manteroso Cagampang-De Castro, Teresita Leonardo De Castro, Teresita Javier Herbosa, Francis Huising Jardeleza, Maria Carolina Trinidad Legarda, Rafael Avelino Morales, Raul Cano Pangalangan, Rene Vergara Sarmiento, Maria Lourdes Punzalan Aranal Sereno, Manuel De Jesus Siayngco, Presbitero Jose Velasco, Jr., and Ronaldo Bayan Zamora.
If one of them is eventually chosen by President Aquino from a short list submitted by the Judicial and Bar Council, he or she will continue a UP tradition of public service at the highest level.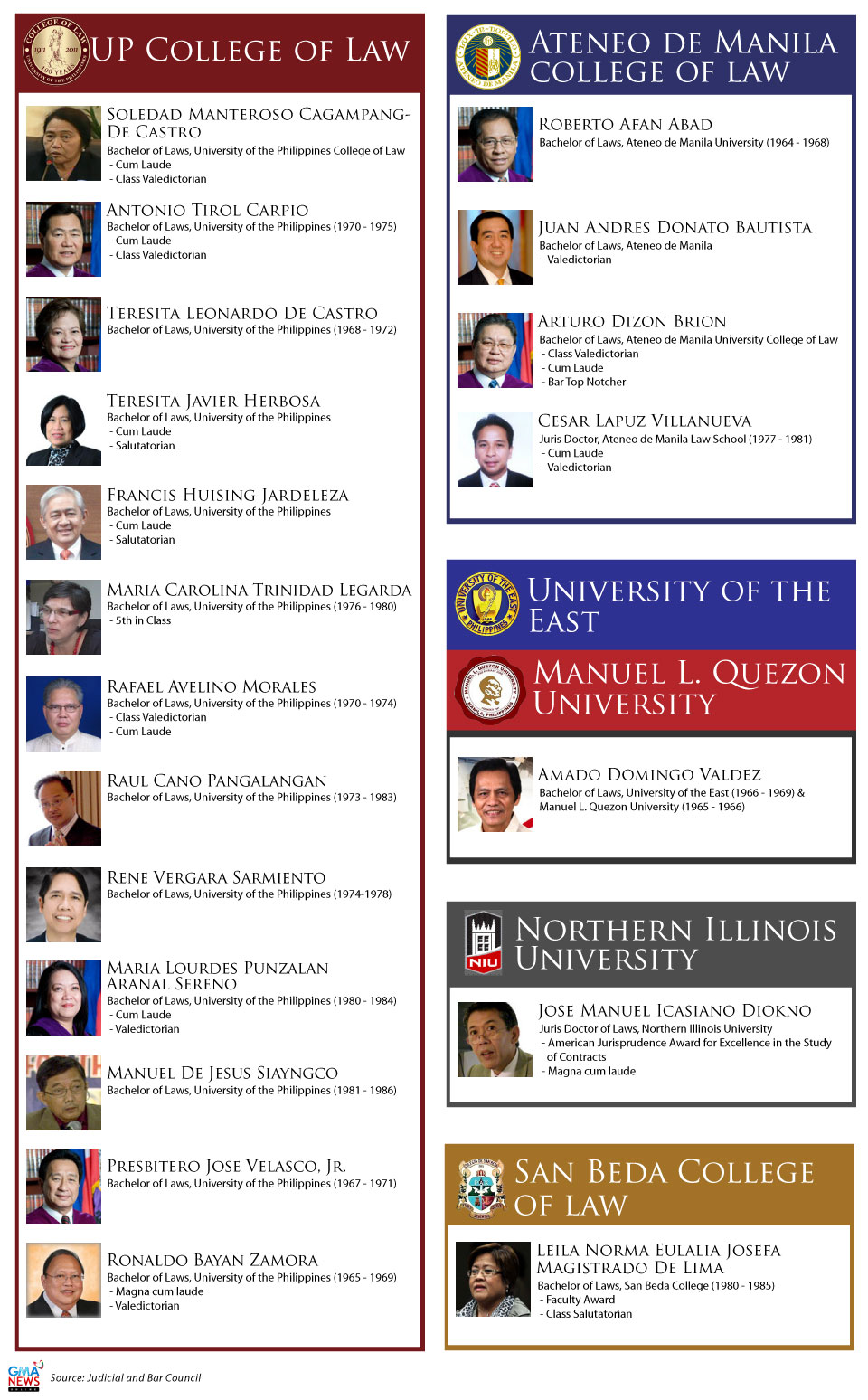 After the University of the Philippines College of Law was formally established in 1911, thirteen of its graduates went on to become
chief justices
, making UP the school with the most number of graduates to assume the judiciary's top post. "It is not surprising that many UP College of Law graduates aspire for positions of public service, including membership of the court," says former UP Law Dean Marvic Leonen. "In the past one hundred and one years of its existence, it has always considered itself a public law school with a tradition of excellence and integrity, leadership and service and a passion to bring about social justice."
Nominees Legarda, Morales, and Pangalangan also currently teach at the UP College of Law, while Cagampang-De Castro, Carpio, Herbosa, Jardaleza, Legarda, and Sereno have taught there in the past.
Two of the original 22 chief justice
nominees
, Vicente Velasquez and former Immigration Commissioner and incumbent Cagayan de Oro Rep. Rufus Rodriguez, were disqualified on Tuesday for failure to comply with the documentary requirements.
Past Chief Justices
Of the 24
past Chief Justices
of the Philippines, only two were from the Ateneo Law School, five were from the University of Sto. Tomas, and one each came from Far Eastern University, Escuela de Derecho de Manila, and the University of Illinois.
An overwhelming number of former Chief Justices came from UP: Ramon C. Aquino, Cesar Bengzon, Fred Ruiz Castro, Hilario G. Davide, Marcelo B. Fernan, Enrique M. Fernando, Querube C. Makalintal, Felix V. Makasiar, Ricardo M. Paras, Reynato S. Puno, Pedro L. Yap, and Jose Yulo.
Founded in 1899, Escuela de Derecho de Manila, now the Manila Law College, is the oldest law school in the country and the alma mater of Chief Justice Manuel V. Moran, who graduated in 1913.
Established in 1734, the University of Sto. Tomas Faculty of Civil Law is the oldest law faculty in the country, producing Chief Justices Manuel G. Araullo, Ramon Q. Avancena, Cayetano S. Arellano, Roberto B. Concepcion, Victorino M. Mapa, and Andres Narvasa.
The Far Eastern University's Institute of Law opened 200 years later in 1934. Chief Justice Artemio V. Panganiban was among its 1960 graduates.
Renato Corona and Claudio Teehankee graduated from the Ateneo Law School, which was opened in 1936.
6,000 graduates
According to the UP College of Law
website
, the college has produced around 6,000 graduates over the years. From the 6,000 come the most number of Bar top-notchers since 1913.
While UP graduates were not among the top ten in the
2011 Bar exam results
, 93 percent of its first-time takers passed.
Integrated Bar of the Philippines National President Roan Libarios, who is also a UP graduate, says, "UP is known for its leadership orientation and strong sense of social responsibility. UP has the best track record of leadership in public service. The search for Chief Justice reflects the tradition of UP law graduates living up to the challenge of leadership in public service."
For Dr. Jose Wendell P. Capili, the university's Director of Alumni Relations, it is not surprising to hear that the majority of CJ nominees are UP law alumni.
"UP graduates (from law and elsewhere) are trained to problematize the contexts and nature of things. They thrive in an atmosphere of multiple subject-positions, diverse cultural, religious, political and financial backgrounds. UP has so much academic freedom, they don't just memorize facts. They tend to think outside the box," says Capili.
The search for a new Chief Justice began after the Senate, sitting as impeachment court, removed Renato Corona from the post last May 29.
The President has until August 27— or 90 days since Corona was removed from his post —to appoint the next chief justice from a list to be submitted to him by the Judicial and Bar Council. — Infographic by Anna Mae Lamentillo/Paolo Ferrer/Analyn Perez/DVM/HS/KG, GMA News