Filtered By: News
News
In Tondo, teenage mothers see RH law as a blessing
When she was barely 13, Lily got pregnant. It was definitely not a matter of choice, but a case of being helplessly led into a situation because of ignorance on one hand, and a family hesitant to entertain curious questions about sexuality on the other. Bring in a pushy boy with equally limited knowledge on the matter, and there's the inevitable teen-age pregnancy. When he left, Lily had to carry on with the burden alone. Her friend Bingbing can only feel sympathy for Lily. At 17, Bingbing is due to give birth to her second child in a few months. She lives with her child's father, but they are not married. Both girls rely on dole-outs from family members and friends, but more often, they have to go scavenging for useable materials from garbage dumps that they can exchange for cash. Fortunately for Bingbing and Lily, who requested that their names be withheld to protect their privacy, there's assistance to be had in their community.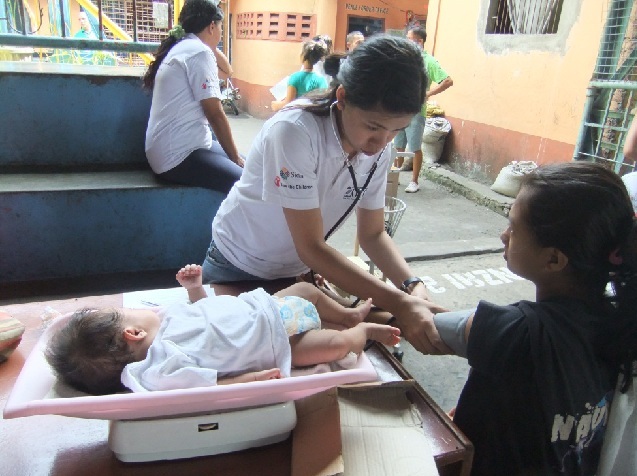 Once a month, they line up at the barangay center to avail of the reproductive health services provided by the local council and the Zone One Tondo Organization or ZOTO, which defends the rights of urban poor communities. Both groups decided to offer the services due to the alarming rise of teenage pregnancies in the area, where they attend to an average of 50 teenage mothers every month. "Malaking tulong itong libreng check-up.
Hindi ko na kailangang pumunta sa ospital pag may nararamdaman ako, tapos bibigyan ka pa ng libreng gamot at vitamins," says Bingbing. "Kung wala ito, hindi pa rin ako ako pupunta sa ospital kasi malayo at wala akong pamasahe.
"
Sex education for teens
With the responsible parenthood and reproductive health law coming into force this month, volunteer doctors like Dr. Rosan Badon are optimistic that such collaborative efforts will no longer be an isolated project, and similar efforts can be implemented in more barangays.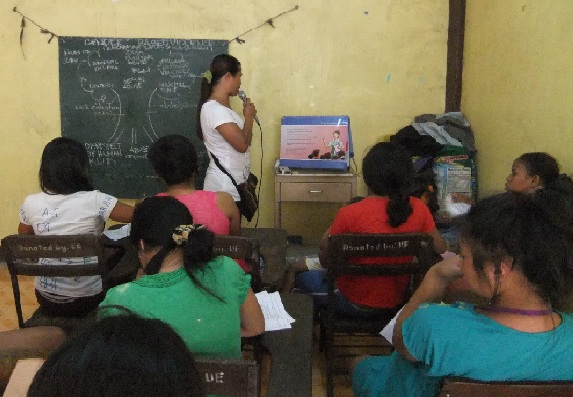 Dr. Badon is one of the health professionals who checks on pregnant teenage girls, or those with young babies, in Tondo every month. During consultation days, the barangay basketball court is transformed into a teen health center as medical doctors provide counseling, medication, and even contraceptives to their young patients. "Our program is meant to provide support and assistance because of the difficulty that these teenage mothers find themselves in, and clearly they are in need of all the help they can possibly get even just for their day-to-day survival," she observes. "Of course it is always better if we provide them a more sustainable support that allows for personal growth and self-reliance," she added. Based on her experience in providing RH services in urban poor communities, Dr. Badon said most teen-age girls who get pregnant often succumb to peer pressure, force and intimidation, or fall victim to misinformation. "Many of them think that it's wrong to use contraceptives because it will have bad effects on the body," she said. In addition to health services, the medical team also provides information on gender equality, the rights of children, and HIV/AIDS awareness. Because they provide contraceptives, the doctors are sometimes accused of spreading promiscuity among young people, but Badon vehemently denies the charge. "That's the farthest thing from our minds," she asserts. "With or without us providing sex education, risky behaviors among teenagers is a reality that you can't just banish away like magic. What we do is provide counseling and RH education to young people to prevent pregnancy, not to encourage it."
Adverse effects on teenage mothers
The Philippines has one of the highest rates of teenage pregnancies in Southeast Asia, recording a 70 per cent increase in the 10-year period from 1999 to 2009, the United Nations Population Fund Agency (UNFPA) reported.
In a 2011 study,
the
UNFPA said the huge number of teenage pregnancies translated to 11 percent of 1.75 million live births in 2009. Lack of sex education and misconceptions about reproductive health contribute to the high incidence, the report said.
In a lecture on Young Adult Fertility and Sexuality, population expert Dr. Corazon Raymundo underscored the need to prevent teenage pregnancy due to its adverse effects on the health of young women.
"Maternal mortality rate among pregnant adolescents is 2 to 4 times higher than for women over age 20. Moreover, infant mortality rate is also 30% higher for infants born to mothers with ages 15 to 19 than for those women 20 years or older," said Raymundo, who is
a former Director of the University of the Philippines Population Institute.
Twice the growing up pains
For teenage mothers like Lily and Bingbing, the passage of the RH Law is a milestone in the population debate, but there is much to be done in making sure that it reaches its intended beneficiaries. Many teenage mothers in the community have to take care of their babies without significant support from the father of their child or from their own families, even as they still have a lot of growing up to do themselves.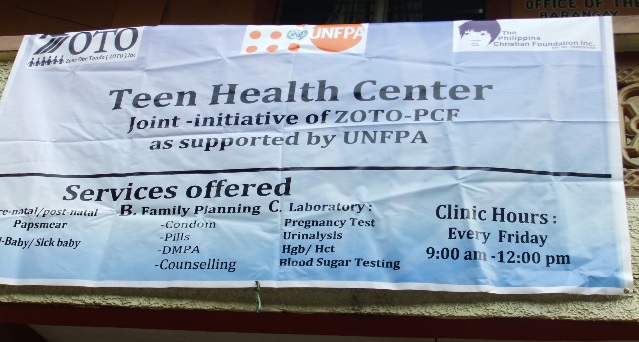 Support groups have assured them of continued assistance though, complementing government efforts in implementing the law. "Initially, there were expressed sentiments that perhaps NGOs will no longer play its usual major role in this cause since we have already attained the core of our mission through this most recent development in policy advocacy," said Xerxes Arcenal, Coordinator for the Humanitarian Response Programme of the Family Planning Organization of the Philippines. "But this is unfounded. We believe NGOs' role as the sentinel and instigator for change in society will always stay. Besides, we are always here to complement or assist local government initiatives and projects if we can be of service to them," he added. For instance, his group helps provide RH services in disaster-stricken areas, and has launched the Cervical Cancer Caravan Project that does screening and treatment using a single visit approach through visual inspection. Meanwhile, ZOTO has come up with new programs involving the use of music and arts in RH education, engaging young people as volunteers or facilitators. This is good news for Lily and Bingbing, who believe that taking part in RH programs gives them a better understanding of their bodies. It also gives them a chance to caution young people against glorifying pregnancy, knowing that the experience is not only difficult for them as young people who should be in school, but also their babies who need more mature parents. –
YA, GMA News