Filtered By: News
News
Indie filmmakers abducted in Sulu showcased Moro pride in their work
Despite the long history of conflict that has brought torment and grief to the southern Philippines, two sisters decided to create films mostly emphasizing Mindanao and Moro pride.
Sisters Nadjoua Bansil, 35, and Linda Bansil, 33, both of whom are Filipino citizens of Moroccan and Algerian descent, are independent filmmakers who have produced films that highlighted the rich culture of Mindanaoans and Muslims.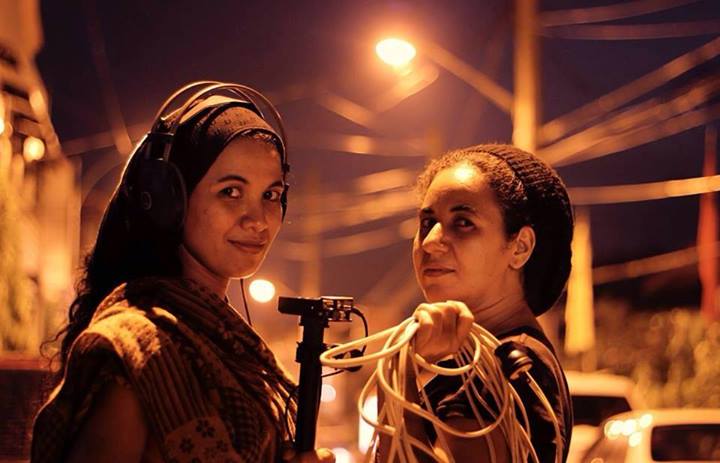 Linda (left) and Nadjoua Bansil: filmmakers, Moro pride advocates, ambassadors of Islam. And now, unfortunately, kidnap victims of the Abu Sayyaf Group. Photo from Medmessiah Bansil's Facebook.'s
The two women are daughters of a Tausug imam. They grew up in Zamboanga, but presently reside in Metro Manila.
However, they often go to Mindanao to visit family and friends, do some work for Amnesty International, and make films.
"Gusto nilang i-represent ang Mindanao at ang pagiging Muslim," said JM Diego, a close friend and fellow filmmaker, in an interview with GMA News Online on Wednesday.
"Muslim [Islam] as a religion is one of the most oppressed in the Philippines," he added.
However, the sisters' latest visit to Mindanao to shoot a documentary film has gone awry after suspected Abu Sayyaf bandits abducted the two women in Sulu on Saturday.
Diego said the two women had applied for a grant for the documentary film. While waiting for the approval, they were able to establish their contacts and decided to head over to Mindanao to shoot.
When asked to clarify earlier reports that the two women were shooting an indie film about the Sulu sultanate before the abduction, Diego said: "Ang sabi lang nila, pupunta silang Mindanao to work on a documentary film about coffee growers, iyon lang alam ko.
Abduction
In a
statement
, acting national coordinator Ledrolen Manriquez of the Peace and Conflict Journalism Network Philippines (PECOJON) said the two filmmakers, who are both members of the group, were hosted by the Sulu Sultanate Darul Islam (SSDI) organization.
When news erupted about the abduction, Manriquez said she immediately tried calling Nadjoua's cellphone number, but reached a certain Yasir Rajim of the SSDI instead.
Citing information from Rajim, Manriquez said the two, with some members of the local group, were on board a jeepney Saturday morning when the road was blocked by armed men.
"Rajim said that they were not able to stop the kidnappers from taking the sisters. The kidnappers were armed and SSDI were not. He also said that they insisted to be taken as well but the kidnappers only wanted to take the two ladies," she added.
It was not clear why Nadjoua's phone was with Rajim.
Meanwhile, in a
post
on its news site Luwaran, the Moro Islamic Liberation Front (MILF) on Wednesday said it would help secure the release of the two independent filmmakers.
The MILF cited reports identifying two of the kidnappers as Aljini Mundo a.k.a. Ninok Sapari and Bensaudi Mundoc. Both had been linked to the "Lucky 9" group of the Abu Sayyaf.
Documentary films
Last year, the sisters produced the film Bohe, the first ever Badjao film, which was screened at the 2012 Cinemelaya Philippine Independent Film Festival and in the Cebu Documentary International Film Festival.
"This year, Bohe was nominated in the Gawad Urian," Manriquez said.
The 17-minute fiction film showcased the Badjaos, who are burdened by poverty and dire circumstances.
Sinama, the language of the Badjaos, was the main language used in the film, said Honeylyn Joy Alipio, one of its writers.
"Pinapakita nito ang diskriminasyon sa mga Badjao," said Diego, who is also part of the team. "Kauna-unahan ang Bohe."
Most of the sisters' films were only shown at the Ateneo de Zamboanga University, where both women finished their college degrees.
Another film, Kissa, was one of these movies. Diego explained that "Kissa" is the Tausug term for ballads sung by elders. "Pero bilang na lang ang kumakanta nito, mga matatanda na lang. So, mga ganoong klaseng films ang ginagawa nila," he added.
Empowered 'Muslima'
Along with their personal advocacies, the two sisters were chosen to become
Muslima Ambassadors
for an online exhibition "featuring the art, voices, and stories of Muslim women around the globe."
Forty creative young Muslim women from various parts of the globe were chosen to participate in a series of workshops and global online dialogues, lead the discussion of "important issues facing Muslim women today in their communities and around the world, and are now sharing their own perspectives as advisors, contributors and co-curators for the project."
On her
profile
, Nadjoua said: "As an advocate and a film maker I want a holistic approach to change, and in doing so I need to disregard my own prejudices, and be open at all times. It all started with a conscience as an observer as part of today's society. Seeing the voiceless being abused before my eyes, I decided to take a stand and be their voice. I became a human rights advocate and it's an endless work in progress. I believe in equality and that all must share space to create a better world. Hence, I want to be part of that change through my future films."
On the other hand,
Linda
said: "Sea water sums up my view in learning to be open to new things, including other people's cultures in tune with other communities. I can only do that by their traditions and if need be, how they speak. I take something with me like a tinge of salt in my hair as I swim, with this I speak to the ocean in fish language."
— DVM, GMA News