Filtered By: News
News
Picking up the pieces: Survivors still eke out a living a year after Yolanda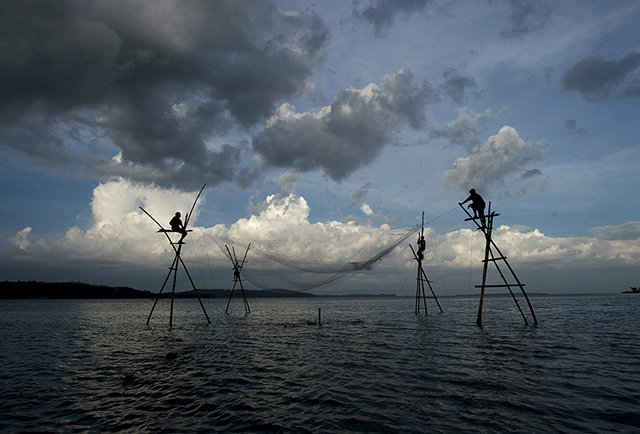 Fishermen raise an empty net off the coast of Anibong in Tacloban City, Leyte, almost a year after Typhoon Yolanda destroyed the city and many municipalities on the island. AFP/Noel Celis
A year after the super typhoon Yolanda cut a swath across the central Philippines, survivors in Leyte province are still struggling to make a living.
Jun Pilapil Jr., 56, was a fisherman based in Tacloban City - one of the areas hardest hit by Yolanda. After the typhoon killed over 6,000 people in his home province on November 8 last year, he now fishes in the province of Biliran, of Leyte's northern coast, and transports and sells his catch back to Tacloban.
"Hindi pa talaga nagno-normal sa pangingisda," the father of seven told GMA News Online in a phone interview. "Ang hirap ng hanapbuhay namin."
Even though the government had provided him and his fellow fishermen a banca (Pilapil is the Tacloban Fisherfolk Urban Association president), he said that it was not enough. He explained that the banca provided them was small and was not appropriate for use in rough seas or to catch larger fish.
He also lamented that the Cancabato Bay, the main fishing ground off Tacloban City, had not been cleared of debris from the super typhoon. Thus, fish caught in the bay were small - if there was any catch at all.
Currently, Pilapil uses a bigger banca provided by an international NGO, that is why he can fish in nearby provinces. But it was still a struggle to support his two children, who are college students. They were forced to stop their schooling.
Still, Pilapil considered himself lucky because some of his colleagues had abandoned fishing altogether and had turned to construction work as laborers.
Looting a supermarket
As Yolanda devastated their town of Palo, Leyte and left them without food, water, and clothing, the Marciel family decided to walk to the urban center of Tacloban City.
They had not eaten for three days, recalled family matriarch Melita Marciel, 45, so the family took part in the looting of a supermarket in Tacloban City.
They also lived on government and non-government organization dole outs for three months.
Marciel remembered that her husband was not able to avail of the cash-for-work program offered by the government and other NGOs.
She, herself, had wanted to take part in a livelihood seminar run by the Department of Trade and Industry. But there were limited slots, and she did not get in.
Currently, she said that they were still trying to get back on their feet. Her husband was now working as a part-time driver in a private company.
As for her, the mother of four, she wished that she could revive her sari-sari store, a business she ran before Yolanda came.
"Sa ngayon, kulang pa talaga ang sweldo ng asawa ko na P260 lang kada araw na may trabaho siya," explained Marciel. "Nag-aaral [sa Grade Five] sa malayo ang anak ko at kailangan niya pang mamasahe. Hindi naman namin mailipat kasi doon na siya nag-aaral."
A long way to recovery
Though there are cases in which a family's fortunes had taken a turn for the better post-Yolanda, these stories of hardship are common enough in Yolanda-hit areas.
According to World Vision's response director Andrew Rosauer, the restoration of livelihood among the Yolanda survivors was the "biggest challenge" in the recovery and rehabilitation phase.
According to Rosauer, one indicator to assess whether the survivors have indeed recovered from the disaster will be if they could afford to send their children to school without government or NGO aid.
"I am very impressed with the speed in which the Filipino people managed to rebound from this…There is still recovery to be done. I can't emphasize it enough. We are not yet there. We are a long way to recovery but we have made great strides," he said.
"The will of the Filipino people to actually to have a sense of normalcy, a day after the emergency, was something that struck most of our team… From the very beginning there is this drive to get back to normalcy as early as possible. I think, because of that, we have made huge progress from day one."
Meanwhile, the national government, through the Department of Trade and Industry, has several programs that offers a way out of the hardship.
According to DTI Undersecretary Zenaida Maglaya, focal person on Yolanda rehabilitation and recovery programs, Yolanda survivors may go to the nearest DTI office at their province or locality to know more of the programs offered on their area.
There are three main programs that the agency is extending to the survivors:
the Livelihood Seeding Program provides survivors training or seminars with a start-up tool kit (i.e. sewing machines, and grocery goods to sell) to kickstart their small business;
the Shared Service Facility is ideal for cooperatives and groups as program has the government buying costly equipment intended to improve production or services;
Financial assistance is provided by the Small Business Corporation, Land Bank of the Philippines, and the Development Bank of the Philippines.
Under the P170-billion rehabilitation plan signed by the President late last month, the livelihood cluster will have a budget of about P30 billion.
For this year, the cluster has earmarked about P6 billion. Out of this number, only 44 percent has been utilized, with less than two months to go before the year ends.
— DVM, GMA News