Filtered By: News
News
Only 3 of 13 Blue Ribbon inquiries ended with proposed bills
S
ince the start of the Aquino administration in 2010, the Senate Blue Ribbon Committee has fallen short of delivering proposed bills or recommendations in aid of legislation for 10 of the 13 investigations it conducted.
After 70 hearings conducted for the 13 inquiries since July 2010 up to the end of last year, the committee produced three reports, based on its Summary of Referrals Investigated.
Twelve, or the most number of hearings, was devoted to the investigation of the alleged overpricing of the Makati City Hall Building II involving Vice President Jejomar Binay, members of his family, city officials and various individuals.
Officially named Committee on Accountability of Public Officers and Investigations, the last time the panel came out with a report was on Dec. 19, 2011 during the 15th Congress.
The report was in connection with the alleged misuse of some 244.5 million pesos in intelligence funds from the Philippine Charity Sweepstakes Office (PCSO). Plunder charges were recommended against then president Gloria Macapagal-Arroyo and erstwhile PCSO general manager Rosario Uriate.
The two other reports were also filed that year. On March 23, the committee came up with the report on the alleged anomalous purchase of second-hand helicopters for the Philippine National Police and on Oct. 13, the report on the plea-bargaining agreement between state prosecutors and former Armed Forces comptroller Major Gen. Carlos Garcia.
While most of the policy or legislative recommendations in these reports resulted in filing of bills, only two laws were passed. These were Republic Acts 10365 and 10167, both of which were enacted to strengthen the Anti-Money Laundering Law.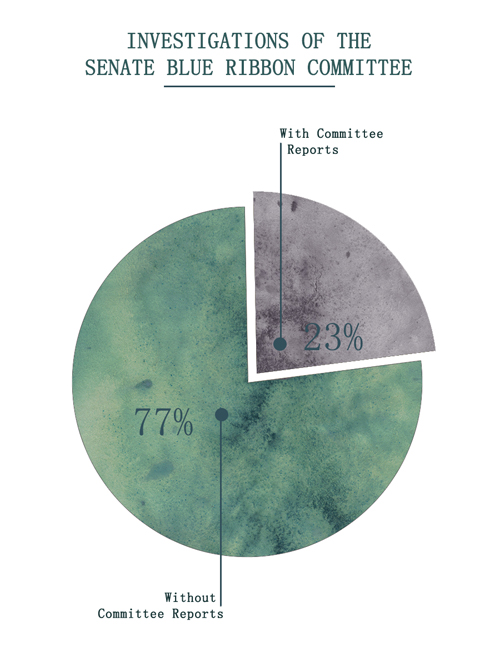 Mission impossible?
Senator Serge Osmeña, a three-term senator and vice chairman of the committee, said it would be impossible to produce recommendations for legislation from all the Blue Ribbon probes before the end of the current 16th Congress—and even beyond.
"It never turned out that way [that outputs are delivered after each Blue Ribbon investigation]. I have been in the Senate for almost 18 years. Not all of those will be finished. Sorry, nobody, no Congress in the world will have a 100 percent, 1,000 percent batting average. None," he said.
Osmeña scoffed at criticisms that the Senate should invest more time crafting legislation than conducting probes.
"Filing bills is very easy. I can file a bill every five minutes if i want to. It's determining which bills to consider and to pass, right?" Osmeña said.
He stressed that senators were indeed busy making bills on relevant concerns, but decried that this is overshadowed by media attention given to "news-y" subjects and "notorious" investigations.
"People think we do nothing.... All they see on television are the glamorous [investigations like the] Corona trial. They don't know that we do a lot of things here in the Senate. They don't see it because it's boring," Osmeña said.
"If it's a hearing on the Bangko Sentral ng Pilipinas charter, will you cover it? No."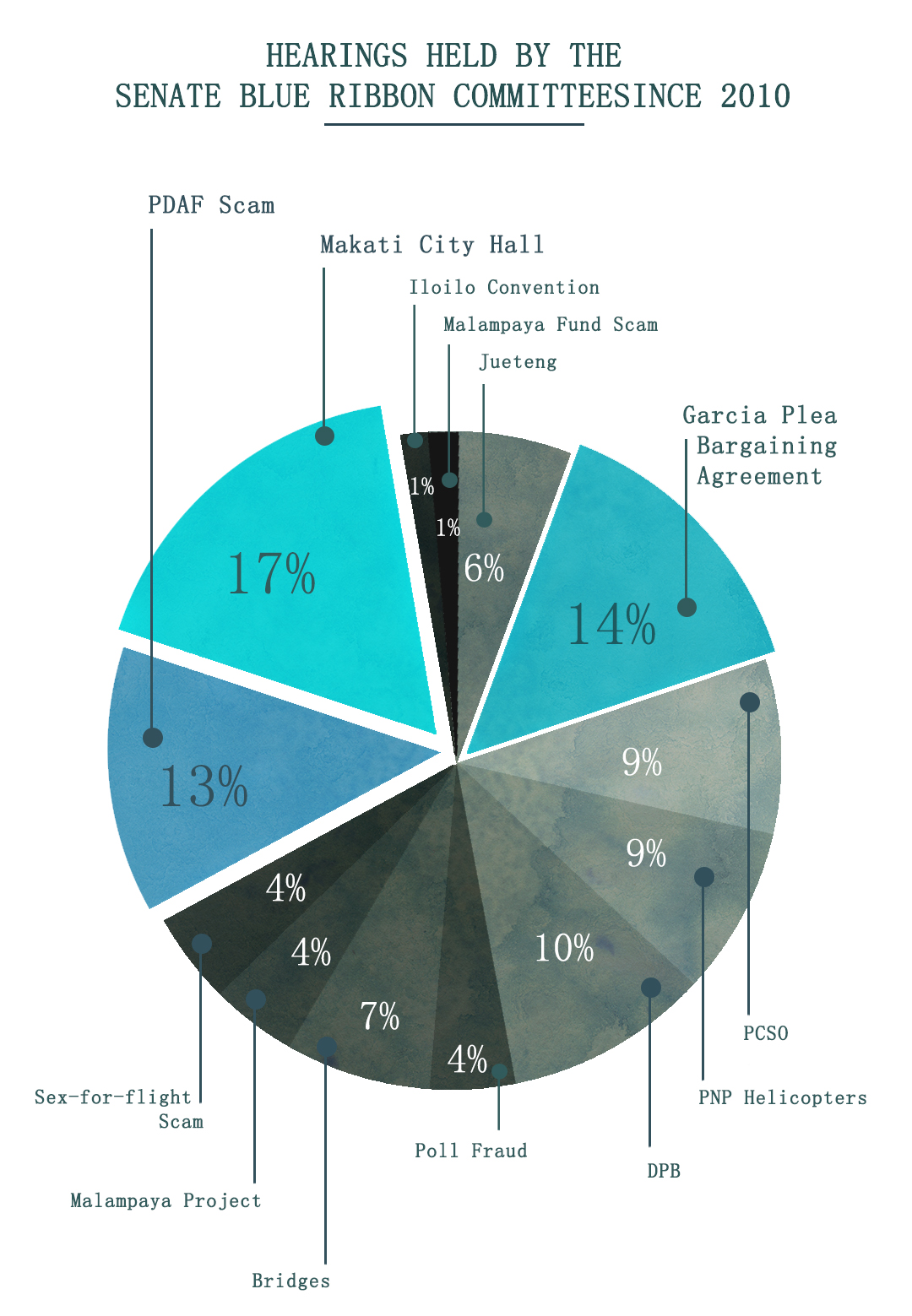 Reports an indication of performance
Prospero De Vera, vice president for public affairs at the University of the Philippines, said failure to provide a committee report could be seen as an indication of not just the Blue Ribbon Committee's performance, but the manner by which its investigations were conducted as well.
"We can say that the Blue Ribbon committee did not do its job, that the committee and the processes of the Senate were only used to shame and destroy the reputation of political rivals, when there is no committee report, and there are no changes in the law," said De Vera.
For her part, Dean Fe Mendoza of the UP National College of Public Administration and Governance pointed to the Supreme Court ruling on the responsibility of Blue Ribbon Committee to deliver proposed legislation as a result of probes.
"I don't know if the Blue Ribbon Committee members hide under the cover of this phrase. But there should really be an intention [to produce potential legislation]. Because if you investigate, and you're in the Senate, your mandate is to legislate," Mendoza said.

"That's what you should always think about. So this investigation should result in new bills or revision of existing laws," she added.
Both De Vera and Mendoza shared the view that it was too early to cast judgment on the success or failure of the current Blue Ribbon committee.
De Vera noted that multiple investigations were still ongoing, including its high-profile inquiry into the construction of Makati City Hall Building II. However, he warned that the committee members may be subjected to criticisms "if the hearings [dragged] on and on, and [drifted] to matters outside of what they were intended to investigate."
On Thursday's hearing on the controversies hounding the Vice President from his years as city mayor, Senator Aquilino "Koko" Pimentel III gave the public something to look forward to as far as legislation from the Makati inquiry is concerned.

Pimentel revealed legislative ideas being floated to fight corruption at the local level, especially since he has been pushing for more substantial allocations for the local governments from the Internal Revenue Allotments.

"My interest in this investigation is principally legislative" he said, adding that that he has a pending bill called Bigger Pie, Bigger Slice, which would bring more resources to local government units.

"Before this becomes law, let us fight corruption in the local level now," Pimentel said.
For now, Mendoza said the committee's inquiries are still works in progress and that the public should just "give them the benefit of the doubt."
"Hopefully the Blue Ribbon Committee would evolve into a committee that will really be in aid of legislation, that will have more rational, more fair, and more 'for public interest' laws. Because that's what we need. However, hopefully there won't be any more witchhunts," Mendoza said.
Osmeña attributed the "shortcoming" of undelivered committee outputs as a result of the Senate's "changing complexion" every three years. Committee rosters change, he said, and so do senators' personnel serving the different Senate panels.
The committee's eight-person regular staff is thin manpower, Osmeña said, compared to the Government Accountability Office (GAO) of the United States congress, which he said is backed by full-time personnel regardless of changes among congressmen and senators.
According to the GAO website, the office maintained 2,869 employees as of 2013. Staff at the Blue Ribbon Committee, meanwhile, said the Senate panel currently has nine regular staff and six contractual personnel.
"Dito, pipitsugin lang ho kami," Osmeña said. —NB/KBK, GMA News