Filtered By: News
News
Alabat Island fishermen feel effects of rising sea temperatures
Elma Reyes, mother of two, wants to leave her family.
She is a fisherman, a farmer, laborer or whatever job she can take on in their small town of Alabat in Alabat Island, Quezon Province, a fifth class municipality.
On a good day, she and husband Eulyses, who is a fisherman, earn a combined P400.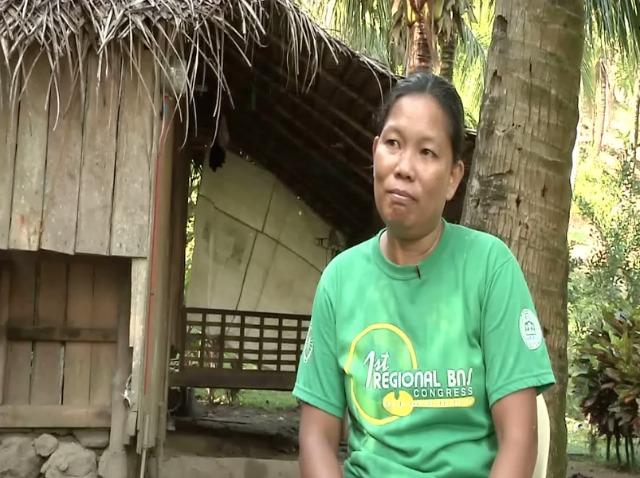 Elma Reyes is a petitioner in the landmark human rights case vs. oil companies. Lian Buan
"Pinipilit ko po 'yung asawa kong payagan akong mag-domestic helper sa Kuwait," Elma said. "Ayaw ng asawa ko. Sabi niya, dapat ang pamilya sama-sama, pero sa kahirapan naman, no choice."
Elma lives in the fishing village of Villa Norte beside the Pacific Ocean. They catch what they eat, and sell the rest for savings. Elma never wanted to leave.
Until the ocean became less generous.
Warming up of the ocean
Because of the rise in sea temperatures, fish tend to move to cooler waters or lay eggs in the deeper parts of the ocean.
They used to sail only three kilometers from the shore to fish. Now, they find themselves reaching 15 km from the shore just to have a catch.
Villa Norte's Captain, Richard Lopez, said that a small boat used to catch 40 kg in one trip. Over the last year, however, they have observed they're only catching around 12 kg.
Fishing expenses have also gone up. They have to spend more money on gasoline for their boat's motor, and packed food for the long trips.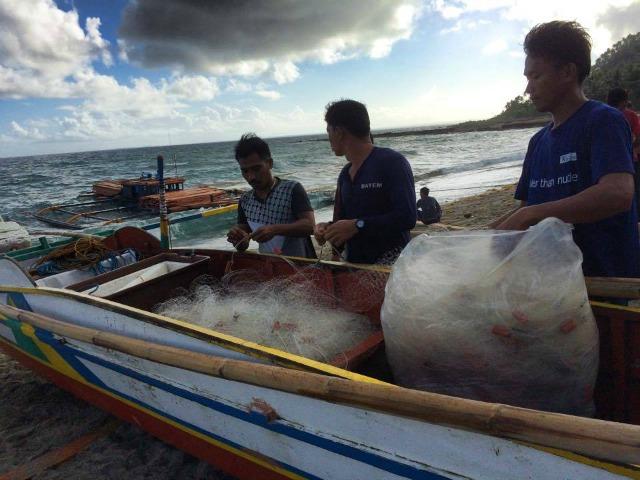 Arnel Maghanoy (middle) checks if there were small fish left uncollected from his net. Lian Buan
For fishermen who don't own the boat, their earnings are further reduced because they have to share their catch with the boat's owner as rent.
Arnel Maghanoy, one of the fishermen who rent a boat, said there have been days when his catch was just enough to pay back the boat owner and his family's meal for the day.
Arnel prefers windy weather when fishing, even if it means stronger waves.
He said that cool weather meant more fish, never mind the risk.
Accountability
According to the United States Environmental Protection Agency, from 1901 to 2014, global sea temperatures rose at an average of 0.13°F per decade and are set to increase even more.
"Madalas hindi naico-connect ang isyu ng climate change sa global scheme of things," said Anna Abad, Climate Justice Campaigner for Greenpeace Philippines.
"Hindi nila nauunawaan na karamihan nito ay gawa ng galing sa ibang bansa at mga kompanyang nagsusunog ng carbon. Nakakalungkot kasi sila 'yung nagbabayad sa isang bagay na hindi nila kasalanan," Abad said.
She is referring to the call for accountability from rich nations with the largest carbon emissions, cited by scientists as the main culprit for extreme weather conditions.
With the Philippines as a disaster-prone country, Filipinos often link climate change to calamities, Supertyphoon Yolanda (Haiyan) being the most prominent.
What we forget, according to Abad, is that Filipinos feel the effects of climate change without knowing it. The fishermen of Alabat are examples.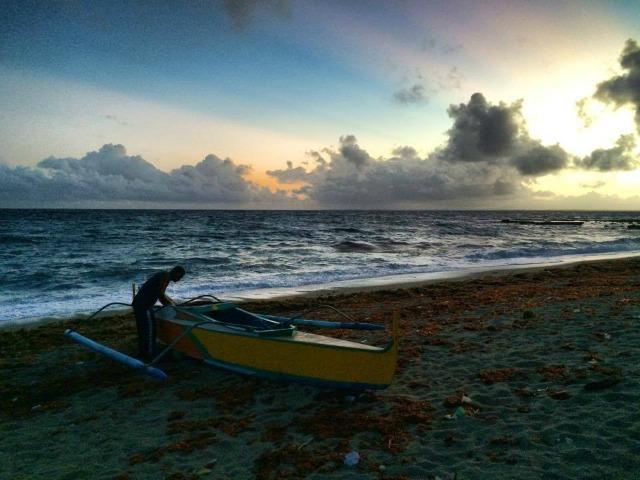 Survival depends on the ocean for the fishermen of Alabat. Lian Buan
Last September, fishermen and farmers of Alabat traveled to Manila to file a petition at the Commission on Human Rights, calling for an investigation into global oil companies found by a peer-reviewed research as having contributed a lion's share of carbon emissions.
It is the first time in the world that accountability is demanded directly from private companies, and giant oil companies at that.
Elma was one of the petitioners, and for her, there is no time to be intimidated.
"Kahit ako'y isang magsasaka lang, basta ang maraming boses na magsama-sama, may posibilidad na pakinggan nila," Elma said. "Ano man ang maging resulta noon, hindi ko man maranasan ngayon, sana maranasan ng mga anak ko."
David vs. Goliath
To some spectators, this is a classic case of David vs. Goliath that is only good for its literary value. But Abad said they see potential.
Once the petition is reviewed, the CHR is expected to work with its counterparts in other countries to carry out investigations into oil companies.
The petition aims to enforce changes in the system that would force oil companies to cut down their emissions, a way to "erode their social license," as Abad put it.
"Ilang dekada na ring nangyayari ang climate negotiations pero hanggang ngayon wala pa ring desisyon ang world leaders. They cannot commit to anything binding, so people now take matters into their own hands," Abad said.
Road to Paris
On November 30, a total of 147 world leaders will converge in Paris, France for the United Nations Climate Change Summit.
Having been one of the Philippines' climate change commissioners, Yeb Saño knows too well the frustration of these negotiations.
In 2013 at the UN summit in Warsaw, Poland, Saño cried and declared that he was going on a hunger strike until a "meaningful outcome is in sight."
His emotional appeal propelled him into worldwide prominence. However, that prominence did not yield much result. In April this year, he resigned as commissioner.
"I resigned because there is a larger fight against climate change beyond the confines of intergovernmental process," Saño told me via email.
Saño is now in Paris with other advocates, having spent the last six months on a pilgrimage that started in Tacloban, Leyte and across the world until reaching Paris early November.
According to Saño, summits such as the one happening in Paris are a mirror of "geopolitical power play that leaves small and poor nations helpless."
"It can be as frustrating as spending a whole week just trying to agree on where to put a comma or a semi-colon," Saño said. "Bullying and bilateral pressuring are rampant."
In Warsaw in 2013, Saño negotiated one particular matter: to discuss the loss and damage mechanism.
Under this framing, poor nations experiencing the effects of climate change can demand compensation from the richer nations assumed to have caused those effects. It is a controversial debate because nations claim there is no way to specify which countries caused which calamities.
"Loss and Damage" has yet to be put on official agenda, due to, according to Saño, "the sheer reluctance of powerful nations to acknowledge their responsibility." He said "money keeps them from acknowledging the reality of climate injustice."
What do we want out of Paris?
If it were to go his way, Saño wants a public climate financing of at least $1 trillion per year for developing countries.
In our interview with UN Secretary General Ban Ki-Moon for State of the Nation with Jessica Soho last December 2013, he said that the United Nations was trying to mobilize rich nations to contribute $100 billion per year.
"We'll make the developed world accountable for what they have caused this world. I am taking this as my number one priority," he told Jessica Soho in the said interview.
It is a far cry from Saño's $1 trillion, but that is the lesser of worries. UN has only mobilized $10.2 billion so far.
It would be easier if there is a legally-binding treaty that would compel nations to oblige. In Paris, they will try again.
"We need to get a treaty robust enough to avert the climate crisis and as such must prevent warming from going beyond 1.5 degree Celsius," Saño said.
According to UK-based Met Office for Weather and Climate Change, the rise in global temperatures this year will exceed 1-degree Celsius for the first time, putting us on a feared track toward the 2-degree Celsius limit that we must avoid lest we suffer catastrophic consequences.
People's actions
Saño has since resorted to extralegal actions to demand climate justice. He was part of the global movement calling to stop oil drilling at the Arctic. Last September, Shell announced it would stop its Arctic explorations.
Elma could not do anything remotely close to what Saño is doing. She hopes that in filing the petition, she has done her part.
While Saño is out to save the world, Elma hopes she never has to leave home. —KG, GMA News
Note: The story of the Alabat Fishermen first appeared as a television report for State of the Nation with Jessica Soho produced by Lian Nami Buan and researched by Leo Alexis Ecijan.