Filtered By: Newstv
NewsTV
'Day Off' Trabaho Profiles: What does a body modification artist do?
Last June 16, the GMA Network program "Day Off" featured Leo Roque, a body modification artist. He has 15 years of experience in tattooing, a profession that can be likened to painting except that it entails the use of needles instead of paint brushes, and human skin instead of canvasses. Tattooing is only one example of the different types of body modification in which Leo specializes. He also performs body piercing, transdermal implantation or the process of placing objects beneath the skin, and branding or burning the skin to leave decorative scars. Scroll down to learn more about what a body modification artist does: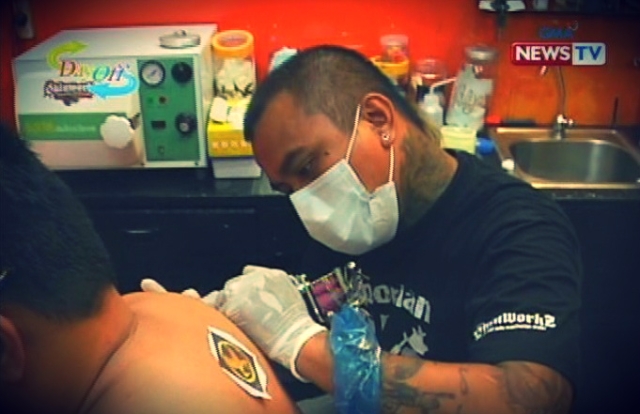 The job in a nutshell: Body modification is the alteration of the human body for non-medical reasons. People who modify their bodies through tattoos or piercings often do so for aesthetic, artistic, or religious purposes.
The most popular form of body modification is tattooing. Tattoos are achieved by inserting indelible ink into the dermis layer of the skin to form patterns or symbols. Tattooing has been practiced for centuries in many cultures around the world.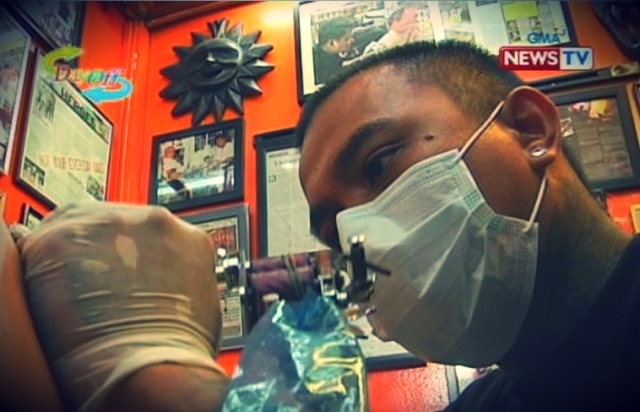 Job qualifications: Tattoo and body modification artists must be capable of stomaching the sight of blood. Practitioners must have steady hands and a tolerance for seeing people in pain. Leo adds that having a few tatts and piercings yourself can deepen one's credility as a body modification artist: "Kung sakaling magtanong ang customer, 'Kuya, masakit ba magpa-tattoo sa leeg?' Ako muna. Sina-sample ko muna sa sarili ko"
What they do: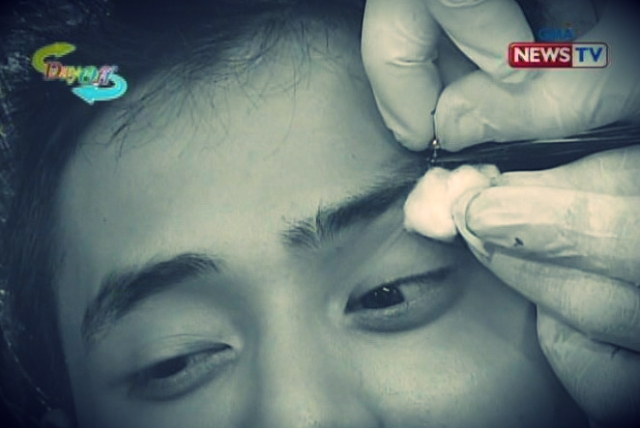 Body piercing:
Body piercing involves puncturing or cutting the skin to display jewelry. Earlobes are the most commonly pierced body part. Some people take body piercing to a whole new level by donning rings on their eyebrows, noses, lips, navels and even nipples.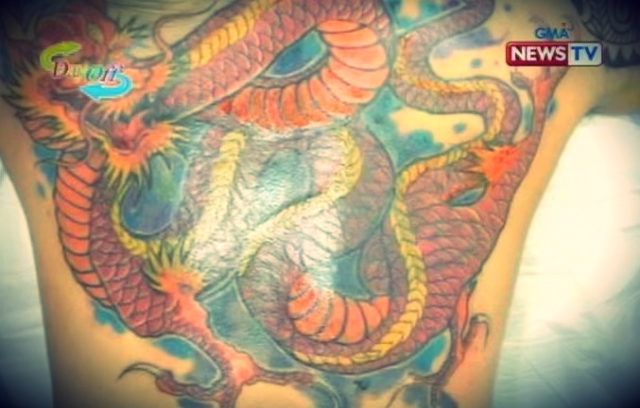 Tattooing: Also known as "getting inked," tattooing involves the insertion of dyes beneath the skin to form patterns or symbols. Modern tattoos are done with an electronic tattoo machine that pierces the skin at controllable needle depths, speeds, and force, allowing the artist to be very precise.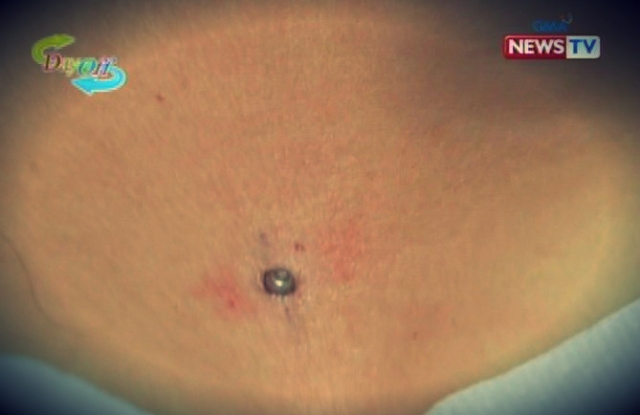 Transdermal Implantation: Like body piercing, implanting involves cutting or piercing the skin to display jewelry. Those who undergo transdermal implantation, however, wear their jewelry positioned partially below and partially above the skin.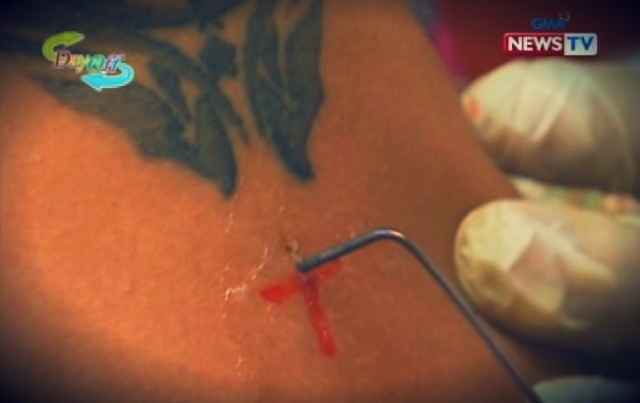 Branding: Branding involves burning the skin with a heated metal rod to produce decorative scars. Because branding causes third degree burns that destroy the nerves, this form of body modification should only be practiced by experienced professionals.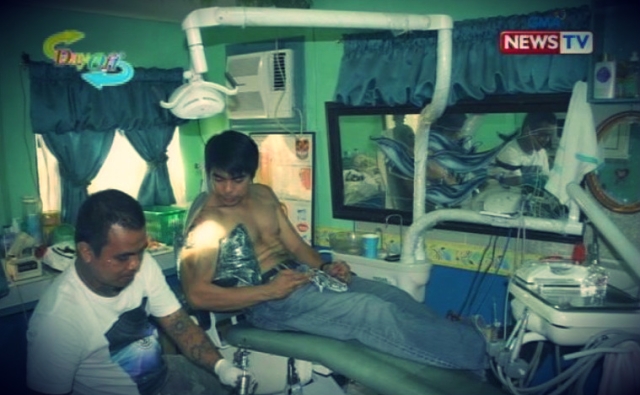 Show me the money: As an in-house artist for a tattoo studio, Leo earns roughly P30,000 a month. But it takes years of experience and industry recognition before a body modification artist can earn the same as Leo does. A beginner usually takes home 60 percent less income than a long-time professional. The shift: Tattoo studios are open for the standard eight hours per day. However, more complex tattoo designs can take between three to six hours per sitting, or for as long as the customer can endure the pain.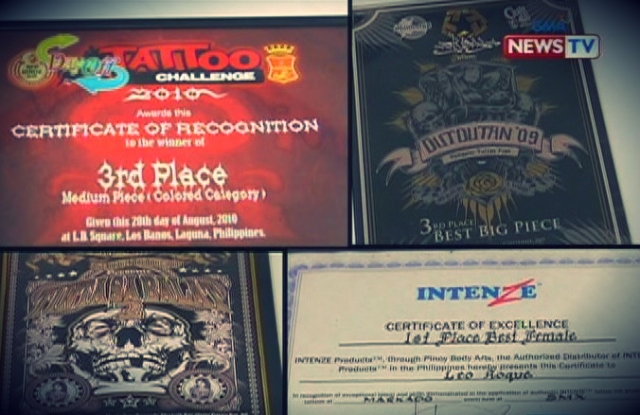 Perks of the job
:
Body modification is an art form, and practitioners should constantly learn and improve their skills to become successful. A tattoo artist who has made a name for himself will always have a long list of clients. Artists seeking to build their reputations can join the growing number of tattoo contests in the Philippines. Leo, for example, bagged top awards at both the first and second Pintados Tattoo Conventions and at the prestigious Dutdutan Tattoo Festival in 2009. Leo says he gets fulfillment when customers are happy with his work. Tattoo artists also have the unique privilege of being part of milestones in their customers' lives.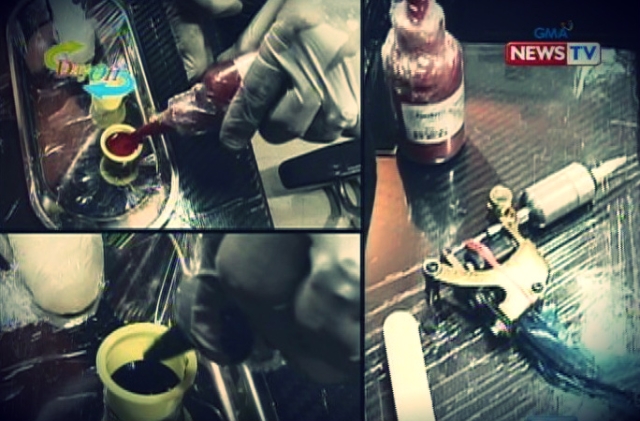 Hazards of the job:
Body modification artists have to endure seeing people bleeding and writhing in pain. This, however, can be easily overcome through experience. "Nung una natatakot ako. Siyempre, kasi, masakit sa tao. Pero nung nagka-tattoo na ako, 'yun, tuloy-tuloy na," says Leo. Do you know someone with an interesting, unusual job? Do you think they deserve a "
Day Off
?" Send us their story via
Facebook
or
Twitter
and they might make it to the show! —
Ces Vitan/PF, GMA News