Filtered By: Opinion
Opinion
From Digos to Cuyo, a regional examiner's UPCAT journey
Those boxes are far more important than your life. It is a joke that is shared among regional examiners of the University of the Philippines College Admission Test or UPCAT. While we laugh at how we casually say it, we know it is a tall order. It is an unwritten policy that every regional examiner has kept in mind. After all, the boxes do not just contain UPCAT test materials. They also contain the future of high school students who could possibly end up in a league that has produced seven of the country's Presidents, 12 Chief Justices of the Supreme Court, 34 National Artists, and 36 National Scientists – all of whom graduated from the University of the Philippines. That is why we take our "vocation" seriously. Regional examiners, who are a mix of UP faculty members and staff, understand the importance of keeping the UPCAT's integrity. We will actually do the best we can to protect the boxes and their contents from any untoward incident that might tarnish the credibility of the exam.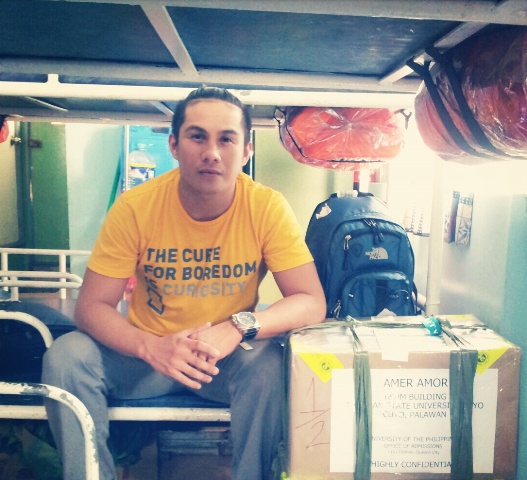 During the UPCAT season, which happens every first Saturday and Sunday of August, regional examiners are fielded across the country – from Basco in Batanes to Pagadian City in Zamboanga, from Cuyo in Palawan to Virac in Catanduanes. We travel by land, air, and sea just to get to these destinations. We endure long, tiring trips, and sometimes even risk our lives just to get to the communities. This, I believe, is a manifestation of the University's promise "to make the UP studentry more representative of the nation's population." And those boxes? We literally guard them with our lives. We do not just leave them at the airline's check-in counters; we see to it that the boxes are on their way to the plane's cargo hold before we proceed to our boarding gates. We do not place them inside bus compartments; we pay extra seats for them. If we can help it, we do not just let anyone touch them. We only open the boxes on the day of the exam, and seal them right after the tests are done. During my first time as a regional examiner, I kept close watch on my box. I was assigned in Digos City in Davao del Sur, together with an administrative staffer who works at the Office of Admissions in UP Diliman who had taken on many regional UPCAT assignments in the past. But even though I was with an UPCAT "veteran," I took to heart every instruction that went with carrying that box around. I felt I was accountable for my UPCAT box. I had to remind myself that any little misstep on my end will ruin an entire generation's future. I hugged it while we were in transit, maintained an eye on it while having conversations with other people, and chose to carry it when we got to a chaotic bus terminal even though we could get a porter to do the task. On our way back to Davao City from Digos City after administering the exam, I fell asleep out of exhaustion. I woke up to the sight of an armalite pointed at our box. When you wake up from dreamland with that kind of view, how would you feel? I got scared for a brief moment. I nearly panicked, until I realized it was just a checkpoint. It was a good thing the Office of Admissions had carefully planned out everything for us. I just showed the letter from the National Police Commission that exempts the box from routine security inspections, and all was okay. I could just imagine what other regional examiners who went before me had to do, just to make sure that their boxes get to and from the regional test centers safely and securely. In reality, almost every regional examiner has a story to tell. Two examiners got stranded in Batanes for 11 days when a typhoon hit the province in 1997. They had to constantly and painstakingly check on the condition of their UPCAT box when strong winds and heavy rains pummeled the island. Far from their families and with their budget getting fast depleted, the examiners converted a classroom into their temporary home. One examiner speaks of a time when Dagupan City was under water. They had to traverse through the almost waist-deep floods, carrying their UPCAT boxes aloft so these would not get wet. Another examiner recalls his assignment in Tawi-Tawi, back when UP had a test center there. On their way to their destination, one crewman told him they have machine guns in the boat as protection against the Abu Sayyaf. He was, however, more concerned about rampant malaria in the area. When I learned about these stories, and after having experienced the kind of commitment and sacrifice that go with ensuring the integrity of the UPCAT, I felt prouder for passing the exam in 1999. The dedication of every regional examiner means every test material is safely and securely transported to and from their destinations, leaving no room for leakages and anomalies. Everyone is assured of their fair shot at UP education. This year, my destination as a regional examiner is Cuyo in northeastern Palawan. Cuyo is the farthest regional test center in terms of travel: one has to fly to Iloilo first, then endure at least 14 hours of ferry ride on rough seas. It is also the test center with the smallest number of examinees. Last year, only 19 students took the UPCAT; at least nine students are expected to take the exam this year. My co-regional examiner and I embarked on our trip to Cuyo yesterday, August 2, as scheduled. We got to Iloilo City at 10 am, but we learned that trips to Cuyo have been cancelled since Monday because of the bad weather. When the ship captain and the Coast Guard declared that it was already safe to travel to Cuyo, we were ecstatic. We left Iloilo at 3 pm. Three hours into the journey, however, our ship captain decided to go back. The waves were too big and too rough. It was one hell of a bumpy ride that had my co-regional examiner, an "UPCAT veteran," gushing, "This is, by far, my most challenging UPCAT assignment!" By 10 pm, we were back in Iloilo. But we know that the boxes need to be at their destination in time for this weekend's UPCAT, so we are trying our luck again today. I really hope our trip to Cuyo pushes through since our contact in the island already told me some students from nearby islands are in Cuyo now, hoping to take this weekend's exam. The truth is, I requested to be assigned in Cuyo because I feel that the presence of a test center in the island is a testament to my university's commitment to make UP education accessible and available to students in far-flung communities. (The cost of UP education these days, of course, is a different story). With its low number of examinees, UP could have just decided to close down this test center, but that would mean passing the burden to the high school students who will have to spend more and endure the rough ride to get to Iloilo and Puerto Princesa, the nearest test centers. If UP does that, it will mean we might miss out on future National Scientists, National Artists, and Chief Justices of the Supreme Court. Who knows? The next best Philippine president might just come from Cuyo. As for that box, it will stay with me in bed for the duration of the grueling 14-hour ferry ride to Cuyo.
Amer R. Amor is a faculty member of the University of the Philippines in Baguio. He is an UPCAT Regional Examiner.