Filtered By: Opinion
Opinion
NBI goes digital: How does the online clearance experience rate?
The days when Pinoys need to take a day off from work to brave long lines and secure a National Bureau of Investigation (NBI) clearance may soon be over.
Department of Justice secretary Leila De Lima recently
announced
that NBI clearance applications can now be made through the agency's website starting Friday, January 24. Applicants only have to fill out an online application form at www.doj.gov.ph/nbi or at www.nbi.gov.ph to accomplish this step.
It's not totally online, since applicants will still have to bring the print-out to any of the 55 satellite offices for payment and biometric enrollment. To get the actual clearance certificate, you'll still need to make a physical appearance, but it's a start.
I tried out the new process and I was able to fill out the form through NBI's website.

After you're done with all the personal information you need to fill out, the accomplished form will then appear on the screen.

There is no way for an applicant to save this document in any format (PDF or Word, etc.) except by copying and pasting it onto another word processing program. Because of this, the proper page layout cannot be retained. This is one area I hope they can work on soon.

I also had to click the SUBMIT button repeatedly, since I kept getting an ERROR message.
Director Mendez did say that website glitches were to be expected. I just hope it won't be as horrendous as the previous version of the
Obamacare website
in the U.S.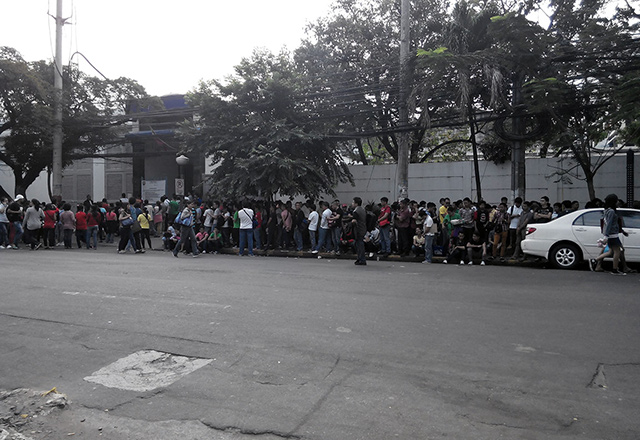 Despite the activation of the National Bureau of Investigation's new, online application for clearance and renewals, long lines remain outside the main office in Manila as of Friday morning, January 24. (Photo: GMA News)
Another thing is that it's not clear how the NBI will
entertain applicants
for walk-in clearance. Will there be a separate lane for them? I am raising this concern because majority of Filipinos still don't have access to the internet.
So far, the online part of the process has proven clunky. I plan to finish my clearance renewal at the NBI satellite office in Ever Commonwealth, soon. Let's see how this development improves things.
— KDM, GMA News
UPDATE: The DOJ has reported that at least 36,000 people have availed of the online clearance service on the first day.
---
Mark Pere Madrona is a journalism graduate from UP Diliman currently taking up a masters degree. This essay originally appeared in his blog. We are re-posting it with permission.