Filtered By: Pinoyabroad
Pinoy Abroad
Obama: Follow example of Fil-Am New York nurse Menchu Sanchez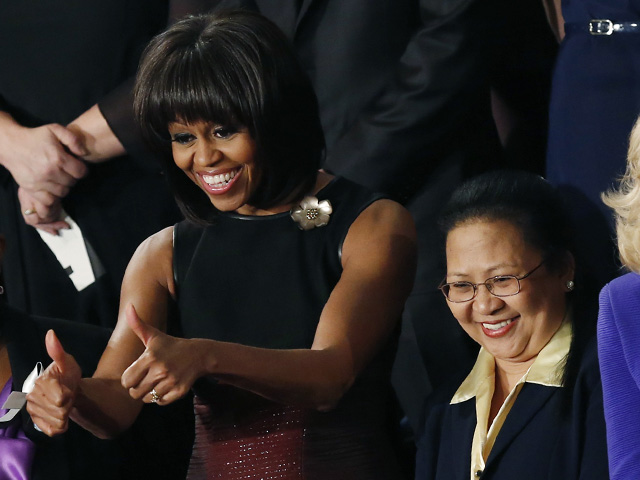 US First Lady Michelle Obama with Fil-Am New York nurse Menchu Sanchez prior to U.S. President Barack Obama's State of the Union Address on Capitol Hill in Washington. REUTERS/Jonathan Ernst
At the height of Hurricane Sandy in October last year, Filipino-American nurse Menchu de Luna Sanchez worked out a plan to save 20 at-risk babies at the New York University Langone Medical Center. For her heroism, United States President Barack Obama cited her among the people he urged Americans to emulate as he delivered his annual
State of the Union speech
on Tuesday. "We were sent here to look out for our fellow Americans the same way they look out for one another, every single day, usually without fanfare, all across this country. We should follow their example," Obama said in his speech delivered at the US House of Representatives in Washington D.C.. "We should follow the example of a New York City nurse named Menchu Sanchez. When Hurricane Sandy plunged her hospital into darkness, her thoughts were not with how her own home was faring - they were with the twenty precious newborns in her care and the rescue plan she devised that kept them all safe," Obama said. A news article on
NorthJersey.com
on Monday, the day before she attended as a guest in US President Barack Obama's State of the Union Address, Sanchez said she bought new outfits during the weekend that she hoped to wear during the event. "I really wanted to wear my Philippine traditional costume — we always wear them for special occasions and I can't think of any occasion that is more special than this — but we were told to dress simply," she said. Sanchez was among the guests of US First Lady Michelle Obama during her husband's State of the Union Address on Tuesday. In an earlier advisory, the
White House
cited Sanchez's heroic efforts in crafting a plan to transport 20 at-risk babies from New York University Langone Medical Center to intensive care units in the city when Hurricane Sandy cut the hospital's power. "She organized the nurses and doctors to carefully carry the babies down eight flights of stairs with only cell phones to light the way. Even as Menchu's own home was flooding, she thought only of protecting the babies in her care." the advisory said. According to the
LiveScience website
, Hurricane Sandy, a late-season post-tropical cyclone, "left dozens dead, thousands homeless and millions without power. Total damage is expected to be in the billions of dollars." The death toll from the superstorm, as of November 1 last year, was at least 149.
Born and raised in PHL
Sanchez was born, raised and educated in the Philippines before going to the US in the 1980's. She has been a nurse in New York for more than 25 years, and has been at the NYU Langone Medical Center since 2010. Sanchez has not returned to the Philippines for about 12 years because she is saving for her children's education. She has two children, a 20-year-old son and a 19-year-old daughter, who are both in college. "Instead na umuwi, we just saved up for the tuition fee of our children. Kaunti na lang, they are both in college now," she said in an article on
Asian Journal
. Sanchez said they had nothing to bequeath to their children, except education. "That's the only thing we can leave them, education," she said in the report.
- VVP/HS, GMA News