Filtered By: Pinoyabroad
Pinoy Abroad
HK textbook tags Pinoys as domestic helpers
A picture of a primary textbook in Hong Kong has gone viral among online forums for assigning stereotypes to different nationalities, including Filipinos, who are tagged as domestic helpers.
In his blog entry, "
Hong Kong Textbook Tells You To 'Know Your Place!,
" British activist Tom Grundy posted a photo of a page titled "racial harmony," with has a fill-in-the-blanks exercise that ascribed certain stereotypes on nationalities.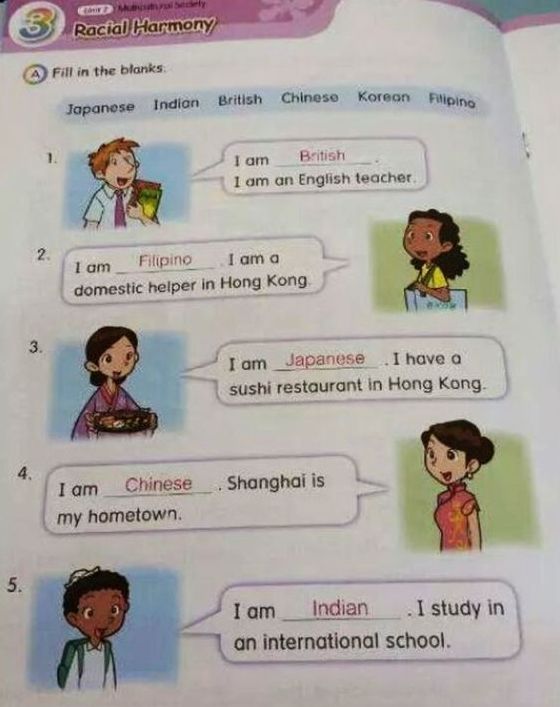 Photo from www.hongwrong.com
The answer for item number two, which said "I am a domestic helper in Hong Kong," is Filipino.
Other nationalities included were British ("I am an English teacher"), Japanese ("I have a sushi restaurant in Hong Kong"), Chinese ("Shanghai is my hometown"), and Indian ("I study in an international school").
Grundy wrote that the photograph "is going viral amongst parenting, Filipino and teacher forums online."
In an email to GMA News Online on Tuesday, Grundy said he found the photo on social media, adding he does not know its original source.
The textbook, "New General Studies" (Book 6), was published by the Singapore-based Educational Publishing House Ltd.
"Yes, the books are very much real," Grundy wrote. "Despite my efforts to contact the publisher today, they are currently refusing to respond."
In an interview with Manila Bulletin, Grundy said the textbook reflects "an effort to create materials for 'multicultural studies' ending up being counterproductive and reinforcing stereotypes."
Grundy wrote in his blog that while multiculturalism is being studied at primary level in Hong Kong schools, "ethnic minority children are being 'belittled and stereotyped'."
Responding to Grundy, Hong Kong's Equal Opportunities Commission (EOC) said it believes "that ethnic stereotypes must be viewed with caution."
"The EOC believes that educational material should reflect diversity, cultural values, customs, lifestyles and the social realities of Hong Kong," it said. "It should not reinforce stereotypes of any kind."
Statistics from the Philippine Overseas Employment Administration (POEA)
from 2012 showed that Hong Kong is the fourth top destination for land-based service workers, the top category of Filipinos who seek jobs overseas.
Land-based service workers include Filipino domestic workers, now formally referred to as Household Service Workers (HSWs).
In June last year, Hong Kong football fans tagged the Philippines as "slave nation" when they booed the Azkals football team.
Labor Secretary Rosalinda Baldoz cried foul over the incident
, saying that "the remarks are derogatory."
GMA News Online contacted the Overseas Workers Welfare Administration (OWWA) and the POEA for comment, but they have yet to respond.
—KBK, GMA News