Filtered By: Pinoyabroad
Pinoy Abroad
COVID PANDEMIC RESPONSE
Pinoy frontliners in Kuwait conduct food drive for those in need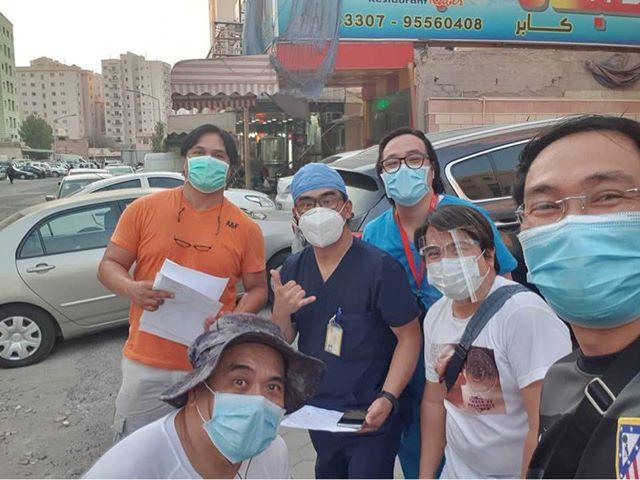 Collectively called the "Good Vibes Kuwait" (GVK) a group of nurses in Kuwait has conducted a food drive for anyone in need, Filipinos or not, in the Gulf state.
"The food drive is open for all. And each food pack contains five kilos of rice, a tray of eggs, chicken, oil, and noodles," shared Abdel Nasser Jamsuri, a 49-year-old nurse in a government hospital, adding that what they are doing is a team effort.
"At first, the groceries are complete. But we need to lessen it to accommodate everyone as funds are from the pockets of members," the native from Jolo added in an interview via Messenger on August 23.
The GVK group, who are also members of the United Badminton Club (UBC), started helping out in April upon seeing "depressed Filipinos" and some "resorting to suicide."
"So we thought of doing something. We cannot just see the situation and do nothing. We thought of using the social media to inspire everyone to help."
"Since most of us in the group are frontliners, we can go with our 'ayuda operations' past the curfew time. We would go directly to the houses of those who registered on our page so they won't have to go out."
GVK also sought help from the members' friends in the United States, Qatar, and United Kingdom; as well as the Baking Studio Kuwait, Leila Caraos of the Crystal Himalayan Salt Lamp, Mary Grace Ramirez of the Soapermom, and Republika ng Sports sa Kuwait.
Jamsuri himself sold his cap collection.
"The money we're using right now used to be our fund to help the runaway Filipino helpers sheltered in Philippine Embassy through a feeding program. Then when this COVID-19 hit Kuwait, we decided to use the money for our 'ayuda operations' instead."
"We may have our own financial needs back home but with all the blessings and good health we're receiving despite the pandemic, GVK decided to extend our gratitude to the Almighty by being an instrument to help the needy." —LBG, GMA News