Filtered By: Pinoyabroad
Pinoy Abroad
Pinay nurse lauded by Obama for heroism needs help
Menchu Sanchez, the Filipina nurse once lauded by former US President Barack Obama for her heroism in the wake of Hurricane Sandy in 2012, needs help to beat a debilitating kidney disease.
As relayed by her daughter Michelle on GoFundMe, the neonatal intensive care unit nurse is suffering from a disease called IgA nephropathy or Berger's disease.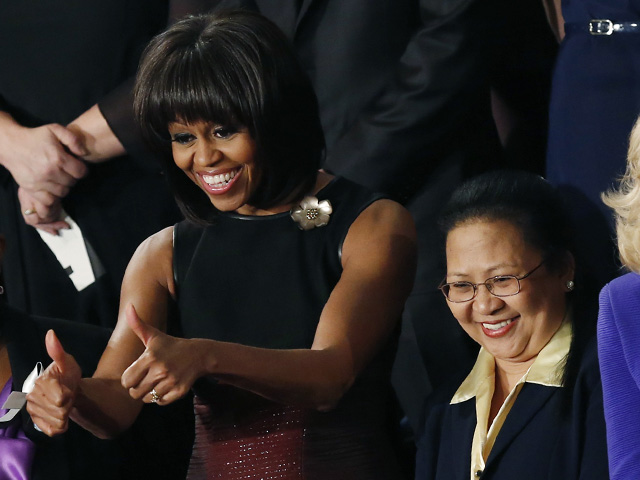 Menchu Sanchez (right) with former US First Lady Michelle Obama. File photo
In time, the damage caused by the clumps can lead to chronic kidney disease and kidney failure or end-stage renal disease.The American Kidney Fund describes Berger's disease as an illness where immunoglobulin A (IgA), a protein that helps fight infections, form clumps inside the kidney's tiny filters.
Because Berger's disease has no cure, the only way for Sanchez's life to be saved is through a kidney transplant.
"As a family, we learned that there could be more potential matches in our motherland of the Philippines, but her medical insurance won't cover surgery outside the United States. The surgery would cost $100,000 to have it done there," Michelle said.
Sanchez has been on the transplant list for three years due to the delay in gathering funds needed for her surgery.
Hero of newborn children
In 2012, Sanchez devised a plan to save 20 at-risk babies at the New York University Langone Medical Center when its power was cut-off during the height of Hurricane Sandy, the second-costliest tropical cyclone on record in the US.
Obama, as well as the Outstanding Filipino Americans in New York, lauded Sanchez for her ingenuity and heroism in the face of overwhelming odds.
"We should follow the example of a New York City nurse named Menchu Sanchez. When Hurricane Sandy plunged her hospital into darkness, her thoughts were not with how her own home was faring - they were with the twenty precious newborns in her care and the rescue plan she devised that kept them all safe," Obama said during a State of the Union speech.
Sanchez was diagnosed with Berger's disease shortly after she returned from her home province of Quezon to receive the Quezon Medalya ng Karunungan (QMK) award for her feat.
Before working in New York as a NICU nurse, Sanchez worked in the same profession in Saudi Arabia to support her mother and brother and pay for their house.
Donors may help fund Sanchez' surgery through her GoFundMe page.
They may also contact the NYU Transplant Institute at (212) 263-3621 or the National Living Donor Assistance Center at (888) 870-5002 to check if they are a match with Sanchez. —KBK, GMA News