Filtered By: Pinoyabroad
Pinoy Abroad
OFW scalded by employer in 2014 home by April 13 —DFA
Pahima Alagasi, the domestic worker who was scalded by her employer in Saudi Arabia four years ago, will finally return home on Friday.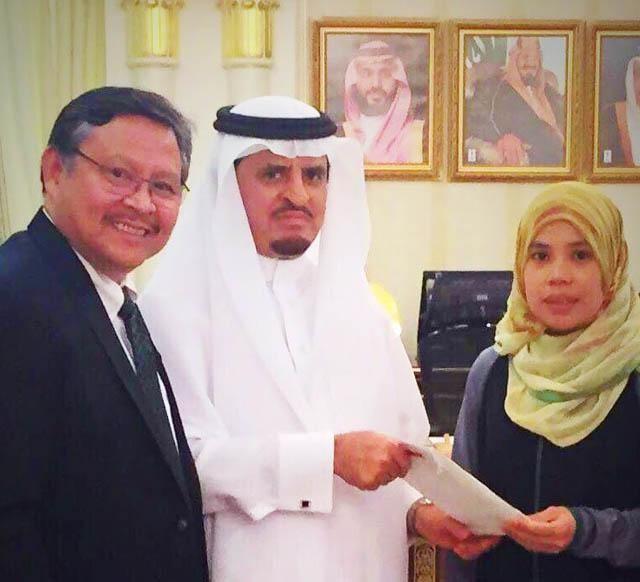 OFW Pahima Alagasi (right), who suffered serious burns when her employer's mother allegedly poured boiling water on her back in 2014, receives her two months' worth of salary from Saudi Arabian Deputy Interior Minister Nasser Al-Daood (center) at the Ministry of Interior in Riyadh. With them is Ambassador Adnan Alonto (left). DFA photo
In a press release on Thursday, the Department of Foreign Affairs (DFA) said Alagasi — also identified as Pahima Palacasi in some reports — will depart for Manila on Thursday evening after Saudi authorities cleared her for repatriation.
"Finally, after four long years, Pahima will be able to again embrace her children who she left behind in Mindanao more than four years ago," Ambassador to Riyadh Adnan Alonto said.
Alonto thanked Interior Minister Prince Abdulaziz Bin Saud Bin Naif for approving Alagasi's final exit from Saudi Arabia after a protracted legal battle with her employer.
"Pahima's return would not have been possible without the help of Prince Abdulaziz and we would like to express our profound gratitude to him for his magnanimous gesture," he said.
Alagasi, a single mother of two from Pikit, North Cotabato, filed a maltreatment case against the mother of her employer for allegedly pouring boiling water on her back in May 2014.
She received assistance from the Philippine Embassy through the dismissal of the case and had stayed at their Bahay Kalinga shelter while the countersuit her employer filed against her rolled on.
Deputy Minister Al-Daood turned over to Alagasi two months' worth of unpaid salaries after informing the Filipina that she can return to the Philippines. —Rie Takumi/KBK, GMA News