Filtered By: Just In
Pinoy Abroad
Filipino nurses in UK brace for new coronavirus variant as PM announces another lockdown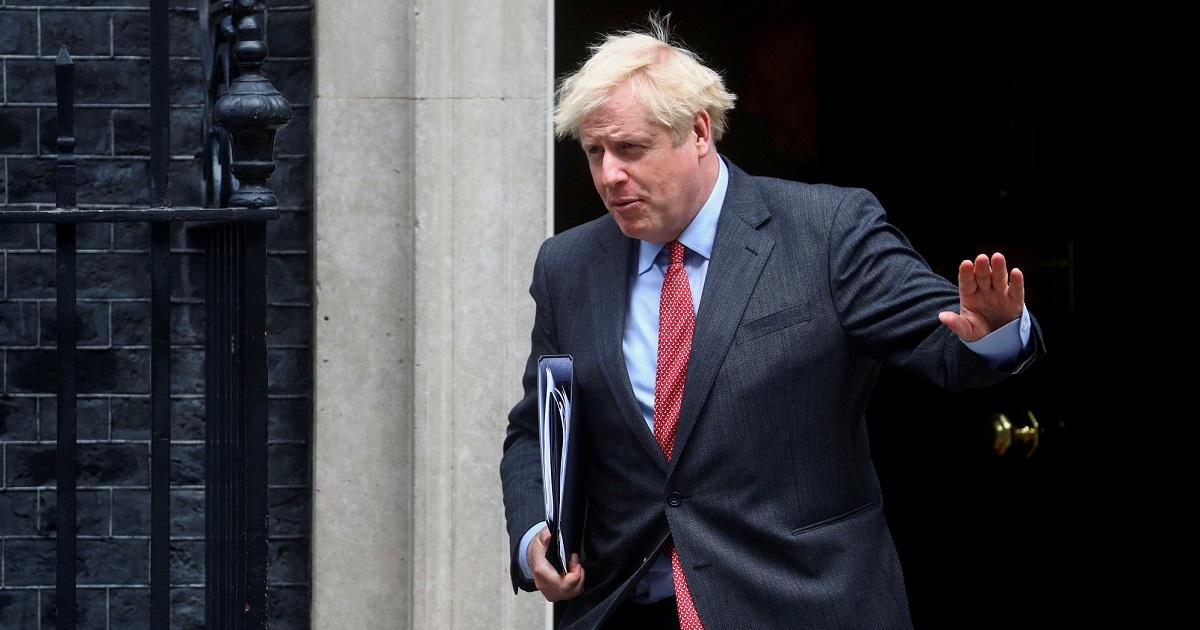 DUBAI, United Arab Emirates — Health workers across the United Kingdom, among them over 18,500 Filipinos, are bracing for yet again another variant of the novel coronavirus that causes COVID-19.
British Prime Minister Boris Johnson on Monday, January 4, 2021, announced a nationwide lockdown while mass inoculation speeds up in an apparent race against time to flatten the curve as numbers reach unprecedented levels since March last year.
"I am scared. But I have learned to adapt," said 33-year-old Rose Ann Viterbo-Soriano, who works at Chelsea and Westminster National Health Service (NHS) Foundation Trust and assigned at West Middlesex University Hospital in Isleworth, west London.
The medical facility has a 400-bed capacity and was "already full, with majority (being) COVID patients," she said.
"I was really scared when it all started since I was still pretty new to this country and dealing with all the adjustments," Soriano, who arrived in the UK on Aug. 29 last year, said.
She said prayers and the strength coming from her loved ones have so far kept her "sane during these trying times," with her family even asking her to just quit and go back home.
"I have thought about stopping but I have held on to this profession for a long time and I love doing this job despite all the risks. Now that [the pandemic] has been going on for a year, it seems rather normal already to be dealing with patients who have Covid. And sad to say, you will really get used to deaths when you're dealing with Covid," said Soriano, who works 10.5 hours a day.
Soriano was a volunteer nurse for a year at the Jose P. Rizal Memorial Medical Center in Laguna in 2009. Her most recent hospital employment was with Global Medical Center of Cabuyao, where she stayed for two years before becoming an overseas nurse.
Soriano said they already were on tier four -- the highest alarm level -- even before the lockdown was announced. Categorization depends on the area's rate of COVID infections and threats.
Tier four rules include a stay-at-home order as well as closure of all non-essential shops, including indoor entertainment venues. Gyms and indoor swimming pools, indoor sports courts and dance studios must also be closed.
Movement of people is also restricted such that residents can not meet others indoors unless they live with them or are part of their "support bubble."
Overwhelmed
"Nagulat kami sa biglang taas ng infection dito sa amin," said 47-year-old Marvin Moreno of San Pedro City, Laguna.
A clinical nurse at Milton Keynes Urgent Care Service (MKUCS) in Buckinghamshire, England, Moreno said on December 29, the town of Milton Keynes recorded 364 new COVID-19 cases in a day. The hospital has around 550 beds, according to him.
"Sabagay kasi, maraming nakatira dito, pero sa London nagsisipag-trabaho. Ito kasi ang pinakamagandang lugar na tirahan na malapit sa London," he added, referring to Milton Keynes, a big town which is about 80km northwest of London.
Moreno said restriction level at Milton Keynes was elevated from tier three to tier four on Dec. 20 "dahil sa dami ng mga bagong cases namin ng COVID."
He said their hospital, the biggest in Buckinghamshire, was already overwhelmed with COVID patients a few days to Christmas. "Maximum capacity ang Milton Keynes Hospital," Moreno said.
'Worrisome'
"Nakaka-worry talaga," said 46-year-old Jeremiah Javier of Imus, Cavite, who moved to the UK on Nov. 30, 2018 following 13 years' work in Abu Dhabi, including two years as private nurse for a royal family.
A staff nurse at the Ortho/Surgery Ward of Milton Keynes University Hospital, Javier, who started out as an Emergency Room nurse at The Medical City in Pasig, Metro Manila, said the situation regarding the restrictions is "acceptable."
"You need to stay home as much as possible, you can go out and buy your essentials. Malls are closed, but a few fast food chains are open for takeaways," he said.
The recent holiday season, Javier said, "was observed [differently] from the usual celebrations we've grown to [back home]."
"We weren't allowed to join other friends as what was stated in the tier rules. My family honored the occasion by reading the kids a nativity story: The reason and importance of why we're celebrating it, as well as reflecting the year that was," said Javier, whose lives with his wife and two kids.
Patient visitation time at their hospital was stopped, said Javier, adding that tablets were provided in the ward for relatives and family members to have a video chat and face time with patients.
"If on an end-of-life care, management has to arrange for one family member to visit the patient daily for limited hours," Javier said.
'Ganyan talaga'
Meantime, also weathering the COVID threat is Teresa G. Lareza, who had likewise been an Emergency Room nurse, but at a Dubai hospital for 12 years, and moved to the UK in August of 2019.
Lareza got her close brush with the coronavirus on March 28, 2020 with symptoms manifesting after being exposed to a COVID patient. She survived the horrible experience.
"More than 1,000 bed capacity kami. Busy and puno po lagi [ng pasyente]," said Lareza, who hails from Jaen, Nueva Ecija, and works at Cambridge University Hospital NHS Trust in eastern England.
Their area was elevated from tier two to tier four on Dec. 27, 2020.
"We are so much hopeful na makabalik na tayo sa pre-COVID days. Prayers pa more. We hope that this [anti-COVID] vaccine will make all the difference para matapos na. Pagod na pagod na tayong lahat na makita ang paghihirap ng mga tao," said Lareza.
Asked how wary she was, Lareza said: "Ganun talaga. Dasal lang at lakas ng katawan ang kailangan."
Work shifts in their hospitals are 7:30 a.m. to 8:30 p.m. for "long day," 8:15 p.m. to 7:45 a.m. for night shifts; 7:30 a.m. to 3:30 p.m. for "early shift," and 6 p.m. -2 a.m. for "twilight shift."
Lareza, whose husband and two children live with her, said there was no pattern with the shifts. "Pa-iba iba," she said.
Different perspective
John Philip Villanueva of Biñan, Laguna, who has been in the UK since 2016 and is currently working in Eastbourne District General Hospital (EDGH) in East Sussex, England said he felt bad about Covid at the start but has found comfort in seeing things from a different perspective.
"I have gotten used to it. I'm now looking at the brighter side of things, like for instance, as an overseas Filipino worker (OFW), not being able to go anywhere (because of the restrictions) means being able to save a bit more than before. I also use the time to learn and acquire new skills," Villanueva said.
He said their total hospital bed capacity is 820. Covid situation as of Dec. 30 was 133 in-patients, Villanueva said.
The numbers
According to Johns Hopkins University's Center for Systems Science and Engineering (JHU-CSSE), there were 58,784 new Covid cases in the UK as of Jan. 4, 2021. On Christmas Eve there were 39,036; there were 1,033 on Aug. 21; by Nov. 12, there already were 33,470 new cases; there were only 40 on March 2, still according to JHU-CSSE.
The Associated Press has reported that there were 26,626 COVID-19 patients in hospitals across England on Jan. 4. The international news agency said authorities reported 407 Covid-related deaths on the same day, which brought the total to 75,431.
There were 20,426 Covid patients on Dec. 28 and 18,974 at the first wave peak on April 12, 2020, according to British Broadcasting Corp. (BBC).
Johnson, in announcing the lockdown, said the government has to do so because the new variant of the virus was spreading in a "frustrating and alarming" way. The new lockdown was expected to be in place till mid-February. Scientists said the new coronavirus variant has a higher reproduction rate.
There were approximately 18,500 Filipinos in the UK's government-run NHS.
The country has, early last month, started its Covid-19 vaccination drive, further speeding it up with the approval of the vaccine developed by Oxford University and drugmaker AstraZeneca to which some 100 million doses have been secured in a bid to have 13 million people vaccinated by mid-February. --KBK, GMA News