Filtered By: Publicaffairs
Public Affairs
PUBLIC AFFAIRS WEBEXCLUSIVE
From Tutuban to Pasay Road: All aboard on the Philippine National Railways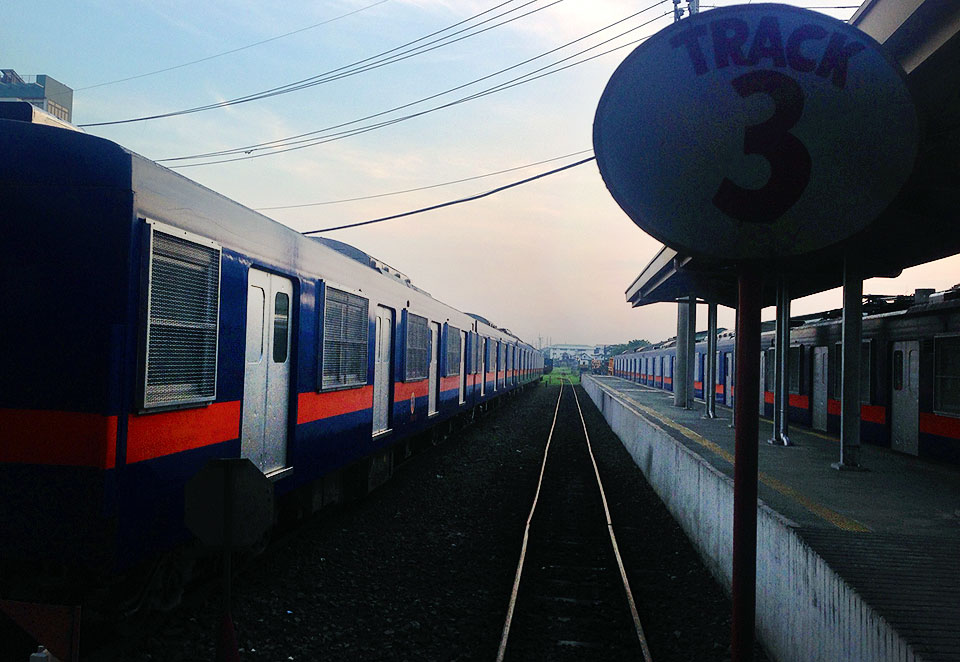 The Philippine National Railways
This is the first of a two-part series.
Both of us are daily commuters in the metro, although we are not exactly very used to riding the Philippine National Railways (PNR). Maybe it just happens that it's not accessible to where we live, or---we have to admit---maybe we're just not comfortable riding it, given the occasional accidents that we hear in the country's train lines every week.
But we know that that shouldn't stop us from boarding this train at least once in our lives. We thought there should be a reason why the PNR still gets 60,000 to 70,000 passengers daily. So one fine day, we both decided to leave our work behind (to our bosses, we promise we'll get back to them!) and go on a journey that has been on board in the Philippines for decades already.
And when we say "decades," it only means that the planning for the PNR really started on June 25, 1875, under a royal decree issued by King Alfonso XII of Spain, the inspector of the Public Works of the Philippine Islands was requested to submit a railway system plan for Luzon. Five months later, Don Eduardo Lopez Navarro submitted the plan and was entitled Memoria Sobre el Plan General de Ferrocarriles en la Isla de Luzon. After it was approved, the agreement for the construction of a railway line from Manila to Dagupan was granted to Don Edmundo Skykes of the Ferrocarril de Manila - Dagupan or was named Manila Railway Company, Ltd. of London in June 1, 1887.
And in 1891, after several negotiations, the first rail tracks were finally laid in the Manila-Dagupan Ferrocaril line and the colonial train had its first commercial run until today. Now, the Philippine National Railway has been running for 120 years.
Going on a food trip in Chinatown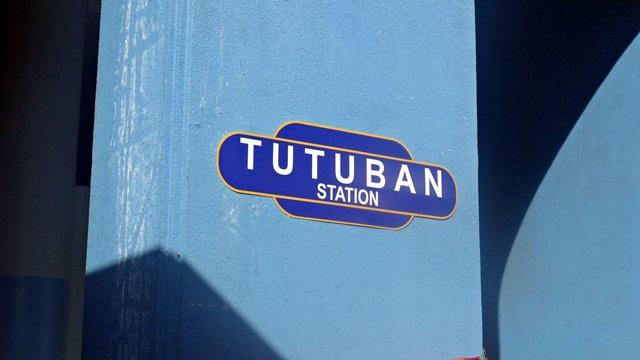 And so, our journey begins here!
The first station of the PNR is the Tutuban Station. Upon hearing "Tutuban," images of busy streets, crowded malls, and laid-back food stalls come to mind. It is a huge marketplace where buyers and sellers of cheap-o items rub elbows for some haggling and negotiating.
They say that this particular part of Manila is for the street-smart. Although both of us are first-timers here, we still walked around as though we were locals. And after wandering around Divisoria and Tutuban under the scorching heat of the sun, we found ourselves in front of the arc that says, "Welcome to Manila Chinatown."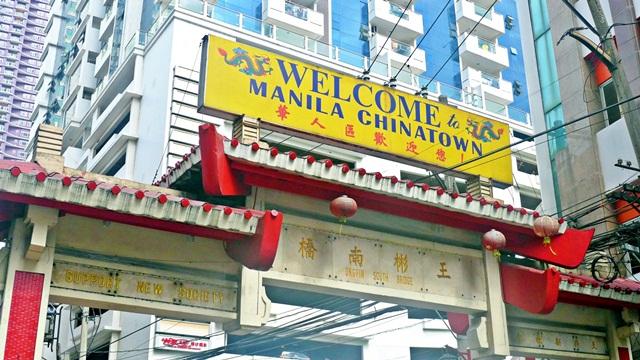 Established in 1594, Binondo is referred to as the world's oldest Chinatown.
We arrived at Chinatown with practically nothing on our stomachs. Prior to this legwork, we were also working on some other stuff so we, literally, forgot to eat. But we didn't need to fret because wherever you look at, there would be a place for you to silence your growling tummy.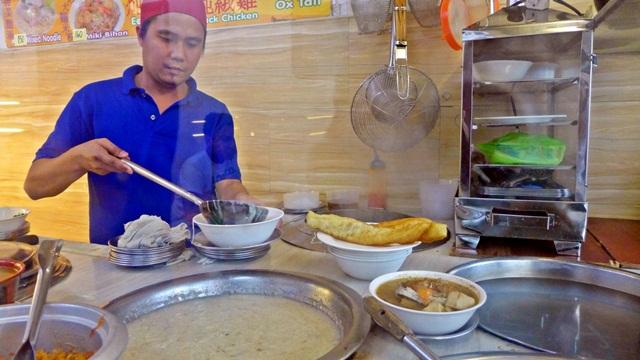 We were quite salivating with the sight of our meals! Hehe!
From the town's arc, we spent 10 minutes of walking until we reached one of the authentic Chinese eateries in Chinatown, where we ordered Mixed Dumplings, Mixed Noodles, and Pancit Guisado. Our order also came in with some hot tea (for good digestion, these Chinese say!).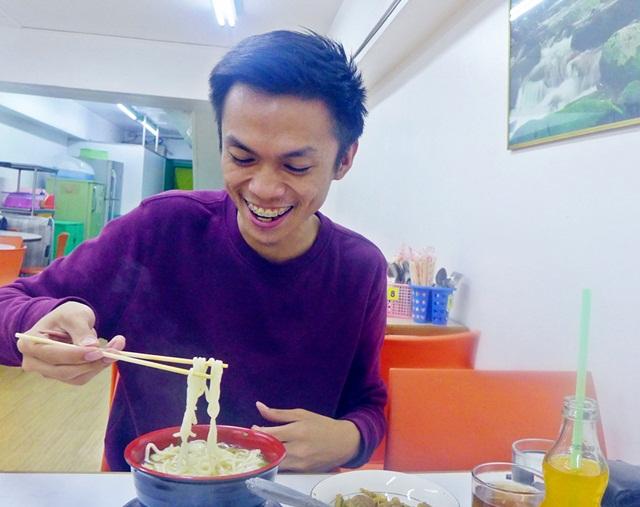 We struggled using chopsticks so we ended up using spoon and fork instead.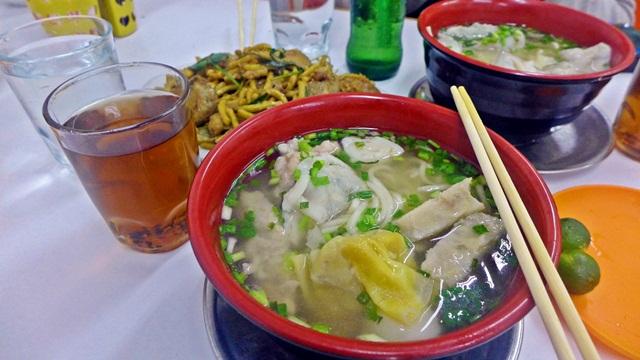 We ordered mixed noodles, mixed dumplings, and pancit guisado for lunch. Yum!
The thing about eating in an "authentic" oriental restaurant is it feels like it's your first time. No matter how familiar you think you may be when it comes to pancit, dimsum, or even shanghai rolls, the food offerings in legitimate Chinese eateries still taste different. They still give you the first-time-to-taste-this-food experience.

When we went out of the restaurant, we saw a popular food stall that sells popular Chinese snacks like hopia and tikoy, among many others. It was as though they greeted us hello and said, "Hey, come buy some snacks for your family and friends!" So we crossed the street and next thing we knew, we were already buying a bagful of hopia.
Buying flowers at the Dangwa Flower Market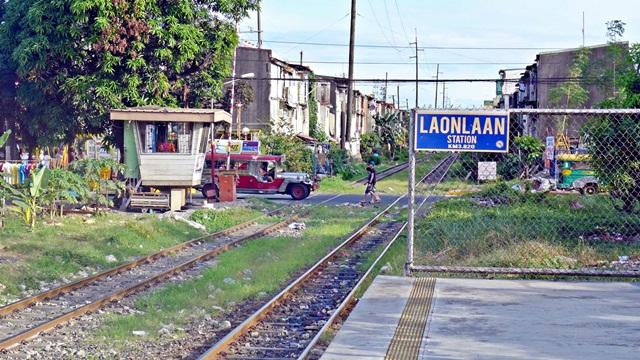 After we filled our growling stomach with sumptuous Chinese delicacies in Manila Chinatown, we decided to get on another awesome train ride. Next stop? Laonglaan Station. Since Valentine's Day is nearly approaching, we decided to stroll around the streets of Dimasalang and Laonglaan where the famous Dangwa Flower Market is situated.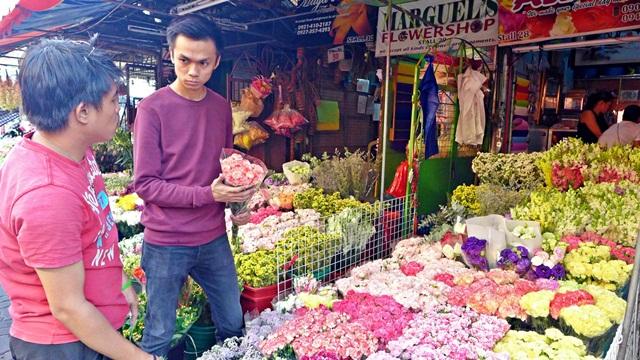 In Dangwa, you may haggle the prices of flowers.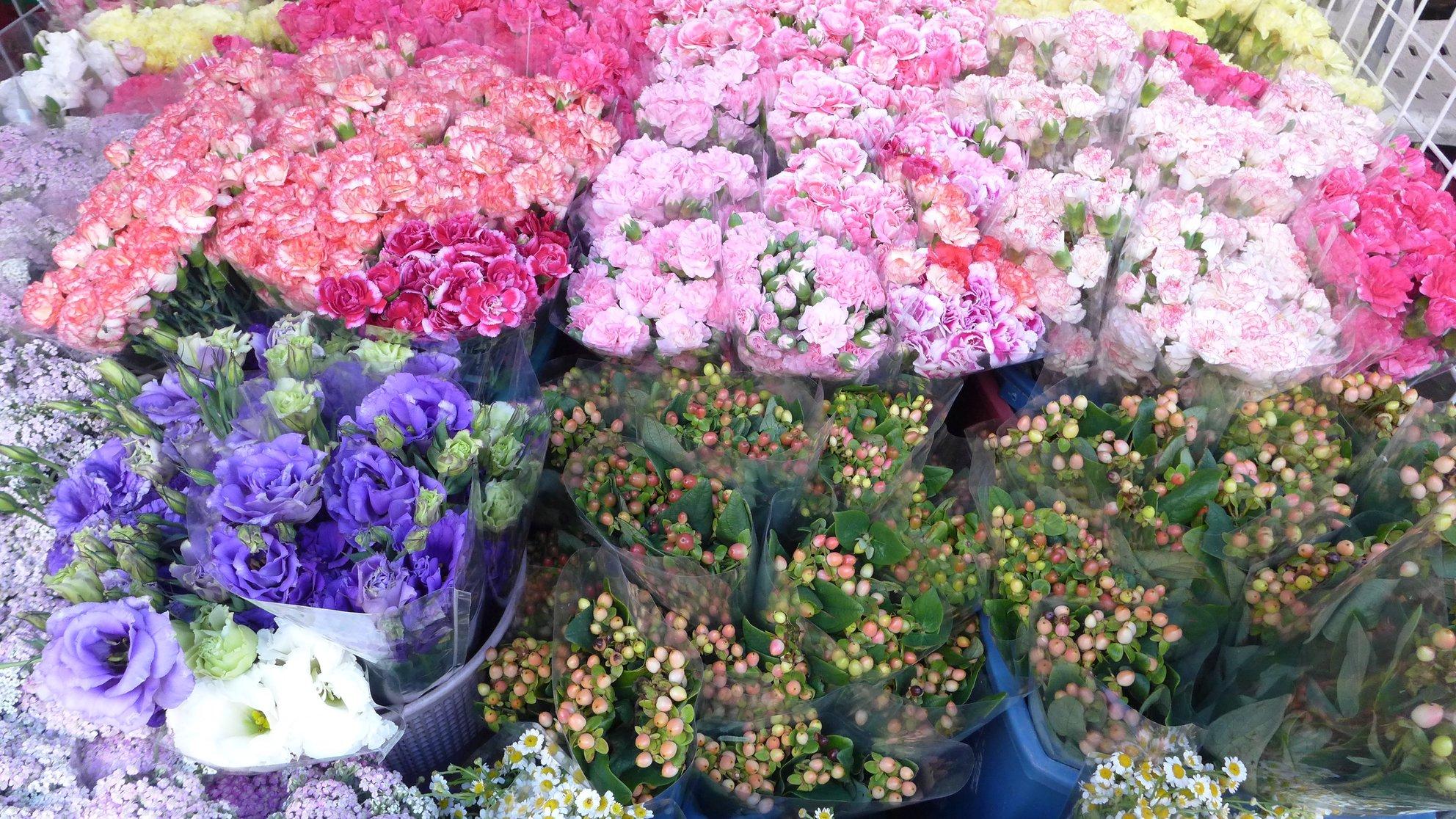 This Valentine's Day, surprise your special someone with these fresh flowers from Dangwa.
To get to the famous flower market, we walked for 5 minutes until we found ourselves being surrounded by fresh and colorful flowers. Also known as the "Bulaklakan ng Maynila," in Dangwa, you will see several individually-owned stalls selling numerous kinds of flowers that are appropriate for any occasion.
And if you are on a tight budget but still want to surprise your loved one, Dangwa offers a variety of fresh flowers like carnation, roses, tulips, and paper roses that you can get either wholesale or retail at a very low price. According to Mang Dante, one of the florists that we met in Dangwa, their flowers are 50% cheaper than anywhere in Metro Manila!

Knowing more about the historic railway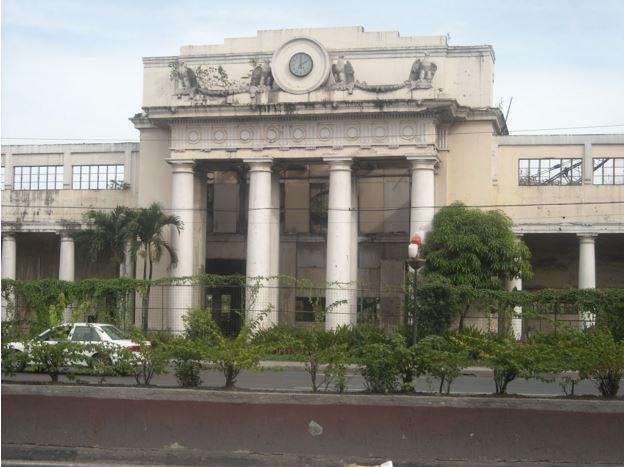 The facade of the PNR Paco Station stands beautiful despite its scars from neglect. (Photo courtesy of www.railwaystations.blogspot.com)
After passing through España, Sta. Mesa, and Pandacan terminals, we stopped by Paco Station just because we wanted to see the façade of this particular train stop. Both of us already knew even prior to this legwork that the building used to be a grand terminal. However, it had to be demolished in 1996 to give way for the construction of a shopping mall. The demolition job was put on a halt when, at the same time, the construction of the shopping mall was also cancelled. As a result, the building's façade was left intact even until today.

Walking around the building gave us chills, to tell you honestly. Although there's actually an absence of horror stories in this particular part of the metro, the cracked pavements and the overgrown bushes here and there give you so much clues of neglect that it has gotten through the years.

Personally, when we stopped by this station and marvelled at the scarred beauty of the building's façade, we saw the entire railway reflecting through: left by the changing times but still purposeful. As we walked back to the station's platform, we couldn't help but become hopeful that, someday, PNR will get the revival that it and the commuters rightfully deserve.
Catching the famous Manila Bay sundown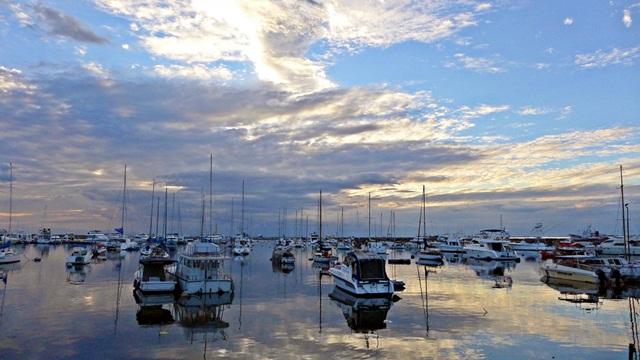 If you want to spend some quality time with your family without spending too much, just watch the sun as it sinks down below the horizon.
Who doesn't love sunsets? We all know how romantic and Instagram-able they can be especially if you are on a vacation away from the hustle and bustle of city life. But, no matter where you are, sunsets are still captivatingly beautiful.
Through the PNR, catching the sunset in Manila Bay has become easier and more accessible for commuters like us. So after a pretty exhausting walk in the streets of Binondo and Laonglaan, we decided to stop by Vito Cruz Station to catch the mesmerizing beauty of the famous Manila Bay sunset.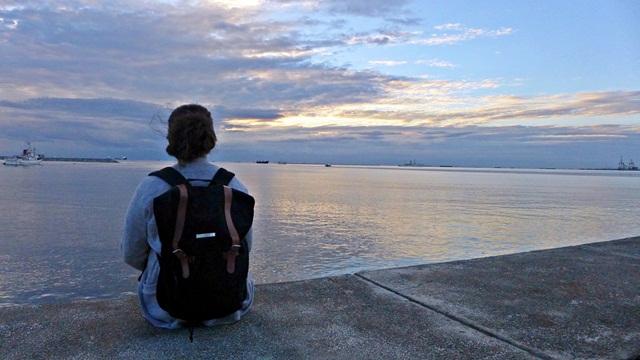 Watching the sunset really helps you appreciate life's gifts!
Before we reached the famous Manila Bay, we first took a jeepney going to LRT Taft Station then rode a pedicab. To have the perfect view of the sunset, we needed to walk for at least 10 to 15 minutes from the corner of Roxas Boulevard and Pablo Ocampo Street until we reached the seaside.
Just like any other locals or tourists, we just sat there and gazed out into the vast and color-soaked sky. We realized that nothing could be more calming and amazing than taking the time to watch the sunset with your friends and family.
But if you're not into some me-time, you can visit other establishments near the Vito Cruz Station, such as the Cultural Center of the Philippines and Star City, among others. There's a also a stretch of hotels, inns, and restaurants along Roxas Boulevard.
Chilling out in malls near the Buendia Station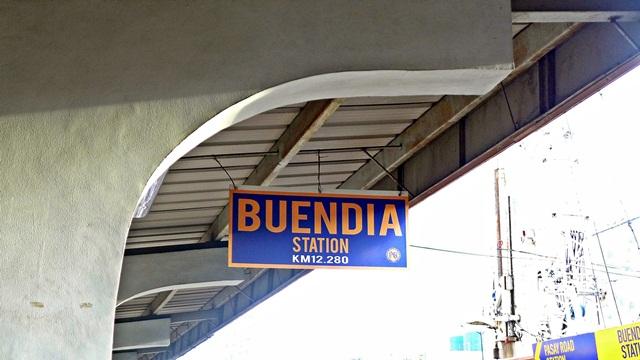 After indulging ourselves in some relaxing sunset view, we got on the train wondering what we could do in the next station. We got off Buendia, the ninth station from Tutuban and is located at the corner of Gil Puyat Avenue and the South Luzon Expressway in Makati.
In 10 minutes of walking, we saw a number of bus terminals like JAM Liner Bus Terminal, Ceres Bus Liner, and Buendia Avenue Bus Stop -- these stations have trips to nearby provinces like Cavite, Laguna, and Batangas.
But Buendia is not just about bus terminals. There are also landmarks that you can go to if you just want to mellow out with friends after a very stressful office work. If you want to reward yourself by watching a movie, don't worry because the station is just near the Makati Cinema Square.
Meanwhile, there is always room for window shopping as the station is just a few meters away from Greenbelt and The Landmark!
Bumping into businessmen and socialites in Makati's central business district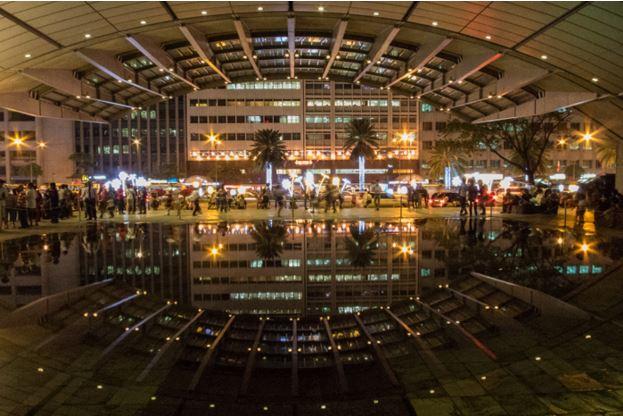 The Makati Central Business District is more alive during the night! (Photo by James Patrick Manaloto)
A few meters away from Pasay Road Station is the Makati Central Business District, where towering buildings touch the sky. We arrived at around 6:30 PM already and witnessed how employees were already rushing from their respective office buildings in attempts to catch a cab real quick.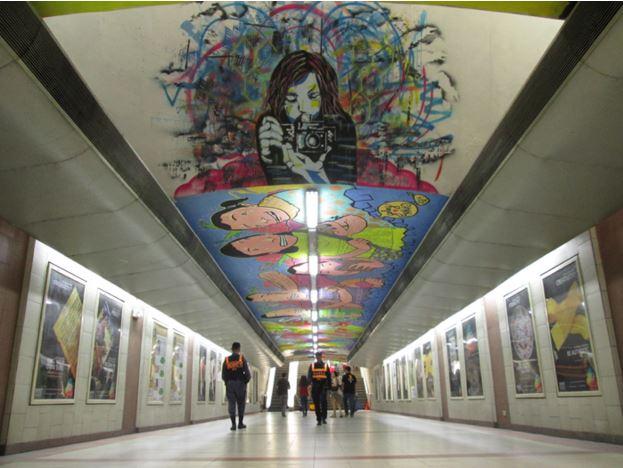 These illustrations and paintings made walking more interesting. (Photo by James Patrick Manaloto)
We know, we know; after wandering around the crowded Chinatown, the busy emporium of Dangwa, the developing Manila Bay, and the noisy roads of Buendia, we're now in the likewise busy-but-still-posh Ayala Avenue, where tall office buildings are situated.
That's probably one thing about getting around Metro Manila; you'll never really know where your feet will bring you and what experience awaits you.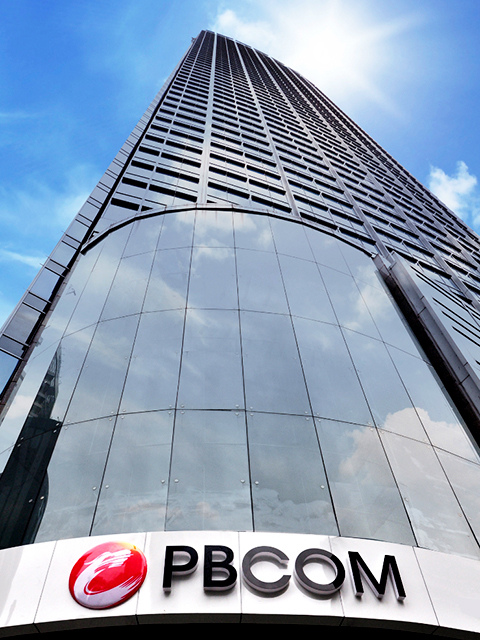 The Philippine Bank of Communications Tower which stands at 258.6m! Wow!

Probably what comes to mind when a person hears "Ayala Avenue" is its wide stretch of tall buildings. When we say "tall," we're not kidding. In fact, three of the country's tallest towers are here: Philippine Bank of Communications Tower which stands at 258.6m., Discovery Primea (238.8 m.), and G.T. International Tower (217.2 m.).
Aside from office buildings, high-class malls are also here such as Glorietta and Greenbelt, both of which are popular go-to destinations for celebrities, socialites, and other members of the elite. And yup, even this place where thriving businessmen, corporate employees, and socialites work and shop is also accessible by the train.
Conspicuously, after two months of suspended operations, the train finally resumes its intercity trips serving thousands of commuters every day. Indeed, this whole-day adventure made us realize that you can actually explore the metropolitan Manila and see what each city has to offer just by taking the decades-old PNR.---BMS, GMA Public Affairs