Filtered By: Scitech
SciTech
The road to Pablo: The top weather stories of 2012
After Ondoy, Sendong, Milenyo, Reming and now after Pablo, the Philippines is still distressingly, frustratingly vulnerable to natural disaster. A recent United Nations study even named us
the second most disaster-prone country in Asia
, after only the much larger China and, this year, even worse than Bangladesh, no stranger to frequent floods that kill thousands every time. There is still a lot of room for improvement when it comes to disaster mitigation, but in 2012 we also made huge strides in the right direction when it comes to the communication of vital information, weather reporting and disaster preparedness efforts. Below, the top weather-related stories of the year, both good and bad.
10. Sinkholes—created by earthquakes?
In February, Cebu, Negros and Iloilo were jolted by a magnitude 6.9 earthquake—already big news when, a few days later, sinkholes were reported seen in Dalaguete, Dumanjug, Ginatilan and Barili, Cebu. The sinkholes may have been caused by the
quake and its aftershocks
. Officials from the Department of Environment and Natural Resources' Mines and Geosciences Bureau also do not discount the fact that Cebu's soil is 70 percent limestone—a highly soluble type of rock that might have eroded and caused the phenomena.
9. Officials shed tears in Doha
The Doha Climate Change Conference brouhaha made it to GMA News Online's
year-end list
for Science and Technology, but this reporter cannot help but include it as part of the yearender for GMA Weather as well. Why? One: The conference ended with
a mere 18-percent commitment to reduce carbon emissions below 1990 levels
, according to Climate Change Commission Executive Director Sec. Mary Ann Lucille Sering on Dec. 17. This means that the countries mostly accountable for current carbon emissions do not want to do their part in saving the planet. And two: The Philippines, being in the superhighway of disasters and collateral effects of climate change, stepped up. Our delegates did their part at the conference, speaking so passionately about the devastation wrought by Typhoon Pablo that they were brought to tears—and moved many delegates as well. And we have just legislated the
People's Survival Fund
.
8. Revamped weather reporting
New weather tabs on news sites: check. Acquisition of weather data either from
Weather Central
or
Metra
: check. Training of weather forecasters and news producers: check. All in the name of public service (however self-serving this sounds). But this reporter believes that this goes beyond network wars: it is really the aim to communicate weather information better to the public that fueled the networks to rev up their weather reportage. GMA News even hired former Australian Bureau of Meteorology and PAGASA meteorologist Nathaniel "Mang Tani" Cruz to be its "ekspertong totoo" (as Mike Enriquez calls him) on weather and climate. GMA News also brought weather forecasting expert and blogger Karen Cardenas on board.
7. PAGASA, PHIVOLCS go on Twitter, Facebook
An important development in important information dissemination is the succession of government agencies
connecting with the public
through Facebook and Twitter—which have become vital tools in imparting necessary and up-to-the-minute information about weather and the effects of weather nationwide. PAGASA may have acquired its Twitter handle in 2010 (@dost_pagasa) but its profile really gained momentum in 2012. Now, its account verified and its followers numbering nearly half a million, it has become one of the most useful Twitter accounts to follow. Its
official Facebook page
is also doing well with almost 63,000 likes. One of PAGASA's departments, the Flood Forecasting and Warning Section, is also on Twitter (@pagasaffws), posting regular updates about the status of each dam and areas under flood hazard. Meanwhile, following a controversy from a fake PHIVOLCS Twitter account, the seismology agency came out with its official Twitter handle (@phivolcs_dost) on Sept. 4, 2012. It has only made a handful of tweets so far, but PHIVOLCS already has 2,700 followers and counting.
6. The colors of danger: PAGASA's rainfall warning system
In 2012, PAGASA came out with a two-phase program with which to alert the public. The first part of the program, started in June, was a tri-colored rainfall warning system that drew flak as the colors
red, yellow, and green
confused many about the actual amount of rainfall to expect.

PAGASA's flood warning system confused many people with its traffic light-like colors. The green has since been changed to orange.
PAGASA eventually
changed the green to orange
in August. Please note that PAGASA's Rainfall Warning System is only applied in Metro Manila. However, PAGASA's thunderstorm warning system is a nationwide alert system, with the state weather bureau posting thunderstorm forecasts on its Twitter and Facebook accounts as often as necessary.
5. Annular Typhoon Karen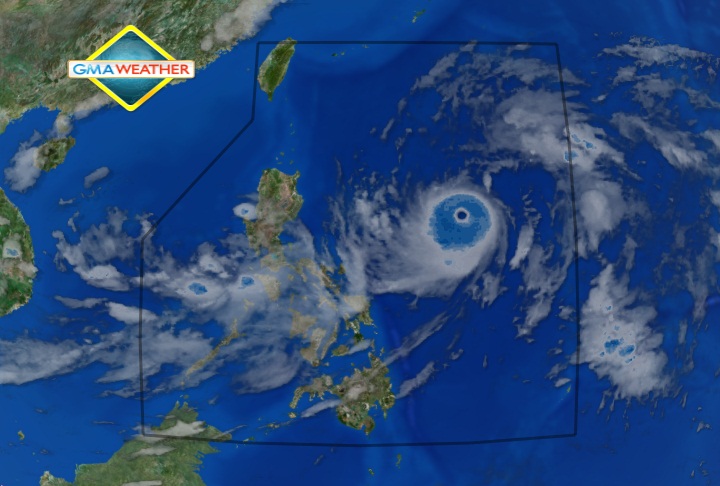 Satellite image of Annular Typhoon Karen. Weather Central
Karen appeared like a donut in satellite images, but it was far from a treat. Weather bureaus monitoring Typhoon Karen classified it as a
"rare annular typhoon"
due to its symmetrical eye shape ,which meant that it was "very strong and stable, unaffected by external conditions." Karen (Sanba) did not hit the Philippines directly, but wreaked havoc on
South Korea and Japan
. Sanba left Japan with ¥397 million (P194.21 million) in
crop damage
and South Korea with 389 billion won (P19.88 billion) in
damage to crops and property
.
4. Hashtags galore
Albus Dumbledore told Harry Potter, "Help will always be given at Hogwarts to those who need it." Filipinos need no magical creatures to receive—or extend—a helping hand. But hashtags come in handy. When the unnamed southwest monsoon caught Metro Manila and neighboring provinces off guard in August, some Filipino netizens started hashtags (still used widely) to gather information and help those victims of disasters. On Aug. 7, bloggers Rosario Juan, Tonyo Cruz and JP Loh came out with
#RescuePH
and #ReliefPH. Within the same day, another blogger,
Aileen Apolo
, worked with Google volunteers to produce a crisis map, person finder and a spreadsheet for all the data needed for rescue and relief. Even GMA News Online used these hashtags and internet resources. Another useful official hashtag used during disasters, also started during the monsoon rains in August, is #walangpasok. GMA News and Public Affairs social media team asked several government offices to adopt the hashtag and voila!
Everyone is using it now.
3. Project NOAH + ClimateX + Project DREAM
The following projects also made it to the
2012 SciTech year-end roundup
, but they also need to be mentioned here.
Project NOAH
—short for Nationwide Operational Assessment of Hazards—aims to reduce casualties and property loss and make the country more disaster-resilient through research and development and the promotion of solutions via science and technology.
ClimateX
, one of the better sources of weather forecast online (@PHClimateX), is a rain calculator software from the collaboration of the Department of Science and Technology (DOST), PAGASA, the Environmental Monitoring Laboratory of University of the Philippines' National Institute of Geological Sciences, Advanced Science and Technology Institute, and the Institute of Earth and Environmental Sciences, University of Potsdam.
Project NOAH's DREAM
, or Disaster Risk and Exposure Assessment for Mitigation, is a P1.6-billion DOST project that might just be a dream come true for a disaster-prone nation like the Philippines: a 3D mapping project developed using state-of-the-art mapping equipment and superb manpower at the University of the Philippines Diliman campus that will provide "reliable, detailed, and up-to-date flood models of the country's 18 major river basins plus watersheds, and later will include all other flood-prone areas in the country," according to the DOST.
2. Habagat + TS Gener
In the runner-up position for this year's top weather stories list is a duo of disasters. Who could forget the deluge with no name? When Tropical Storm Gener left the Philippines toward the end of July, everyone thought they could breathe easy again. Not so fast, said Mother Nature:
the southwest monsoon
caught everyone by surprise and visited Luzon, particularly Metro Manila, with its deadly and disastrous wrath in August. The
torrential rains
left the National Capital Region and neighboring provinces
flooded and devastated
. Within three days, the cost of relief goods for the victims of the nameless deluge rose to
P12.9 million
. But the top weather story of the year, and the worst weather disaster to hit the country this year, leaves everyone in the dust.
1. Typhoon Pablo
Even as of this writing, residents of Davao Oriental and Compostela Valley are still suffering from
Typhoon Pablo's devastation
. A few days before Christmas,
Pablo's death toll neared 1,500
, making it the second deadliest cyclone in the Philippines since 1947. According to experts, Pablo set a lot of records, not only for 2012 but for decades, including:
Strongest to make landfall in 2012
Strongest since Super Typhoon Juan in 2010
Strongest typhoon to cross Mindanao since Typhoon Nitang in 1984
Strongest typhoon crossing Davao provinces since Typhoon Titang in 1970
These events fit into the country's weather schedule, but in their intensity, and in the toll they took, have left their mark in our nation's history. It is to be hoped that we have learned lessons from these disasters as well, so that we will be better prepared, and better situated, to face the disasters to come—and to avoid entirely the disasters that were caused or worsened by our own faults.
— BM/TJD, GMA News