Filtered By: Scitech
SciTech
A year in the life of a marine biologist
This is what I look like when I'm diving for work. Photo by Darryl Anthony Valino.
This year marks the end of my first full year of fieldwork as a marine biologist. If "marine biologist" conjures up images of swimming with dolphins, a perpetual tan, and gorgeous hair, be prepared to have your bubble burst (damn you Hollywood!).
The research project I'm a part of involves scuba diving and surveying coral reef fish, conducting focus group discussions and individual interviews with the local fisherfolk, and surveying the local markets for fish prices and quantities sold. This line of work has taken me to 122 barangays in 18 municipalities in 14 provinces all over the Philippines, from as far north as Ilocos Sur (Batanes is scheduled for 2017!) to Tawi-tawi down south.
It's definitely been a year for the books, with personal learning points at every turn.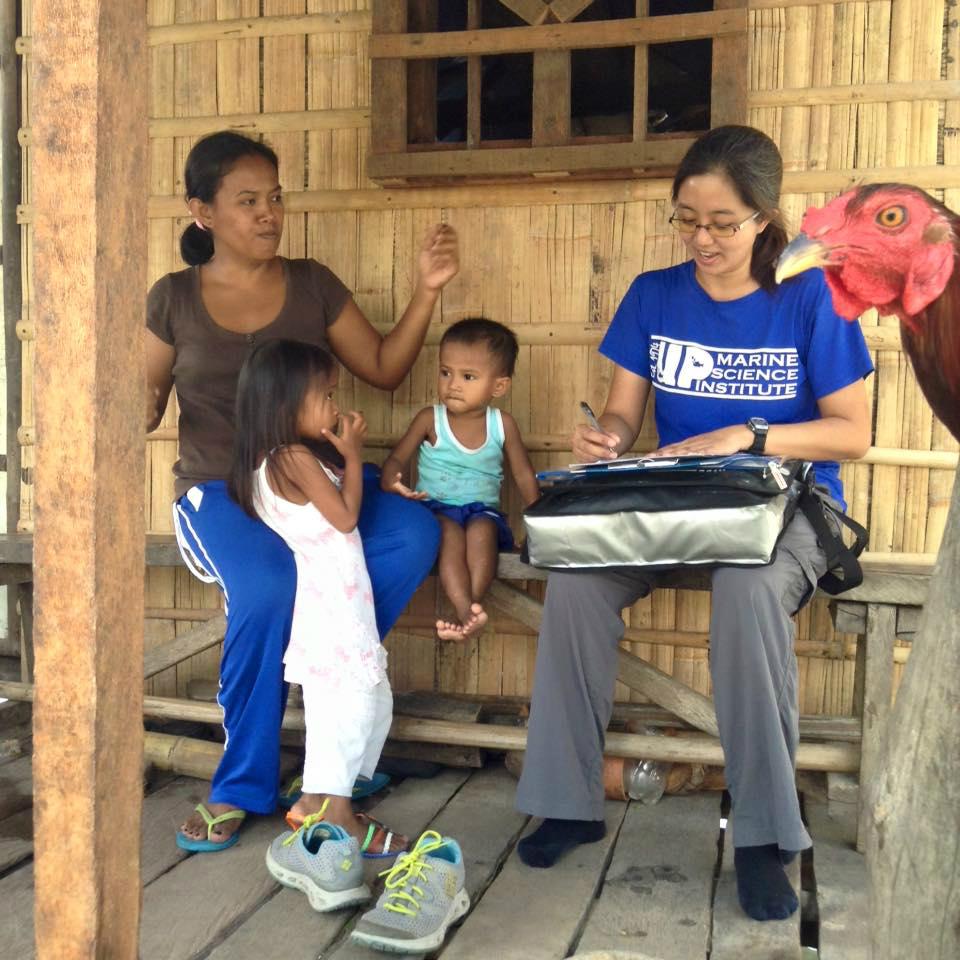 Our work involves going around the barangay to interview fisherfolk, as I'm doing here, pen and pad in hand. Sometimes, though, there are photobombers. Photo by Maryjune Cabiguin.
Traveling for work is fun. Sorta.
Okay fine, it's sorta fun. But traveling for work is very different from traveling for fun. For one thing, your time is not your own. Ideally, you'd tack on one or two days of leisure time at the end of the field trip but that's not always possible (or allowed).
Out of all our field trips, we've only had five trips that allowed for some time off, with two of them being the hours before a late evening flight and another three where we traveled overland to the next field site and made a slight detour.
The main advantage of traveling for work is that you familiarize yourself with the area and possible logistics so you get to be the knowledgeable one when you do come back with friends and family. That plus the frequent flier miles.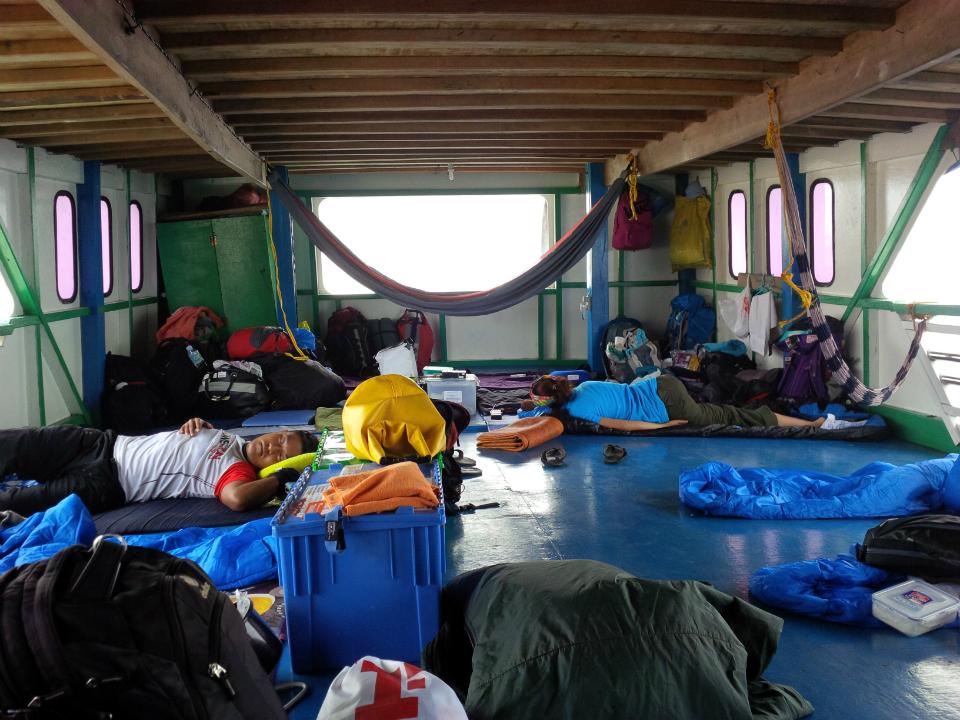 Most of us slept on the upper deck of the small "lantsa" that was our home during the Tawi-tawi cruise.
Double-check your gear. ALWAYS
No matter how many times you've done it or how mundane it is, check and double-check your gear.
In Biliran, I started descending before finding out that I'd forgotten to open my scuba tank. Cue kicking up to the surface and manually inflating my BCD, plus some futile kicking against the current before our safety diver got to me and opened my tank (thanks Sir Daniel!).
In Tawi-tawi, I'd forgotten my booties at the hotel. I was about to shove my bare feet and rubber slippers inside the fins but my personal hero PO1 Ali of the Philippine Maritime Police lent me (literally!) the socks off his feet so that my own feet wouldn't get scraped by the fins' rubber.
We also interview the fish vendors, mostly during the off-peak times so they're friendlier.
Learn another language
Being multi-lingual really pays off. Pro tip, especially for the Manila born-and-bred crowd: not everyone speaks Tagalog. My dad's Tagalog and my mom's Ilonggo, but I've lived in Manila all my life so I only speak Tagalog.
Unfortunately, most of our fieldwork was done in places where the main language was Bisaya.
The struggle is real! The upside is that I've picked up some rudimentary Bisaya (thank you teammates!), so my limited Bisaya and my interviewees' limited Tagalog meet halfway.
Ilocos Sur was the biggest challenge. Only one member of our team spoke Ilocano so we had to grab him whenever we had to interview someone.
Tawi-tawi was also interesting, as there were two languages at play: Tausug and Sinama. The same teammate who speaks Ilocano also speaks Tausug—short backgrounder: his mom is Ilocano, he grew up in Manila, went to college in Tawi-tawi, and worked in Zamboanga.
Pack smart
I've assembled a collection of quick-dry shirts and pants and foldable hangers that I take with me on every trip. My toiletry bag is also full of small bottles that I refill instead of sachets.
A malong is also a must, as it serves as a changing tent, blanket, and shawl. I also bring at least one collared shirt, as I never know if I'm going to be joining the courtesy calls to the local government unit. And lastly, sunblock and an umbrella are a must.
My teammates tend to forget their own sunblock so they end up asking for some of mine (I still love you guys).
We need to identify the fishermen's catch. Sometimes, this involves some poking and stretching of the fins to be sure.
Keep your thoughts to yourself
Here's the thing: I'm not there to change their minds. Or at least, not yet. My primary goal is to get information. To get that information, I need to approach the local community with openness and no judgement, no matter what they tell or show me. It's only when our team gets the complete picture that we, the LGU, and the community can sit down and discuss potential solutions that work for everybody. — All images by Macy Añonuevo unless otherwise noted/TJD, GMA News
---
Macy Añonuevo is a marine biologist, writer, geek, and sometime photographer. Her ramblings and photographs may be found at www.theislandergirl.com
The opinions expressed in this essay are her own and do not necessarily reflect those of this website.