Filtered By: Scitech
SciTech
World's most prolific editor is a Filipino doctor
The busiest editor in the world is not one who works at an international news agency, but a Filipino physician and professor at the University of the Philippines' College of Medicine.
Dr. Jose Florencio Lapeña, a professor of otorhinolaryngology at UP Manila and an attending otolaryngologist, aerodigestive tract, and cleft and craniofacial plastic surgeon at the Philippine General Hospital, has been recognized by the Sentinels of Science Awards for handling the highest number of manuscripts across all the world's journals.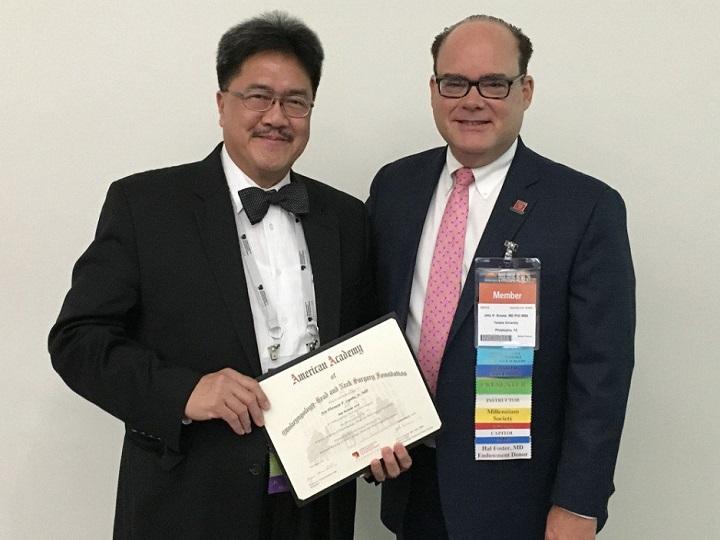 Dr. Lapeña receives a Star Reviewer Award from the American Academy of Otolaryngology Head and Neck Surgery in San Diego, California on September 20, 2016. He received the same award last year. On both occasions, he was the only non-US reviewer receiving the Star Reviewer award. Photo: J. Lapeña
The awards are given out by Publons, an international peer review website. It describes the Sentinels of Science recipients as "expert peer reviewers [who] stand guard over research quality, repel pseudoscience and help nurture the discoveries of tomorrow. These are the heroes helping us realise human potential faster."
Dr. Lapeña reviews an average of two papers a week, amounting to over 100 papers a year. He spends an average of four to six hours per paper. "At the same time, I have a never-ending queue of unedited manuscripts for my journal, pre- or post-review, for my editing and final disposition," he said in an email to GMA News Online.
Dr. Lapeña (who is also the father of writers and GMA News Online contributors Carmela and Jica Lapeña) started writing poems and essays in grade school, and became "hooked" on research in seventh grade, when he wrote his first term paper on Russian novelist Aleksandr Solzhenitsyn.
He continued doing research in university. "I read Philosophy and Letters for my honors baccalaureate degree and majored in Sociology for my social science master's, actively researching and reviewing throughout. It seemed natural to continue through medical school and postgraduate residency and fellowship, and thereafter," he said.
UP's Office of the Vice President for Academic Affairs notes that Dr. Lapeña is currently the editor-in-chief of the Philippine Journal of Otolaryngology Head and Neck Surgery and the president of the Philippine Association of Medical Journal Editors. He was previously president of the Asia Pacific Association of Medical Journal Editors and director of the World Association of Medical Editors.
At the same time, said Dr. Lapeña, "I'm in the operating room by 6:30 a.m. for surgeries (training residents and fellows) or in the hospital and college of medicine (teaching medical students); both settings incorporate research, and reviewing and editing are squeezed in as well."
He said he doesn't really know how he manages to balance all this work. "Silent solitude is my friend; I burn the midnight oil and/or arise long before the dawn—and catch up on many long flights and in countless hotel rooms?" he said.
Dr. Lapena did not even realize that he was doing so much editing and reviewing that he would be recognized for the volume of his output.

"It came as a total (but happy) shock to receive [the notification from Publons]," he said.
"No wonder I feel like my work never ends," he joked.
But does he enjoy it? "Immensely!" he said. The similarly prolific Solzhenitsyn would have been proud. — BM, GMA News