Filtered By: Scitech
SciTech
Eco-friendly bamboo keyboard coming soon
Coming soon: an eco-friendly computer keyboard made almost entirely of bamboo, with Bluetooth and a rechargeable lithium ion battery.
But the keyboard, made by a company called iZen Bamboo, is not yet ready to appear on store shelves, as its creators try to raise funds to bring it to market.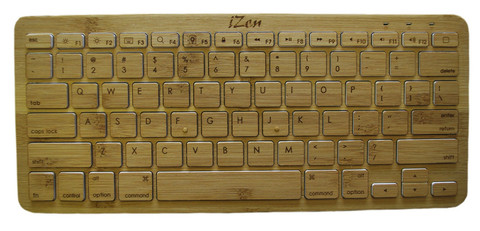 "It's made of 92% bamboo, and it's fully recyclable. Of course, none of that matters if the keyboard itself sucks, but this one appears to be pretty great. It's Bluetooth, like Apple's version, but goes the extra distance of including a rechargable Lithium ion battery. Charging happens via a USB 2.0 30-pin cable, identical to the ones that you are already using for your iPhone or iPad," according to
an article on tech site The Next Web
.
For now, iZen Bamboo has started a Kickstarter campaign to bring its keyboard to market.
While the company also makes other products such as iPad stands and an iPhone case, the keyboard is its biggest challenge to date.
The Next Web said the company has less than three weeks to meet its $18,000 project goal.
"If you're as addicted to chiclet-style keyboards as I am, and wouldn't mind throwing Mother Nature a bit of respect while you're at it, head over to Kickstarter and help out the iZen Bamboo team," it said. — TJD, GMA News