Filtered By: Scitech
SciTech
Pinoy toy photography: More than just a hobby
A couple of decades ago, one would have never imagined the terms "toy photography" and "art form" belonging in the same sentence together. Thanks to the growth of the toy industry and the advent of the digital camera, however, today's collectors have been expressing their love for their hobby in new, fun, and creative ways.
Local toy hobbyists have taken up the camera and started taking shots of their favorite subjects as well. One need look no further than
the Facebook group "Toy Photography"
to see the Philippines' contribution to this blossoming art form.
But what exactly is it about toy photography that makes it so special? And what motivates a toy collector to go through lengths to take artistic pictures of them?
Coming alive
"I started toy photography when I looked at my toys and thought, 'They're so static!'" said toy photographer Marc Lapus. "They're just sitting on the shelf. So I thought, 'What if I bring them outdoors, pose them, then take some pictures?'"
To Marc, this desire to bring the static to life serves as impetus for a toy collector to turn to photography. Through photography, one could create the illusion that an otherwise immobile action figure is alive and as dynamic as any human model.
But there is a simpler reason, according to Sheryl "Sheng" Gonzales. "It's my way of appreciating the beauty of my figures," she explained. "Through photography, I show how toys are beautiful."
Marc, Sheng, and Gladwin Tan are all Toy Photography admins who started dabbling in photography some two to three years ago.
Of the three, only Gladwin was formally trained. His works have since then earned him two "Daily Deviations"
on deviantArt
. He photographs everything from toy robots to anime characters.
Meanwhile,
Sheng
was self-taught: "When I first bought my DSLR (digital single lens reflex camera), I just looked through the internet, read the manual, the guides, everything."
Sheng is a "Special Creator" in one of Japan's largest online otaku communities,
Tokyo Otaku Mode
. Additionally, her toy photos are regularly featured by Japanese figure companies Kotobukiya, Good Smile Company, and Revoltech.
Marc, who focuses on superhero toys, also learned by "poking around on the internet." He is one of Toy Photography's most devoted admins, and only recently created
his own Tumblr account
to showcase his works outside the group.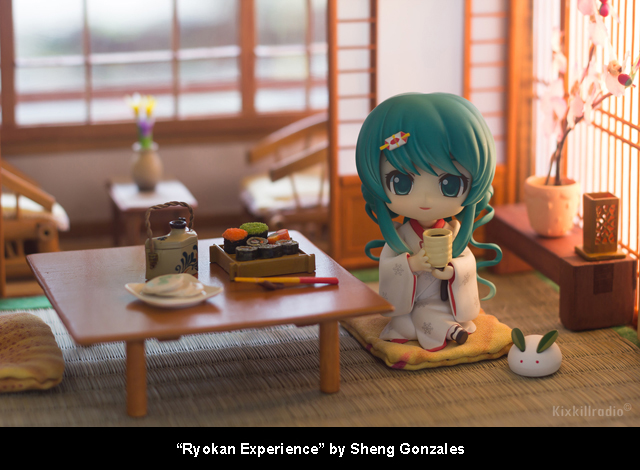 Artistic expression
Through photography, one is not only able to express the beauty of a toy, but also to share with others the gamut of emotions one experiences because of that toy.
Nostalgia seems to play an important role in this art form. "We bring our childhood with our toys," Marc expounded. "Through photography, we can express what we used to do when we were children, when we were playing with toys. We can say, 'This is my childhood.' So photography is one way to bring back those old memories and emotions."
For Sheng, toy photography is about creating images that tell a story. It is also about being part of her toys' world, and experiencing the emotions she imagines they're having. "Toy photography brings you to a different world – the toys' world," she claimed. "It's fun bringing their world to life."
Gladwin admitted that toy photography is one way of expressing himself artistically:
"It's one of my outlets. It lets me get really creative and mold something myself. I have full control of what I want to capture."
Being an artistic endeavor, toy photography also requires a source of inspiration.
Marc's inspiration comes from familiarity with the toy. "It plays a big factor if you are very familiar with the comics, anime or other media where the toys originally came from. So how well you know the subject and its origin affects how well you execute a photo of that figure."
For Sheng and Gladwin, emotional experiences inspire their creative process.
"Sometimes I also take inspiration from movies," said Gladwin. "Like certain scenes, certain camera angles, I try to copy them on a smaller scale with toys. Sometimes also with music. When I hear a certain theme or tune, and I get an idea. I choose a figure and then I try to emulate (through photography) what that song is trying to say."
Choosing the subject
"The design of the toy will affect how good it looks on camera," Marc said.
Action figures with great poseability have noticeable joints, which makes it harder for the photographer to pass them off as anything other than a toy. The advantage of articulation, however, is that the toy can be posed in numerous ways. This gives the photographer absolute control over his subject and consequently, the scene.
"I can put them in artistic or battle poses," said Sheng. "So the poseability is very helpful."
Collectible statues, such as the PVC figurines that Kotobukiya releases, come pre-posed, and are therefore trickier to photograph.
"I didn't like to take photos of statues before," Gladwin said. "But recently I realized that there's something special about static figures that articulated figures don't have. For example, there are no visible joints on a statue. They're all one, flowing piece. Because they're already posed, you have to think harder how to capture what you want to say. So it's more challenging, which is lots of fun."
"It's harder to capture a certain mood for static figures," Sheng agreed. "As I've experienced, you have to think of the right lighting to achieve the certain mood that you want for that figure. You also have to think of the personality or the character of the figure."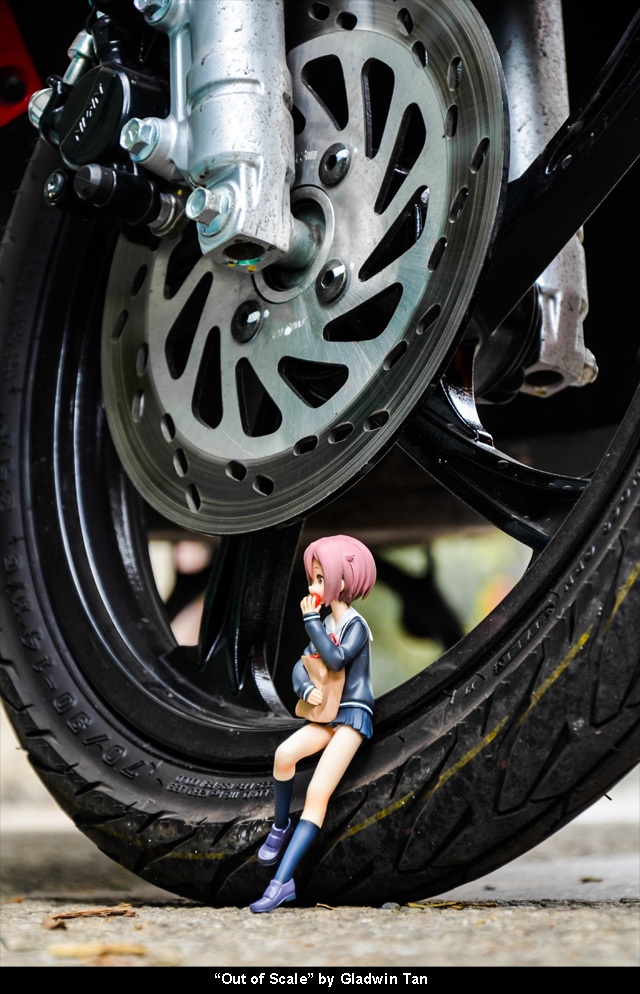 Setting up the scene
To complete a scene, a subject also needs a setting.
Sheng builds the props for the scenes herself. "Because I love arts and crafts, I make my own dioramas for the toys," she said. "I set time for the dioramas because I really want them to be elaborate."
Marc also creates his own dioramas, but his methods differ from Sheng's. "Toys like Marvel Select have some 'special effects' accessories. I use them as part of the backgrounds. I attach other things to the scene until it looks quite right. Whatever I find lying around, if it fits the theme of my shot, that's basically what I use to set up the diorama."
Another factor to consider is whether to take your photography outdoors, or indoors.
"It depends on what you want to capture, what story you want to tell," shared Marc. "With outdoors, your hindrances would be weather, the scaling of the surroundings versus the toy. There are lots of things you can't control when outdoors. It's easier if you're taking photos indoors because you're in control of the lighting, the props."
"When indoors, you have more control, you can experiment more, you have infinite possibilities," said Gladwin. "But recently, I prefer outdoors. It's more challenging, more fun, because you have to adapt to the situation."
"Natural lightning is always the best for toys," stated Sheng. "They're more life-like, more alive when outdoors, compared to when you use indoor lighting."
Taking the shot
Photographers take numerous shots of a single scene, often experimenting with different angles and tweaking the subject's pose.
"I take about forty shots of the whole thing," said Sheng. "And then I just pick about ten or five good pictures to share. Because sometimes the others are blurry, or the lighting isn't good. So it's okay to delete them."
"Sometimes when I'm in the mood, when I really like the figure, I can take hundreds of shots," claimed Gladwin.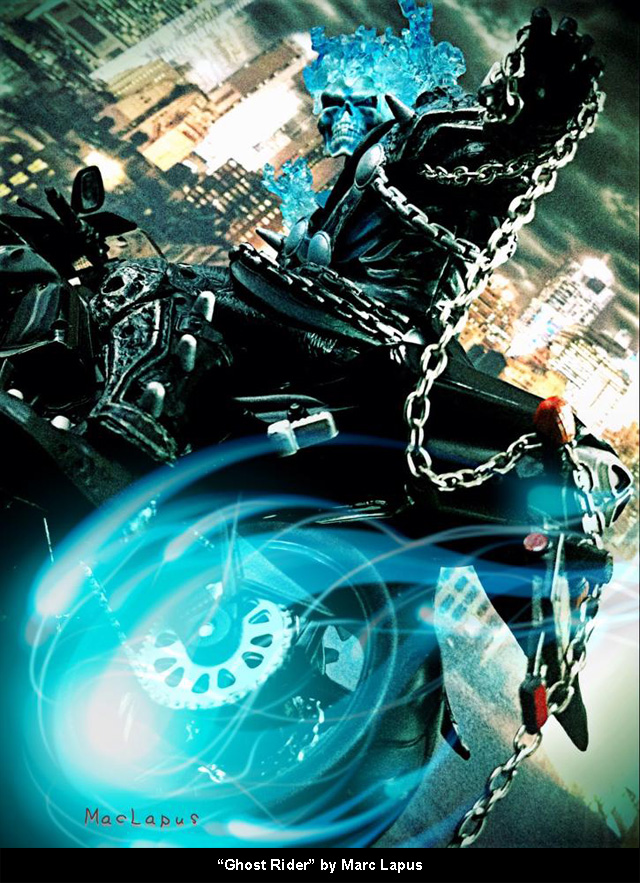 The gear
Photographers' tools range from cameras to post-processing software.
Sheng uses a Canon 60D, while Gladwin uses a Nikon D7000. They also use Adobe Lightroom and Photoshop to make technical or creative adjustments to their images.
Marc uses a different kind of camera. "I use the iPhone 4 to take photos," he stated. "For editing, I use different apps because they have their own specialties. I use one for cleaning my shots, another to adjust the lighting. I also add special effects. For example, if you take a Ghost Rider figure, his head's not really flaming. So I have to get another app that provides flame effects."
All three artists use ordinary desk lamps to light their indoor scenes. And though Gladwin occasionally uses professional lighting equipment, such as strobes, he believes that good photography does not depend on the gear, but on the photographer.
"Don't let the gear hold you back," he advised. "It all amounts to practice, a lot of practice. Of course the SLRs can help with very high resolution. But I think the whole point of photography is composition. At the end of the day, the camera has nothing to do with composition. It's really you, the photographer. Composition is key."
A community of artists
According to Marc and Sheng, the Toy Photography group on Facebook exists so that people sharing the same passion could meet, make friends, learn from and inspire each other.
"Some group members post behind-the-scenes of their setups," said group member,
Ram Morales
. "It's beneficial for other toy enthusiasts and people who want to learn toy photography."
The group was what got Ram, a dedicated toy collector, started on toy photography. "At first I wasn't really into toy photography or photography in general. I didn't get the idea of it. But when I made friends, I saw their shots and the rest of the members' shots, and it pushed me to ask myself, 'What if I do this with my toys?' In a way, toy photography represents you not just as a photographer or toy a collector, but as an artist too."
Ram shared how he learned one particular lesson thanks to the group: "Before, I would take toy photos with flash. And I was like, 'This looks cool, wow!' And then when I joined the group and saw other members' pictures, I was like, 'Wow, mine's crap!' So it made me realize I could do better."
The Toy Photography Facebook community is growing. What started as a group of only five people now has a membership 5000 strong. It has also attracted international talent, as many members are foreigners.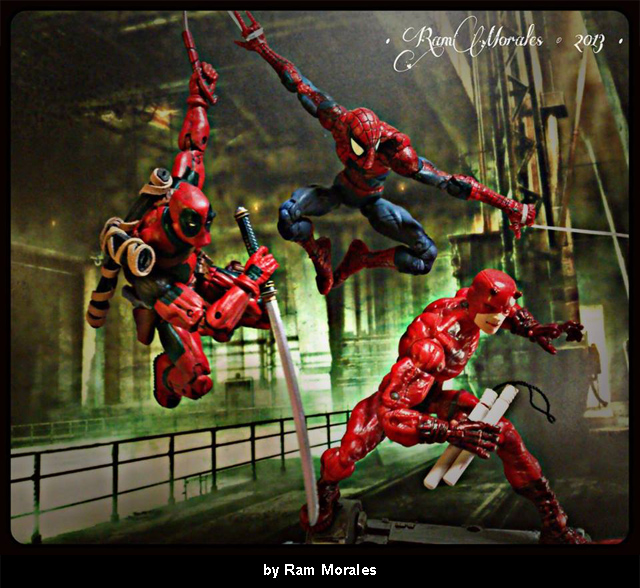 Reaching for the stars
Toy photography has the potential to open doors to other opportunities.
Gladwin uses his photography skills to help his toy distribution business. "
Arigatoys Collectibles
recently became the distributors of NECA, Kotobukiya and Revoltech," he expounded. "I take pictures of our products so we get to promote them." He is also selling prints of his works on deviantArt.
Sheng is a member of an Indonesian toy photography group called
"Figure Photo Studio"
. "There's a photobook, a compilation of the works of figure photographers in Asia, and I'm part of it," she explained. "They (Figure Photo Studio) are selling the book in anime conventions and festivals. I'm also planning to publish my own photobook because there are fans who are asking me if I'm planning to create one."
To those interested in taking up toy photography, Gladwin had the following to say:
"Don't be afraid to ask. If you're interested to learn, don't be afraid to approach toy photographers and ask them how they did their shots. And always practice. Because our best shots didn't happen in just one second. It takes years of practice to really become a good toy photographer. Never stop experimenting, and be creative."
"Have fun with your art," advised Sheng. "Enjoy it. Because sometimes, if you're really pressured and you're not having fun, the art will suffer. Your emotions are really important."
"You also have to really like the toy," added Marc. "It contributes to the art because your emotions will be reflected in the photo. Because you're not only sharing the toy, you're also sharing your experience, your passion, your childhood."
"And never use flash!" said Ram. — TJD, GMA News